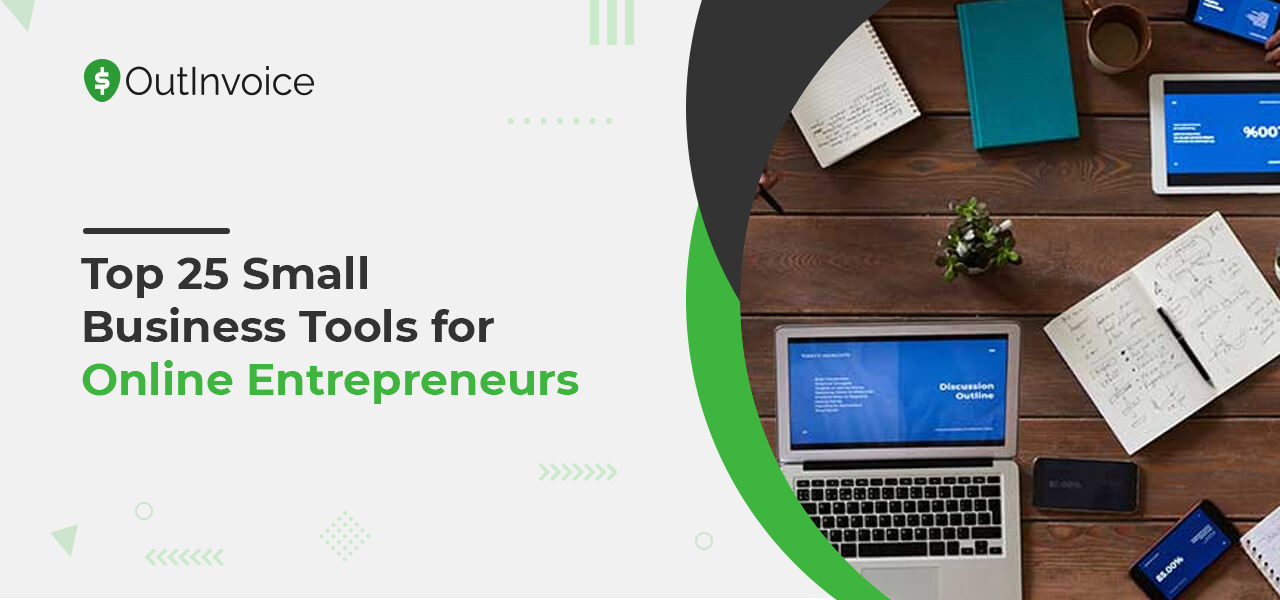 Top 25 Small Business Tools for Online Entrepreneurs
When it comes to the business sizes, the small and medium businesses or larger enterprises; any of them are not away from business risks. Now, markets are filled with online tools to help you to boost your business. Here is the list of best tools to help online entrepreneurs. They are: 
1. Google Analytics
Google Analytics is the best small business tool forever-free that offers you great and qualified data. Reports on a daily, weekly, monthly, and yearly basis, performance stats, and live stats. You can touch on the most important business analytics with a free account.
Google Analytics is perfect for Small, Medium, and Enterprise setups with flexible needs; Bloggers, Analysts, and Data Experts. Its unique features are:
It allows you to track goals, visualize the flow of your visitors, and create audience reports
It assists you in campaign measurement and creates custom reports
2. Hotjar

Hotjar's behavioral analytics goes beyond the basic supplies and offers a better understanding of your visitor's activities. It has many free features related to designers, marketers, and managers. With the help of analytics directions like heat maps and user behavior, you can alter or make changes to your user interface. Because of its benefits and advantages, it is the best tool for businesses.
It is best for Small, Medium, and Enterprise business Setups. Its unique features are:
It helps to find out the areas that users and visitors are stuck in.
It enables you to make changes as per user behavior and conversion rate
3. Canva

Canva is the best tool for professional-grade graphics and comes with pre-formatted templates to create leaflets, social media or advertisement banners, blog graphics, and practically everything.
It completely neutralizes the lack of professional designers and expertise in creating attractive visuals for all your needs. Businesses of all kinds can use it for graphics can use Canva. It has the following features:
Provides images, illustrations, font libraries, and custom templates
Customization of brand and design resizing
4. BrandCrowd
BrandCrowd is the one-stop-shop for your small business branding needs. With small investments, you can have hundreds of customizable logo designs. But BrandCrod is not the ultimate choice for logo designing. Moreover, it also provides templates for Facebook, Instagram, Youtube Covers, Email Signatures, and many more.
It is suitable for small to mid-sized business owners who do not have to spend a huge amount on branding and marketing needs. Its unique features are:
You don't need to customize social media templates as all of them are custom-fit
Thousands of social media templates are automatically customized with the logo colors
Logo Makers Boost thousands of unique designs designed by professional designers
5. OutInvoice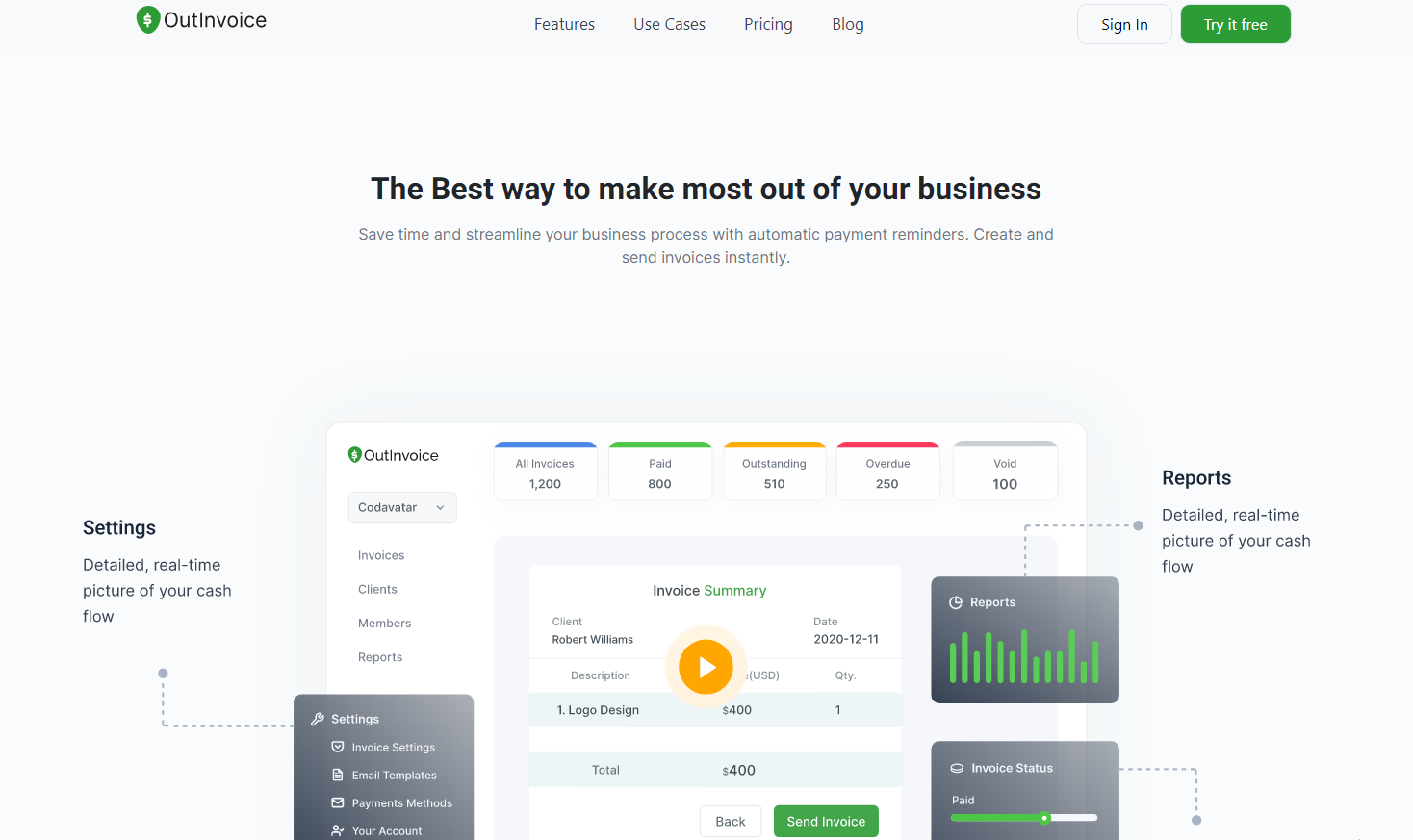 OutInvoice is the best online invoicing software for small businesses that help make invoices within seconds and make payments on time. It is specially created for small businesses, but you can always upgrade your subscription plan if you need advanced features. It comes with monthly and yearly subscription plans costing $6 and $60, respectively. Its major features are:
Multiple Members
Manage Multiple Business
Send Invoices Fast
Accept Online Payments
Save Credit Cards
Keep Invoice Status in Check
6. JungleScout

JungleScout is all online platform for learning and selling on Amazon. It offers an intensive step-by-step guide for beginners, experts, and seasoned online sellers. It helps to multiply your earnings and increase your audience on Amazon. It also helps to transfer your online selling experience through products like databases, product trackers, lunchers, and analytics.
It is the best for new amazon sellers, present amazon sellers, brands, and agencies selling on Amazon. It has the following features:
It provides many educational materials like books, guides, webinars, case studies, and success stories.
It also provides tools and affiliate marketing
7. Kickstarter
Kickstarter is the crowdsource funding tool for your business. It is a unique platform that helps to recruit investors and donors for your business. It is available for small businesses without any cost. It is perfect for small and very small businesses and freelancers. It has the following features:
It makes it easy to raise funds for the project
It a has high success rate
8. MailChimp

MailChimp is one of the best business tools. With the help of MailChimp, you can create content for up to 12000 emails for 2000 subscribers without paying any money. Apart from the newsletter, you can enjoy the benefits of advanced analytics and easy personalization. It is feasible for small, very small, and medium businesses looking for free but powerful ways to be in constant touch with their prospects. It has the following features:
It provides absolute email transparency
It tracks email and custom report generation
Management of subscribers and subscribers
9. Shopify
Shopify is the best online platform that offers the best tools for businesses for all kinds and all scales. It has been surviving more than 1 million businesses across the globe.
It provides an incredibly effective and strong platform to start, run, and grow your business. It is best for all kinds of businesses. It has the following features:
All free business tools are available on one roof
Provides with experts for mentoring
Best suited tools for security to e-commerce
It is the marketing Analytics tool
10. Buffer

Buffer is an automatic and modernized social media management tool that provides actionable vision. It helps social media managers to reach meaningful engagement on social media and provide analytics, team association, and post publishing.
It offers a free plan with few limited features suitable for small businesses with a limited audience. It is perfect for small, medium, and enterprise business setups. It has the following features:
It is capable of automatic post scheduling
Various analytics for gaining insights to get popular content
Automatic post scheduling
Scheduling on different social media channels
11. Qualaroo

Qualaroo is an excellent tool that helps you collect valuable client feedback through targeted surveying of users in context, obtain user's data, and create amusing business assets.
It comes with AI-powered analytics and enables you with advanced targeted insights into user behavior and experiences. It is suitable for Small, Medium, and Enterprise Business Setups. It has features that work wonders for your business. They are:
You can gain actionable and excellent vision into the user experience
You can survey to craft the better and personalized user experience
12. Zapier

Zapier is the most robust tool that helps you automate your workflow and comes with a free plan for small business owners. With Zapier, you can handle customer surveys, find new customers, and interact with them. It helps to organize events like webinars and create targeted campaigns. It is suitable for Small, Medium, and Enterprise business Setups. It has the following features:
Zapier comes with integration facilities with other businesses tools and apps
Zapier helps to start and end workflow from any app automatically
13. Doodle

Doodle is a free online meeting scheduling tool that lets you organize events with people using various digital and non-digital calenders. With Doodle, you can easily avoid difficulties in different time zones and keep your calendar private while preparing meet-ups. It is best for Startups, Small Businesses, Medium and Enterprise Setups, and Freelancers. It has the following features:
Doodles provide free appointment scheduling
You can create any meet-ups and online events through emails, messages, or chats
14. Skype

Skype is the best free online business tool that offers online collaboration with teams and clients without any cost. It is available on mobiles, desktops, or any other digital device. It provides face-to-face interactions. It is perfect for all kinds and scales. It has the following features:
You video, audio calls, share files across the globe
You can search your chats any time
You can send SMS while using WiFi hotspots.
15. Docracy

Docracy is a must-have tool for businesses. It is open-source for legal documents such as service agreements, employee contracts, lease agreements, and more.
It helps you to save your money from attorneys and legal methods. All documents are available in different listings like documents for writers, documents for developers, and more. It is best suited for Startups, Small, Very Small, and freelancers. It has the following unique features:
You can digitally sign legal documents and request documents if not available.
16. Slack

Slack is the most leading team communication apps that comes with many beneficial features in its freemium version. The free plan also comes with thousands of searchable messages, one-to-one video calls and integrates with ten other apps. It is perfect for all business types. It comes with the following features:
Paid versions offer many other features like Facebook, file sharing, and searching the communication history, and more
The free plan provides 10000 searchable messages, video calls, and integration
It offers 2-factor Authentication in its free version too
17. PayPal

PayPal is the most assured payment gateway if you have a feature-rich online business. PayPal is the most commendable online payment platform for overseas clients for online transactions. It is easy to use, secure, and hassle-free. It is well-recognized in many businesses and supports recurring payments too.
It is suitable for small, very small, medium-sized business setups and freelancers. It has the following unique features:
Free Sign-Up
No direct fee
18. GoDaddy Website Builder

GoDaddy offers an excellent free website builder tool for small businesses and freelancers. It provides a 99% guarantee for website building. It provides lots of customization options, excellent customer support system. It is suitable for small and medium-sized business setups and bloggers. It has the following features:
Step-by-Step customization process for websites
24*7 Customer Support through Phone, Chat, and Ticketing System
19. Todoist

Todoist gives a sense of excellent management with its perfect 'to-do' list planners. It provides a clear overview of what needs to be done, and you can enjoy features like Quick Add, recurring due dates, task view, and more. You can prioritize your tasks and assign ideal tags. It is perfect for all kinds of businesses. It has the following features:
You can assign tasks, send notifications, and also comment on the tasks
You can set amazing influences through Todoist Karma and Productivity Visualizations.
20. Pixabay

Pixabay is the ultimate choice for those who are looking for free stock images and high-grade images. Pixabay is the best place to find excellent pictures. It is fitted in all kinds of businesses. It has the following features:
Stock videos are available to help you to create great content
21. DropBox

DropBox is an excellent Software that makes your file accessible on all platforms and devices with ease. You can store files in Dropbox folders and specify the access rights when required. It is a free online tool that saves time and effort spent managing, sharing, storing, and editing files and documents. It is for all kinds of businesses and all types. It has the following features:
It provides you a dynamic workplace for creating content effortlessly and sharing it seamlessly
It can integrate with a large number of other apps and tools
22. WordPress

WordPress is the foundation of 30% of the web, as per the official statistics. With WordPress, you can build a website, blog, and share your stuff. You don't need to be excellent in coding, scripting, and any manual while using WordPress. WordPress has plenty of professional themes, stunning designs, and is easy to use, making WordPress the most impressive free business tool. It is suitable for all kinds of firms despite its size and scale. It has the following unique features:
Thousands of free plugins, themes, and add-ons with easy installation and customization.
Real-time Analytics and Notifications to create an ultimate website
23. Sumo

Sumo is the topmost best free email capturing tool and has other features too. It is forever free and takes a second to get started. It is simple, easy to use, and an excellent tool for small business owners who struggle to find efficient emails. It is perfect for small, very small, medium businesses and freelancers. It has the following features:
You can integrate Sumo with other featured apps like WordPress, Shopify, and Google Tag
With Sumo, you can increase email lists, boost your conversions, and customer experiences
24. Grammarly

Grammarly is the best tool for a freelance writer to write content without any grammatical mistakes. It is a fantastic tool for correcting your mistakes and helps you to improve your writing style. It comes with a free and premium version too. The free version is enough for a small business to write any content without any grammatical error, removes plagiarism. It is fitted in all kinds of businesses. It has the following features:
It lets you set goals against which you can assess the performance of your content
Apart from grammar, you can check the clarity, engagement, and delivery of your content.
25. EchoSign

EchoSign is also called Adobe Sign. It provides with signing, sending, and tracking all kinds of documents from within your browser. You can manage all your documents without compromising any security. It integrates with all Adobe tools and products. It is well suited for all types of businesses. EchoSign allows you to sign your documents from anywhere, create custom documents templates, and reuse formerly used templates. It is suitable for all kinds of businesses. It has the following unique features:
You can share and archive your documents in the shared document library
FAX signed documents
Can create signable web forms
Conclusion
There are many tools available in the market to make every business convenient, easier, and increases the cash flow. With the help of these tools, one can work remotely without affecting working hours as these tools help you to connect with clients and other colleagues, track the working hour. So try the tools that best fit your business.