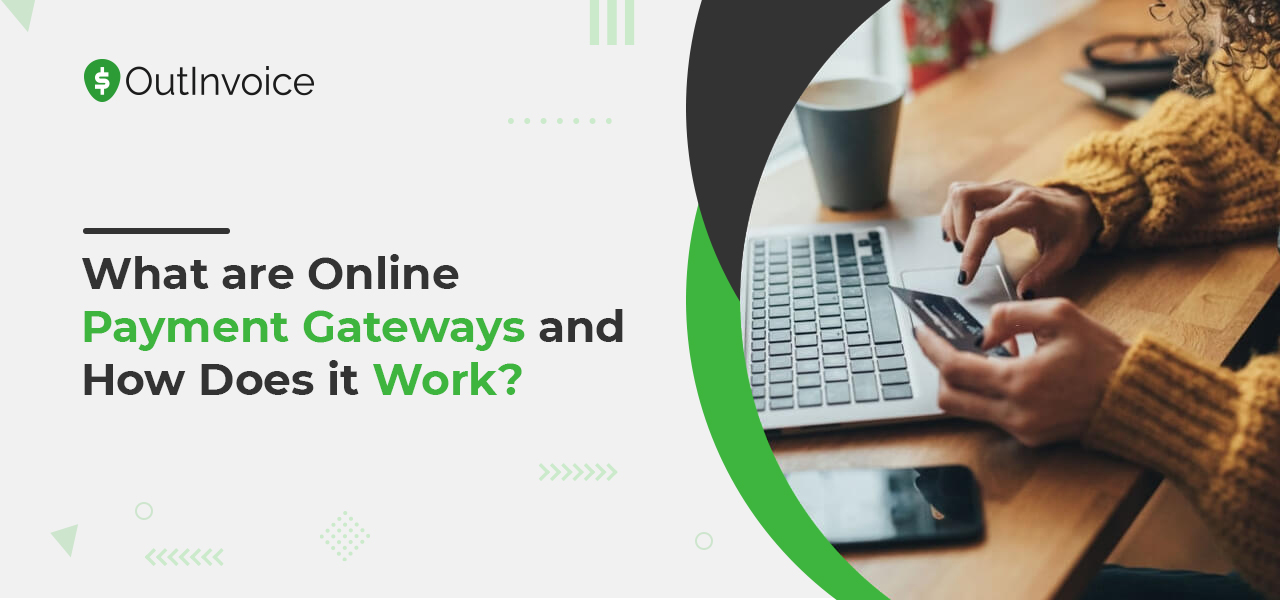 What are Online Payment Gateways and How Does it Work?
In today's competitive online marketplace, having one of the best online payment methods is necessary, but having multiple could put you at bigger benefits. There are many benefits of online payments, which provide a way to get paid faster. If you are not ready for online payments, then the goal of your business cannot be money-making, and it's impossible.
Online business or eCommerce has several online payment methods, and each promises to provide an intuitive and secure checkout experience. To ensure you are providing the best payment methods to your visitors, you need to have a lot of options available.
Online Payment gateways are e-business services that process payment information for websites. An online payment gateway tool validates your client's credit card details, ensuring funds available for payment for online and offline businesses. It is similar to a POS terminal in a shop or restaurant. It lets your customer submit their credit card details and keeps your information safe and secure from the customer. Online payment gateways provide two main benefits. They are:
1. Fast and Easy Checkout Process
Have you ever purchased goods and found that buying the item took a long time than needed more work than you were willing to do? People who expressed a clear willingness to buy and then didn't buy is around 70%. If your checkout process is a barrier while making a purchase, the probability of losing customers is high.
A good and reliable online payment gateway makes the process simple and automatic, so you capture most of those rather than lose them.
2. Provides Encryption to Keep your Customer's Information Secure
Theft is the major reason people do not trust online transactions. So, suppose you are a service provider. In that case, you need to make sure that the sensitive information they provide will be protected from the hackers around the web to steal credit card information from unguarded websites.
Since online payment gateways focus on processing financial information, they need to provide proper encryption and safety features to keep your client's information safe.
Why Offer Multiple Online Payment Methods?
While it's possible to get a safe and easy online payment method, many customers are starting to expect to use their favorite payment methods.
Customers find it easier to checkout with the growing popularity and use of online payment gateways of services like PayPal, Stripe, Square, and other payment gateways. It saves a lot of time without spending more time on their payment and addresses information for each purchase. Rather, they only have to log into an account they use regularly, and in many cases, may not even have to do it if you have saved your information on your device.
Moreover, it creates a more seamless and convenient experience for them, mostly on mobile, where the number of purchasers grows daily. The more your visitors expect this kind of service and convenience, the more customers it attracts.
12 Online Payment Gateways to Consider
The online payment services on the competitive market all aim to offer easy and secure ways to pay. Each of them has its key features to consider using them.
1.PayPal
PayPal is one of the largest and most familiar online payment options, and it has more than 254 million users. PayPal has been the easiest way to purchase on your website if you let them check out PayPal. Over 17 million businesses use the service boost, and that customers who use PayPal to check out are at a higher rate(82%) than other payment options. Invoicing Software like OutInvoice has PayPal as a primary payment gateway.
So, it is a pretty good reason to use PayPal. You need to pay 30 cents at 2.9% for each purchase processed through PayPal.
2. Amazon Pay
PayPal and Amazon go hand in hand. Amazon is also the most popular site across the web, and it is the payment method that every business owns. Adding Amazon Pay to your store makes it easier to pay, especially Amazon stores. They don't have to think of other payment alternatives adding amazon pay on your checkout.
You will reduce barriers to purchasing for hundreds of millions of customers. It also provides fraud protection. It works on mobile devices providing a seamless experience where it matters most.
Putting an amazon pay button on your website with their Express Integration option will take a few seconds. Or, it also provides an option of API, which takes longer, but allows you to customize the experience to better fit in with your website. The cost of using Amazon Pay charges 30 cents plus 2.9% for each purchase.
3. Google Pay
If anyone is giving competition to PayPal and Amazon in the market is Google. Many companies now offer the online payment method, Google Pay.
Google stated that hundreds of millions of their users already have card information saved to their Google accounts, which means providing a google pay option offers added service for a significant number of people.
Along with other excellent features, they promise to provide an intuitive process. It is user-friendly and available both on mobile and desktop, providing the best security through encryption.
Google Pay also allows wholesalers to set up loyalty programs, digital gift cards, and deals for customers so everyone can avoid paper and plastic cards. It also works with PayPal and Visa Checkout for added reach. In Particular, they charge nothing for using the service, and it's 100% free for both you and your customers, and Google Pay charges nothing for you and your customers.
4. American Express
American Express might not have the market value that our first three online payment gateways do, and American Express is not as omnipresent as other credit card competitors. The customer with has highest rate of satisfaction chooses to target higher-income consumers than other credit card companies.
The people who find an American Express checkout option attractive are likely to be some of the top visitors you'd want to attract. American Express promises to provide fraud protection, 24/7 customer support, and the flexibility to work with various payment processors and consider add-on features. It is accepted in over 120 countries, so it's a big benefit if you're interested in attracting international customers.
American Express is not free, and it comes at various prices. It starts with $20 per month for up to 100 transactions, and charges are added for additional transactions. They also charge setup fees that start from $99.
5. Apple Pay
Those people who use Apple devices are familiar with the Apple Pay benefits and features. More than 64% of the people in the U.S use Apply for the daily transaction. Apple Pay is a mobile wallet, and they can make payments with a single click. For mobile users, customers even make confirmation through touch identification.
Apple Pay uses the token system to keep credit card information safe. Once user information is recorded, you do not need to provide and as soon as user provide their credit card information. The device connects with the issuing bank to generate a randomly created number to describe that card. It protects the information from internet hackers and keeps the financial data safe while working quickly.
You can set your business to accept Apple Pay by using their API. As long as you are compatible with the payment providers like Google, Apple's payment gateway is completely free for both customers and vendors.
6. Stripe
Stripe is another feature-rich payment processing platform. It accepts payments from various sources like credit cards, digital wallets, ACH transfers, and different currencies. It also provides various options for the checkout process. If you have limited services, you can modify embedded checkout to your business with one simple line of Javascript, or you can create a unique payment form. Stripe provides a good explanation basis for other online payment methods.
Stripe costs 30 cents + 2.9% for domestic credit card processing, and 0.8% for ACH payments.
7. Square
Square is generally related to in-person point-of-sale(POS) payment processing, and it also offers eCommerce options. They also have an online payment API that accepts many payment methods like Google Pay, Apple Pay, Master Card, and Credit Card Payments.
In addition to payment processing, they offer an easy checkout solution that lets clients set up profiles while providing their payment information. Like other payment gateways, Square also charges 2.9%+.30 per payment.
8. Visa Checkout
Like other payment gateways, PayPal and American Express, Visa Checkout makes it even easier for all visa holders to check out on their website without filling in all their payment information. They have millions of users across the world. The simplest and easiest way of checking out attracts a significant portion of your audience. These services make a huge difference in user conversions. It also has advanced security features and easy options.
9. Masterpass
Masterpass is a payment option that has similar features to American Express and Visa. It allows quick and easy checkout and provides advanced security for the payment process you expect from credit card companies. It includes user verification, tokenization, issuer authentication, and fraud monitoring.
Masterpass charges nothing to you and the customer, and they also provide the setup available to help you.
10.2Checkout
2Checkout is a worldwide payment processing solution that accepts payments from across the world in various currencies. They provide a customizable checkout that you have designed and added to your website. It provides extensive fraud protection, and it also provides a responsive design that makes sure customers can easily check out across devices.
2Checkout provides a processing solution for simplicity and flexibility to customize as per your need. The company charges 2.9%+ 30 cents per transaction, with extra fees for foreign customers.
11. Authorize. Net
Authorize.net allows accepting payment through a wide variety of processors, giving retailers the ability to accept PayPal payments, Apple Pay, and most major credit cards.
It charges 2.9% on each transaction with an additional $0.30 per transaction for their "all-in-one" payment provider option.
12. Adyen
Adyen is built keeping in mind both point-of-sale and online purchases which accept a wide range of payments from major credit cards and providers like Apple Pay.
Adyen can handle large volumes of transactions in a partnership with popular brands like Uber, Linked In, and Microsoft. Adyen's current transaction fees are not fixed, and it varies widely.
Limitations of Online Payment Gateways
While browsing the top payment gateways, you need to keep in mind its limitation. Selecting a payment gateway means you need to understand and accept some limitations. Let's have a look at the main limitation to payment gateways in more detail.
1. Gateways hardly accept all kinds of cards or payments.
Although many payment gateways advertise they are the best, they do not highlight their drawbacks. For instance, Adyen points out what payment types it can accept across specific regions like North America and Europe, but they do not talk about it.
So, before selecting a payment gateway, make sure you check drawbacks and what customer wants from your payment methods. Dealers looking to capture a broad international audience need to make sure of their payment gateways. Because of the international transaction, shoppers have to run at higher prices.
2. Security flaws
More than one-third of consumers hesitate to place an order online due to security concerns. Even though a high-quality payment gateway should be secure but there are some security vulnerabilities you need to keep in mind:
Data violation: Encryption makes most payment gateways handle the processing of private data like card information, but once the data is on a server, that server is in trouble.
Mobile Payment Problems: you might control much of the security at the transaction, but you cannot control the access of your devices.
Conclusion
Multiple payments gateways allow you to get paid faster. If you add multiple options to your checkout process, then purchasing process will be faster, and sales also will increase. So adding multiple options to your software or website will add more credit to your business.
All the information provided on payment gateways may be overpowering. It is also a fact that finding the right online payment partner plays a vital role in flourishing your business.