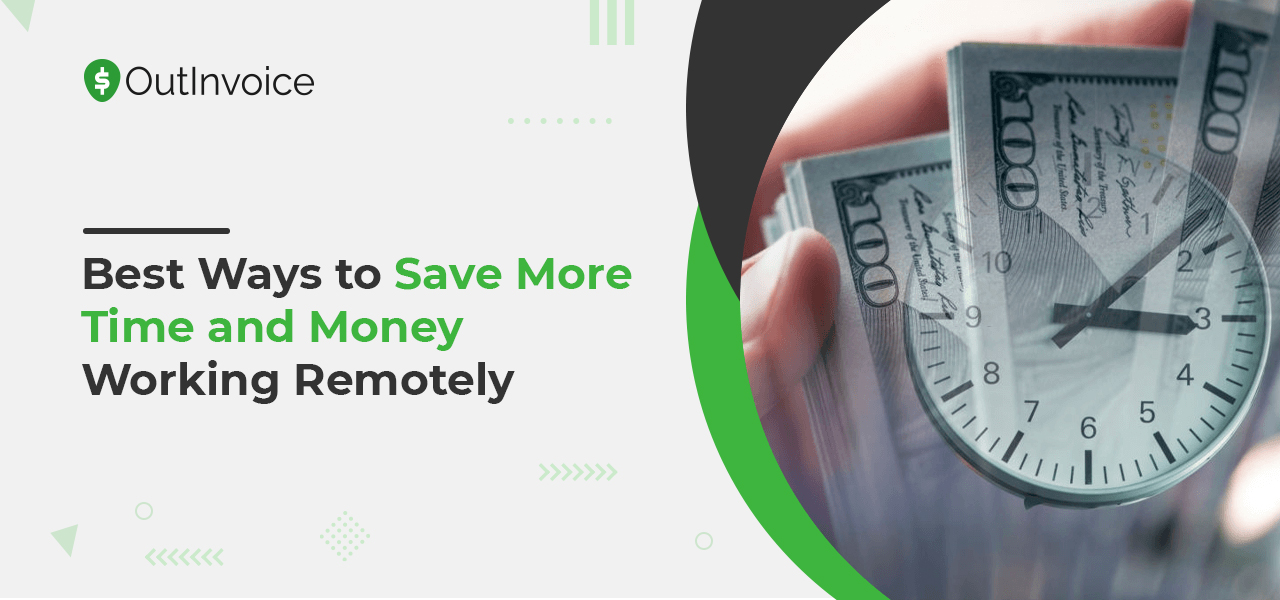 Best Ways to Save More Time and Money Working Remotely
As the pandemic broke in 2020, more businesses and companies began to migrate to remote working. As per the recent research, 74% of businesses moved permanently to remote working after COVID-19. Biggest companies like Microsoft and Amazon have extended their work-from-home policies until the end of the pandemic.
Does working remotely save time and money? Working in an office environment had its appeals, but do they outweigh the chances of time and financial savings? Working remotely has a lot of benefits. However, the most remarkable benefit is the long-term cost savings compared to working in an office or other place outside the home.
15 ways to save more time and money working remotely
1. Reduce Food Expenditure
It is important to go out for food when working in an office, which adds up to daily expenditures. While returning from work, you might purchase a snack way home which adds to the expenditures. However, working from home lets you eat healthier at a lower cost than eating out. Not only this working from home cuts the transportation cut which helps to save money.
2. Getting rid of Babysitting Expenses
If a family is small and both the parents work, it is not easy to care for their children. Parents need to hire a babysitter as it is difficult to care for their children while working. However, working from home helps to reduce childcare costs as they can look after their children. Working from home saves not only money but also increases the parent-child bond.
3. Attire Expenses
Though your workplace has a dress code, wearing the same outfit every day is not possible. Whatever your dress will become dirty, and you need to clean it. It would be helping you take in dry cleaning expenses because not everything can be cleaned at home.
When you work also, you will wear clothes and need to wash them. But it is simple clothes that can be washed at home. You don't need to take it to the dry cleaner.
4. Communicating Costs and Maintenace
Whether you drive your vehicle or take public transportation, the expense of getting to and from the office will ultimately pile up.
Maintenance, Gas Saving, and Parking.If you drive your vehicle filling the gas tank, maintenance, oil changes, all other maintenance duties come with owning a vehicle. Finding parking in urban areas is a major issue with a heavy cost. Paying every day for the parking will cut a big amount for your salary. Hence, working remotely will save a lot of money and time.
5. Mobile Phone Data Expenses
Generally, we use Wifi, but we cannot use it when working. When most individuals become bored while working and go on social media, these expenses pile up. While surfing, they do not pay attention to how much time we spend on the Internet, which adds on costs but working from home minimizes the costs.
6. Household Work
You can do household work while working from home instead of paying someone else to do this. For example, rather than paying for housemaids, you can do it yourself. You can finish your household work without rushing to go to work on time. Also, you may manage household tasks like washing and stocking the pantry without rushing to work on time.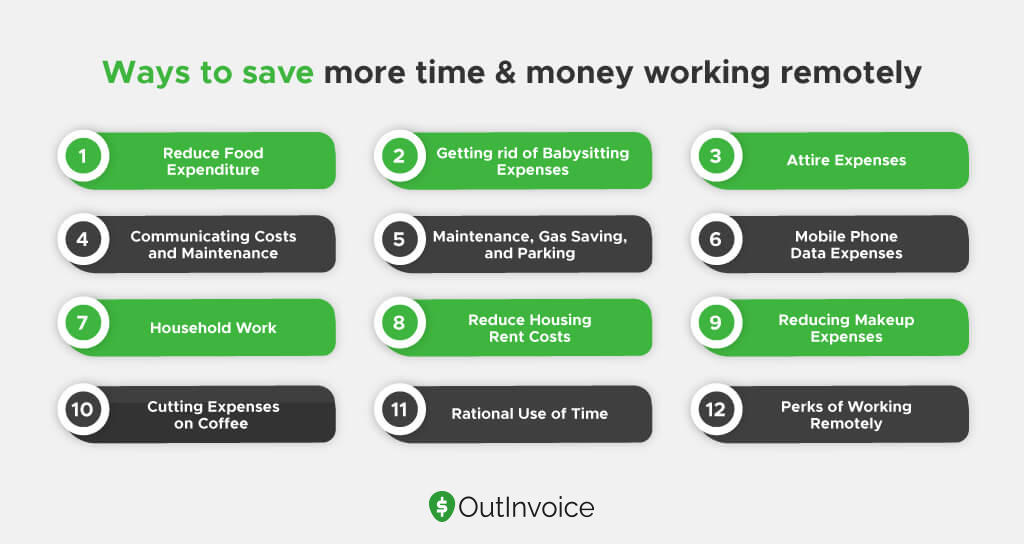 7. Reduce Housing Rent Costs
Working from home has given us the comfort to work from any part of the world we choose. Most of the people move to other cities in search of work. Moving to the new city costs even you rent a room or stay at a hotel adds cost. However, working remotely reduces the need to relocate to a new location or rent a room saves money.
8. Reducing Makeup Expenses
Based on numerous news stories, women tend to wear less makeup who work from home. They wear makeup to look smart and confident while working in the workplace. But, working remotely has reduced the usage of cosmetics as it is not necessary to wear makeup when not in the workplace. Also, wearing makeup daily damages skin and increase the cost of skincare too.
9. Cutting Expenses on Coffee
Different types of coffee have different costs. While going out of the office and going to a cafe with coworkers is common, doing it daily will build up costs. If you work from home now, it's time to break the behavior as well. Even brewing coffee at home by yourself might save little money.
10. Rational Use of Time
There is a phrase in English too, "Time is Money". Working remotely helps to save your money as it saves time. You spent time waiting for the elevator at work, searching for parking, time spent buying work clothes, traveling on public transportation, and time spent on heavy traffic. Getting the most out of your time allows you to save money.
Working remotely by staying at home has the benefit of giving you more time to pursue hobbies they like. You also have more time to focus on getting active, healthy, eating well, reading with your children, spending time with family, and enjoying quality time.
11. Perks of Working Remotely
Working remotely will provide huge comfort in real life. Here are the advantages of working remotely.
Flexible Time: When you are working remotely, you can have lunch whenever you want. The concept of working remotely will provide with better work-life balance.
Personalized Workplace: While working remotely, you can set up your home office. You can design and set up a workplace as per your requirements. Hence, you will get the freedom to operate in the customized surroundings that you have designed.
12. Avoid Overcrowding, Pollution, and Traffic
Traveling in overcrowded public transportation, polluted air, and wasting time in heavy traffic is saved if you work remotely. It also leads to healthy life preventing from extreme heat and pollution.
13. Quality Time with Family and Friends
While working remotely, you can take care of your family members without extra effort. You don't need to hassle to manage time. It helps to strengthen family bonds.
14 . Reduce Stress
Working remotely will reduce stress as well. You have significant independence; you have time to take a break and take a power nap. Also, you don't have to deal with high levels of stress that come with personality disputes or office politics.
15. More Independent
You will get more time for self-motivation, self-discipline, attention, and concentration while working remotely. You will gain more skills and confidence while working independently.
Tools to help you work remotely
Many business-oriented tools provide services based on the technologies on the market, which makes it hard to choose and tell which one is best. Business needs to be done quickly, and adopting something new can have high costs. You are saving your hassle from the tedious search for the best services. Here are the best tools that help to work remotely.
1. Slack
Slack is an online communication tool that offers team communication. This means there are no days of group messages getting 200 notifications at once, missing messages directed at you, and various groups all joined on the same set-up. Communication offers much more than core functionality.
Additionally, Slack offers file-sharing, phone calls, missing messages directed at you, and fun features like giving employees a "taco" for a well-done job. It comes with three pricing plans. They are Pro, Business+, and Enterprise Grid.
2. GSuite
Google builds GSuite to serve as a total range of functionality for businesses. To set up GSuite, you need to buy a domain, email client, track analytics for your website, launch and manage advertisement campaigns, many more within a single application. Keeping all of your business needs centered in a branded domain within the Google Suite. It makes all the work easy to know everything is in one spot and taken care of. In the GSuite Business of every size, connect, create, and collaborate for innovative solutions.
3. GoCo
GoCo is all in one HR Software that levels up your HR with flexible employee management software. It has reduced the HR messy, complex, and paper-based work. With the technological era, HR workflows have shifted towards modern all-in-one platforms like GoCo.io.
GoCo starts with $5 per employee per month. It offers features like document management, time-off tracking, performance management, compliance, and benefits administration. It also integrates currency payroll and management software that gives you the functionality you need without thinking about the paperwork.
4. OutInvoice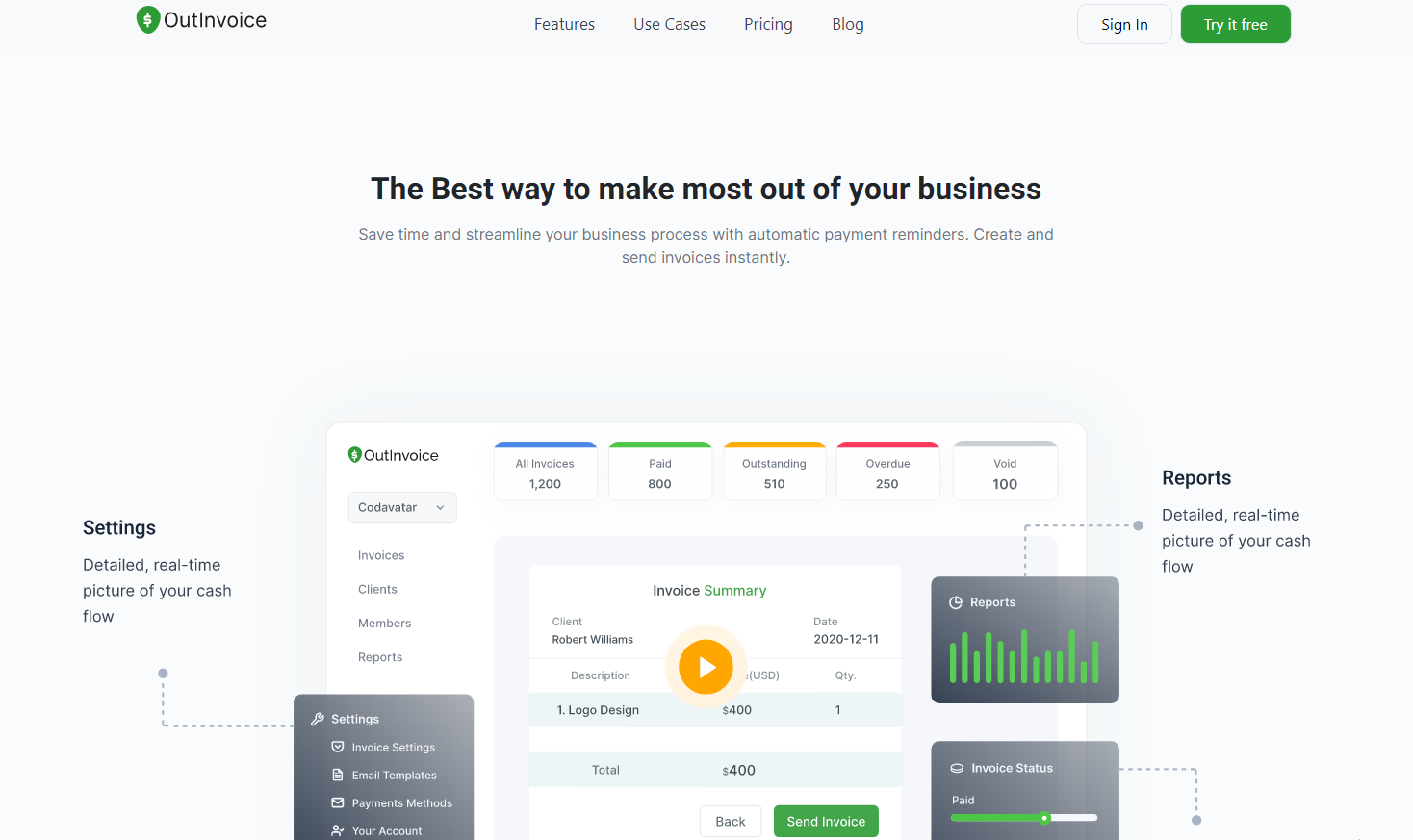 OutInvoice is the small business invoicing software that makes invoices in a single click and gets paid faster. It mainly focuses on small business organizations. It accepts all Stripe, PayPal, and bank payments. It is a fully functional online invoicing tool for your business. It has the following features:
Multiple Members
Manage Multiple Business
Send Invoices Fast
Accept Online Payments
Save Credit Cards
Keep Invoice Status in Check
5. Good Hire
Good Hire is the easiest, flexible, and most delightful employment background check experience you find. However, hiring employees can be complicated, especially for small businesses, since verifications, reference checks, managing background checks, identifying verifications, drug screenings, driving record checks, and education degree verification are needed.
However, GoodHire does all these things within few clicks and is go paperless with the use of smartphones. It also delivers results in less than 24 hours. Expanding your team can be simple and allows you to operate to run better functionality.
6. Upwork
Some people choose to keep works as independent freelancers or entrepreneurs rather than employees, and for that business owners, there is Upwork. It lets business vendors hire freelancers for anything and everything. Regardless it would be best to have web development, graphic designer, social media managers, and more. There is someone on Upwork who can help grow your company. It is the world's work marketplace.
7. Telzio
Telzio lets businesses set up an office phone system all over the Internet. With Telzio, it manages calls and messages across their device from all over the world. Along with a web interface that is visual and automatic, simple pricing, no termination fees, Telzio offers a simpler way for businesses to set up, run and maintain a phone system for their employee.
It provides scalable solutions, internet-based, mission-critical reliability, and exceptional support. It has two business plans small business and enterprise.
8. Intercom
One of the most annoying or disturbing aspects of running a business, mostly a website-based company, is the lack of communication with clients. Educating and understanding consumers leads to doubtful user interface decisions, lack of awareness of problems and desires, and poor user experience.
Intercom allows a suite of functionality to provide live chat, education, and more for your web customers. It also makes it easier to interact, engage and communicate with your clients.
9. SalesLoft
SalesLoft helps to find more customers, particularly if those clients are related to other businesses. Sales software increases the efficiency and effectiveness of sales reputation with a built-in sales dialer, email built for sales from the ground up, and deep integrations with the tools you are already using.
10. Trello
Trello was recently bought by Atlassian for $425 million, providing one of the top team and task management platforms. Trello lets structuring and keeping track of tasks be as simple as possible. It can create various boards and cards, set due dates, add notes, and more.
Trello offers various plans; getting set up on Trello can be free for individuals and small teams, and payment grows gradually depending on how fast you scale up the team size.
Conclusion
Overall, employees start working remotely due to pandemics. Whenever the Internet came into existence, the salesforce is shifted towards remote work to increase productivity. It has given employers first-hand knowledge of operating remotely by staying at home, saving time and money. In a world where industrialism is so large and only getting better, you need to stay updated on top of all the latest tools available for your small business's success.
As competitors implement these tools, you have to be competitive too. After all, today's main aim is to work smarter, not harder. To keep your efficiency updated and allow you to focus on the tasks. However, you need to know the best tool suited for your business. For this, you can choose OutInvoice, which provides 30 days free trial.