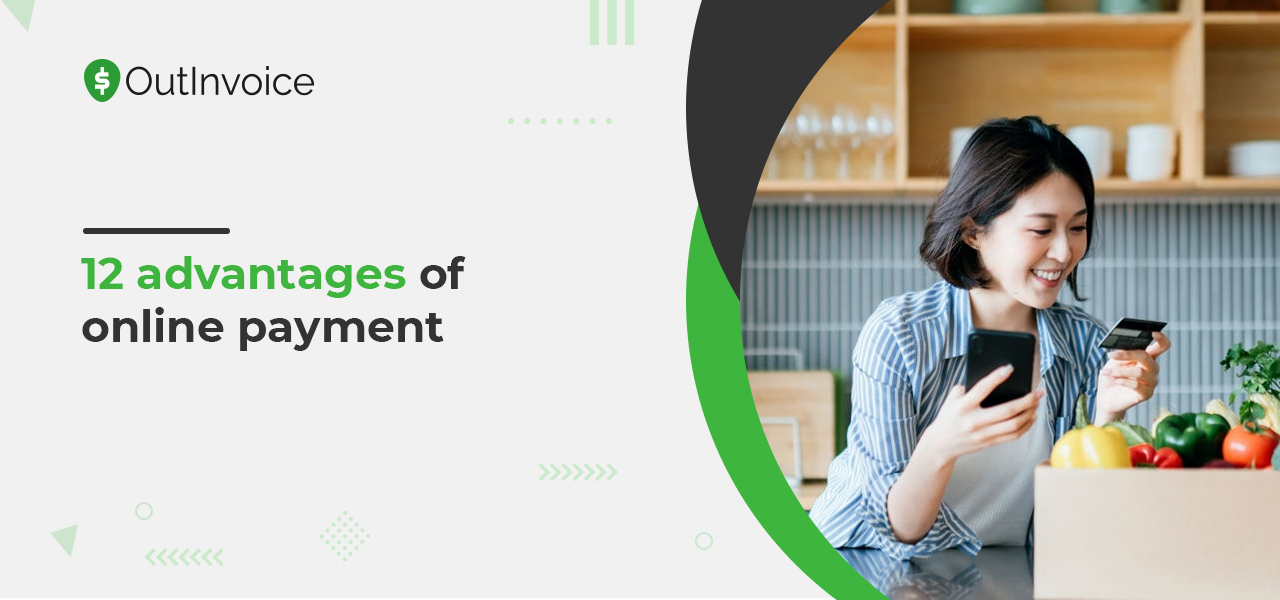 12 Advantages of Online Payment
The process of payment made through an electronic medium is called online payment. The online payment process does not need a cheque or cash. All the payments for goods and services can be made through an electronic medium. The various advantages of online payment make modern-day businesses more sophisticated and advanced.
Online payment is also known as electronic payment. Due to the increasing use of internet-based banking and shopping, online payment systems have become more popular.
The market has become more advanced with technology and digitalization. We can notice the rise of the electronic payment system and payment processing devices. The usage of check and cash transactions decreases day by day with the improvement of online payment methods.
The transaction is made electronically, involving computer networks, the internet, and digital stored value systems. It is called online payment if you collect the payment over the internet.
What Actually Happens During Online Payment?
The customer transfers the money from their bank or credit card account to the supplier's or seller's bank account. The online payment can be done from a credit card, checking account, or another medium like PayPal.
The sellers or the dealers who accept the online payments need to follow security requirements. There are many cases of digital theft and hacking, so it is important to follow the guidelines of online payment security.
A secure encrypted connection needs to be established for the transaction. The sellers need to implement a long list of security features and protocols, also known as PCI compliance requirements, for the recurring billing where customer data is stored.
For the online payment process, the seller needs to have access to an online payment gateway. It is a service provider integrated with the credit card and transfers the online payment information between the owner/seller and the payment processor.
The steps for the online payment process:
The payment information of customers is submitted to the seller. For example, the customer fills up the payment form and submits the information.
The sellers then submit that payment information to the online payment gateway.
The online payment gateway submits the payment to the payment processor.
If the payment processor authorizes and approves the payment, then it responds to the payment gateway
The payment gateway responds to the sellers
The sellers respond to the customer, informing the success of online payment and takes appropriate action.
Advantages of Online Payment
Online payment allows for cashless payments for goods and services through cards, mobile phones, or the internet. The main advantages of using online payment are cost and time savings, increased sales, and reduced transaction costs.
The advantages of online payment are as follow:
Increases Sales
Outreach global market
Reduced cost of a transaction
Payment Security
Credit Cards to Facilitate Low Balance Purchases
Payment method acceptance
Marketing tool
More appealing to impulse buyers
Recurring Payments capabilities
Increase Speed and convenience
Low labour costs
Getting a competitive edge
1. Increased Sales
Online payment has become more popular as internet banking and online shopping becomes common. The cash and checks payments are decreasing day by day. Electronic payment has become the best alternative to build cashless payment. Even most of the customers don't use cash and prefers electronic transaction. In that term, e-payment allows your businesses to sell to the customers who choose to pay electronically. Therefore you can gain a competitive advantage over those who use traditional payment methods.
2. Outreach Global Market
The biggest advantages of online payment are you can establish your business globally and get payment easily. The electronic payment method allows you to accept payment from any part of the world. Most people want to try new things and prefer better choices, so shopping across the border is increased. Therefore digital payments make it possible for the transaction within the nation as well as international. You can expand your business globally and make an online transaction.
3. Reduced Costs for Transactions
Before, the customers have to visit the store with a sufficient amount of cash or use cheques to buy the products. But today, digital payment save customers time and effort. They can shop online and even pay through an electronic medium.
The online payment process reduces the cost of the transaction of the traditional way of payments. You don't need to hire staff, especially to work as a cashier and deal with the costs of processing payment slips.
There are usually no fees or a very small amount of fees to swipe your card or pay online. In the long run, e-payment could save the cost of both individuals and businesses in transaction fees.
4. Payment Security
Accepting online payments is more secure and reliable for sellers than receiving payments through cheques. The sellers can get money instantly with no risk of bounced cheques and other associate fees. They don't need to verify the integrity of the cash and cheques.
The online payment method even has strict regulations, making it a more secure and trusted one.
5. Credit Cards to Facilitate Low Balance Purchases
The credit card can be used even if you don't have money in your bank account.
Therefore customers can use their credit cards to make payments. If you are selling expensive items, you can offer the customers break down payments into small installments and use credit cards to pay for that installments.
6. Payment Method Acceptance
In traditional business, payment via cash and cheques are only accepted. But modern business set up includes online payment methods. The sellers offer different payment methods depending on the type of customer. The various payment alternative can be given to the clients.
You can choose any payment provider. Most of the top range payment providers include options for payments like eWallets, cryptocurrency, prepaid cards and others.
7. More Marketing/Distribution Channels Available
The online payment method has huge benefits on marketing and distribution channels. It brings convenience to the customers as they don't have to carry cash and issue cheques. Nowadays, the customer feels more comfortable with online payment.
If you make your company online, then it is possible to make your brand name online and promote it on social media and other online platforms. You can branch out your sales in the affiliate domain and also have other websites, and marketers can showcase your products and services as full online payment options available.
Likewise, affiliate marketing is also increasing as the business organization is using the online platform. It helps to increase sales of business as well as profitable for affiliate partners.
8. More Appealing to Impulse Buyers
It is important to consider all of the impulse shoppers if you want to increase your sales.
It will become more appealing to your impulse buyers if you offer online payment methods in the case where those customers like your product and want to buy at the same time. The online payment gateway plays an important role in this situation, and it will be a losing factor if you can't provide a convenient payment method at the spot.
Thus it is another advantage of payment gateway that increases sales and revenue of your business.
9. Recurring Payments Capabilities
In the past, subscription payment was possible through cash or cheques, but today, only a few buyers like these payments. Most of them prefer online payment features. In comparison, the subscription or SaaS businesses accept a client's payment at specific intervals, which is also known as recurring need.
The payment gateway brings automation potential in the subscription markets. The sellers can facilitate recurring billing features with this automation feature, which can easily make or accept a payment, both for the buyers and sellers.
10. Increased Speed and Convenience
Of course, electronic payment brings more convenience than traditional payment methods.
The e-payment is more popular in this modern business. It allows the buyers to pay for goods and services at any time and from anywhere. Thanks to the online payment gateway, you can manage your business globally. Like a traditional payment method, the buyer doesn't need to spend time just exchanging the money. Online payment allows you to pay within just a minute.
The security risk of handling the cash for a large transaction is also replaced by a secure and reliable payment method through an online gateway.
11. Low Labour Costs
Electronic payment is an automatic and systematic method of payment. It reduces the labor cost as many human resources are not needed. The traditional payment method like cash, money order, cheque, and EFTPOS.
The e-payment can be easily made through credit cards, PayPal, Stripe, and other methods.
12. Getting a Competitive Edge
The sellers can improve their reputation by receiving online payments. When you update your business procedure with advanced technologies, you can increase your efficiency. It also draws the attention of the customers, and you can gain the trust of the customers. Likewise, when you offer the option of receiving online payment, you can improve your reputation among customers.
Besides, if your competitors have online payment systems, you should not stay behind and ask for payments via cash and cheques. You must make some strategic changes for customer retention.
Challenges of Online Payments
There are several challenges that you need to consider in online payments.
Technical Problems
Every system has its technical problems; likewise, the online payment methods also have to face technical difficulties. Online payments or e-payment may have disturbances and downtime. Time to time maintenance is needed on the online payment gateways or in the card network system. Usually, the maintenance is announced in advance and done in the nighttime when most of the users are not active.
But the unpredicted technical issues can hamper your whole business and sales. You may face several hours of downtime. During the long downtime and maintenance period, customers may lose interest in your business and choose other competitors.
Vulnerability to Cybercriminals
As the online process increases the cybercrime and fraud are also rapidly increases. Cybercriminals attempt to disable online payment methods or steal people's money or information using their hacking skills.
One of the huge disadvantages of online transactions is the sellers and buyers may face various malicious attacks like information theft and leakage, database exploitation, and phishing attacks, etc. In this way, cybercriminals are becoming more and more versatile to interfere with online transactions.
The business organization must prevent their business from these cyber-attacks. For this, they have to invest more money in additional online security.
Popular Online Payment Systems
Most of the modern online payment services are simple, easier, faster, and more secure. We all know about the most popular payment gateways or online payment systems like PayPal, Square, Stripe, Amazon Pay, Apple Pay, Authorize.net, etc.
Here's a list of some of the most popular online payment services:
PayPal
PayPal is one of the most popular payment methods. It allows you to set up a PayPal account, and you can pay a fee for each cash transaction.
It is simple and quick to use as common customers can easily use it as a payment medium. It also provides a high level of online security.
Amazon Pay
Amazon Pay is also another popular online payment system. It is a digital payment processing service that allows customers to pay online using their Amazon payment methods on third-party websites.
To complete the transaction, Amazon Pay uses the details stored on the Amazon account.
Google Pay
Google Pay is free for both buyers and your customers.
Many users are already saving their card information to their Google account. Google Pay could offer an extra layer of convenience for a significant number of your customers. It lets customers choose from saved payment methods in their Google account for payment quickly and smoothly on third-party sites.
Apple Pay
With the huge popularity of Apple, Apple Pay also is a considerable online payment service.
It operates with a one-click payment process and offers the customers an easy, secure, and faster alternative to traditional credit and debit card payments.
Direct Debit Payments
The direct debit payment works best for the monthly retainers or subscription-based business models. This online payment is best suited for recurring payments and automated payments.
Once the direct debit has been set up, the money is simply taken from their account automatically, and the customers don't have to approve payments each time.
Bank Transfers
It is not always the case where the customers have a credit card, but they sure have a bank account.
The main advantage of bank transfers is that customers don't have to disclose any financial details to the sellers to purchase goods or services.
Prepaid Cards
The youngsters or digital shoppers use prepaid cards as they don't have a bank account.
Prepaid cards are a type of debit card issued by a bank or credit card company and have a certain amount of money.
Digital Currencies
Digital currencies have come a long way from the uncertainty, risk, and illegality once associated with Bitcoin.
You can offer a digital currency payment option for people who wants to invest in crypto. The digital currency change vividly compared to the traditional currency because it's not associated with any physical assets.
Is the Future Cashless?
As the online payment method is increasing rapidly, it's certain that the future can be cashless. It is considered the simple, fast, and most reliable payment method where the number of people using cash is low.
The iPhone devices help to have a secure payment as it allows biometric security like using Face ID for unlocking touch payment. Likewise, some other websites and apps incorporate biometric payment systems like Apple Pay and Google Pay.
There is also a huge chance of cryptocurrency payment in the future. But cryptocurrencies have a drastic fluctuation than dollars, so that lack of stable value may become a problem.
However, modern society wants a convenient way of payment. If the payment is faster and more secure, the customers want to make payment and deal with you like the security risk is low.
Conclusion
Well, online payments have their own advantages and disadvantages. The true fact is that the advantages of online payments have a great weight than the downsides of it.
For example, the invoicing software which accepts online payment increases the efficiency of the business as the payment process becomes faster. In short, the invoices get paid faster. The online services is reliable for both sellers and buyers.
You must choose the right payment method according to your business. And you must find the right online payment provider for the sake of your business and customer's security. It is wise to choose the payment provider, which guarantees access to extra business capabilities and offers more operational efficiency for your business.
After analyzing the increasing rate of online payment, it is expected to become the standard in upcoming years, as most business organizations and customers already start taking advantage. As a business owner, you must stay up to date with the changing trends and technologies. To become successful, you must apply the modern business strategy that accepts online payment and gives your customers the ultimate convenience.