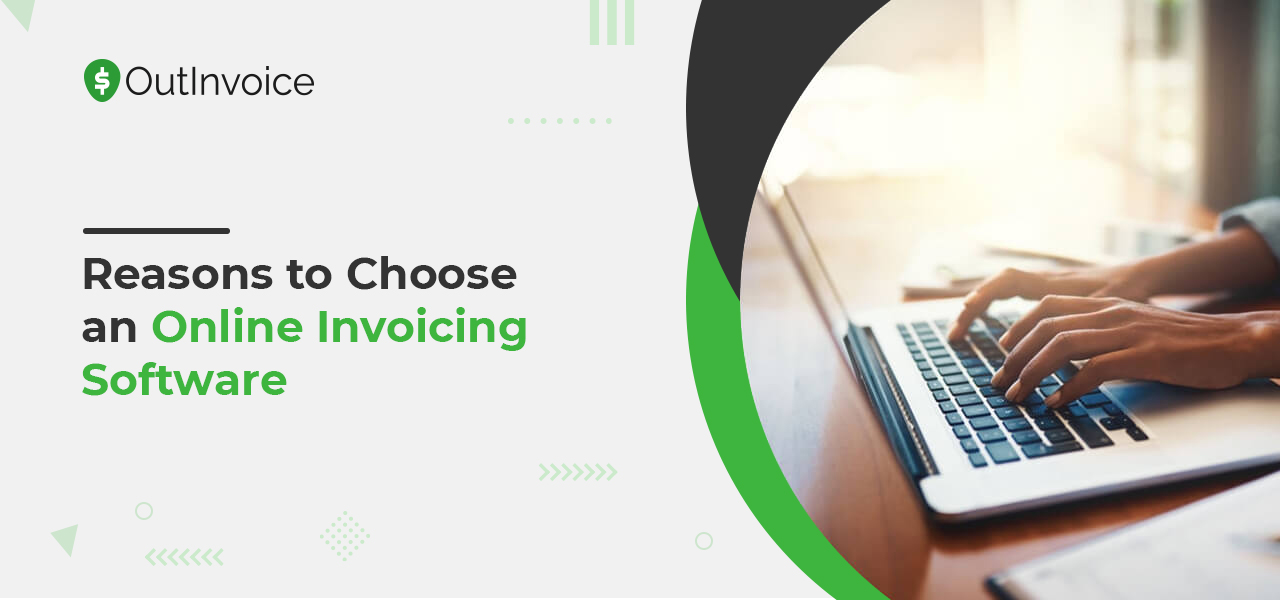 Reasons to Choose Online Invoicing Software
In this rapidly changing world, each sector is growing leaps and bounds in seconds. The economic sector is looking for massive growth now and is expected to blast shortly. Every day a new business is seen in the market, or a new idea is taking the market by Strom.
Information and Technology are playing an important role in the emergence of businesses and giving them chances to grow faster from managing employees to generate invoices for clients to using the optimum use of the technology and acing it.
Invoicing has always been a crucial part of business as it lets the cash flow for the service or product you have provided. Beginning with paper invoicing, now maximum businesses have turned to online invoicing, the reason becomes eashttps://outinvoice.com/blogs/boost-your-cash-flow-10-times-with-online-invoicing/ier for businesses to manage their critical task of assessment and to invoice with an available web-based invoicing system.
Once your business is set, you start to have a large base of customers and reach them, your number of invoices will also increase, and you start feeling stressed out filling invoices on paper.
Invoicing Software like OutInvoice can be helpful for you to manage your business. It helps you to create online invoices, send them to clients through email, multiple payment methods that let you receive payments globally in multi-currency without any hassle. Hence, instead of using the traditional way of writing papers Invoice on pre-printed papers, which can be time-consuming and error-prone, you can use an Invoicing toll that will take more time to relate with your customers, also has a low error rate. Here are the points why you need to choose online invoicing software:
1. Efficient Cash Flow Management
While using a web-based invoicing system, one can easily pay unpaid, overdue, and void payments and keep a record of cash flow in the business. Account payables and account receivables are easily managed as they are accessible and trackable. Hence, keeping track of account payables and receivables helps maintain healthy relationships with clients and vendors in the market.
2. Easier to Manage Global Client
An auto invoicing system like OutInvoice allows you to manage your global clients with ease just in a single click. You do not have to worry and think about the currency exchange or the language barrier to interact with your client. With OutInvoice, you can create invoices in multiple languages and accept payment online with multiple renowned online payment gateways like PayPal and Stripe. It helps you to accept payments online without any hassle of currency exchange. Invoices can be sent in real-time, and payments can be received quickly.
3. Save Time and Efforts
There is a universal saying, "Time is money". It is directly related to business. A second wasted can never be earned back. And the minutes or hours saved can add more value to your business. The Online Invoicing System like OutInvoice helps save more time and effort, which can be used in other productive activities.
4. Send Professional Looking Invoices
Small businesses or startups are always in a dilemma with the way they need to deal with clients. They always run to maintain professionalism and run their businesses, but lack of experience sometimes gives them a run for their cash. This is the major reason for small businesses need invoicing software. Also, your invoice needs to contain your brand logo, business description, and even general terms and conditions. It helps to save time without wasting time and also makes the company look more professional.
5. Least Possibilities of Errors
It is a fact that with online invoicing software, the number of human errors can be reduced to the least. Writing invoices with other available tasks in day-to-day business is s trying thing to do. Quickly done invoices can lead up to some major crises. But when you use online invoicing software, your system will be automated, and there are few chances of making the error.
6. Send Automated Reminders
The online invoicing software will help your invoices be paid quickly as you can set up automated reminders. Despite the traditional system where you need to follow up yourself for the unpaid invoices, then you can send automatic reminders for the unpaid invoices.
7. Easy Access to Business Finances
While using an online invoicing tool can save a lot of money, increase the cash flow, and be easily accessible anywhere. It helps to manage finance and make the transaction easy. The benefit of cloud-based accounting software is it lets you save all your data in the same place and access it all at once. You do not need to fear physical damage and theft, and the latest technology allows you to use the system securely.
8. Ease of Access
Easy accessibility is the major reason that businesses love to use the online invoicing system. You do not need to carry paper invoices or paper notes with you all the time. However, Invoicing Software like OutInvoice allows you to ease the process by storing all the data in the cloud. It also lets you save invoices, create them instantly, or even analyze your finances. It is available to you 24/7.
9. Safety of Information
You may be curious to know about the safety of your information, but yes, the information saved in your online invoicing software is safe. Developers need to keep in mind the sensitivity of data, and hence, storing online needs to take extra methods to keep it safe and secure.
10. Cutdown Massive Cost
You might think that setting up an online invoicing software will increase your additional costs. Instead, setting up an online invoicing software saves you from the salary of two extra employees, working space, and bills.
11. Automation
One of the greatest benefits of online invoicing software is automation. It means that you can set up recurring payments for long-term clients, and you can build a subscription-based plan. The automation system sends, follow-up the invoice and payment reminders for forthcoming and past-due invoices. Hence, automating the tasks saves you time and money and helps you grow your business. It removes time to chase the payments.
12. Establishes Brand Identity
Cloud-based invoicing software can strengthen your brand's identity. You can alter the template by adding a logo, color scheme, and fonts that match your brand's voice. When you enforce your identity, you increase the chance of getting paid on time. As per some research, it is found that including a logo increases payment by 3x. Also, you can create customized messages and greetings. It may seem minor, the messages like thank you and sorry can enhance your brand. Also, your brand's identity showcases your personality and expertise.
13. Simpler Auditing
Cloud-based software allows you to save everything in the cloud. Your estimates, invoices, expense receipts, and other finance-related documents are online in a single dashboard. This dashboard helps to save a lot of time by analyzing financial reports. During tax season, it makes the task a lot easier as it helps to conveniently locate all your expenses and receipts from one place to another.
14. Environmentally Friendly
Do you know, digital invoicing is 4 times more environmentally friendly than paper billing? Moreover, it saves trees, and also it prevents land pollution created by sending paper invoices. If you want to see a business's carbon footprint replacement, use a paper calculator from the environmental paper network.
15. Enhance Customer Relations
As mentioned already, there are numerous advantages of online invoicing. You have perfect billing systems, preferred payment methods, a professional appearance, and positive brand build-up. You can include customized messages to early payers or to those who pay on time. It doesn't take time for you, but your clients feel like VIPs, and special treatment is given to you. Even a simple "Thank You" will make a great impact.
Reinforcing the relationship you have with your clients not only motivates them to pay the invoice on time, but it can also help to generate repeat customers and word-of-referrals.
16. Modernism and Professionalism
Overall, online invoicing software gives your business a more modern and professional look and feel. It provides an image and an impression on your clients and customers. It may not seem like a bigwig, but it's going to help delays and barriers to accept payments. For instance, will you advocate a business that only accepts cash? That "cash only" may be suitable for that business. However, as a client, how often do you wiggle around cash?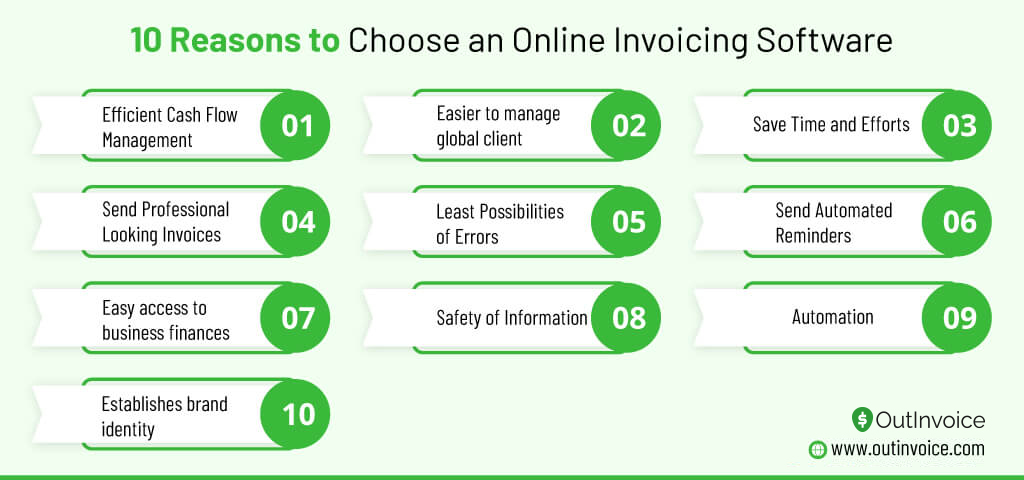 Invoice Mistakes you Need to Avoid
You have delivered your work, and now it's time to get paid. It would help if you were careful in this crucial. Otherwise, you will risk your relationship with your client, which could affect future orders. Here are the points you need to consider as a business and freelancer while creating and sending their invoices to clients.
1. Not a Double-Checking Mailing Address.
If you want to get paid after making an invoice, you need to ensure that your clients receive the invoice on time. So always double-check the email address you are using. Otherwise, there is a risk of sending it to others. This kind of mistake is very important as it is very difficult to detect. You might hit send option unknowingly and later realize that the email address was incorrect. If you have a busy schedule and several weeks pass without realizing several weeks pass away without realizing invoice was never paid. Even you contact the client and get paid, which will create a bad image on vendor-customer relationships.
2. Not Using a Professional Invoicing Tool.
We are in 2021, and you are still creating and sending your invoices, not mechanically? In this case, you need to upgrade yourself, and its a high time. Online Invoicing Software makes it much easier to create professional-looking invoices, and this will help you brand your product to your clients.
3. Design Matters
You need to pay attention while making your invoice even if you propose services not related to your design, such as legal services or management consulting. Do not forget that every interaction with your clients either braces or hurts your brand and image. For instance, if you don't have a good-looking logo, make sure to invest in one.
4. Making Spelling Mistakes on Your Invoices
People generally judge the intelligence and professionalism of other people and companies by the way they write. If your invoice contains grammar and spelling mistakes, they are certainly going to affect your image negatively. Even small details matter here. For instance, if you are a software engineer and writing an invoice, you wrote a software program instead of a software developer, and it also matters. So, double-check before sending it to your clients.
5. Make Sure the Values are Correct.
We already know the design and the writing aspects of your invoices, creating and sending them. There is only one way to make sure that the item and values in the invoice are correct. It is important because a mistake could give the wrong impression that you are trying to rip off your clients. So, please triple-check the numbers in your invoice before sending them.
6. Not Following Up
You have sent invoices, and weeks passed, still no payment. Have you followed up? Some clients forget to pay because they have a busy schedule, and others may wait until you nag them. In either case, following them solves late payment problems.
Suppose you are someone who dislikes following up and would rather take the personal element out of it. In that case, OutInvoice lets you automatically send customized reminders, so you never feel awkward about following up.
Conclusion
Furthermore, the world of business is growing, and you wouldn't want to be left-back. With the increasing struggle in the market, any weak step can pull you back. With the growth in technology, businesses have welcomed it with open arms. Online Invoicing systems are becoming the latest way for businesses to grow. OutInvoice, the Online Invoicing system, generates and sends invoices and manages your business effectively. With characteristics special to your type of business i..e a customized invoicing software for freelancers, entrepreneurs, small businesses, and large enterprises. One can easily customize the templates according to their business needs and use the software.