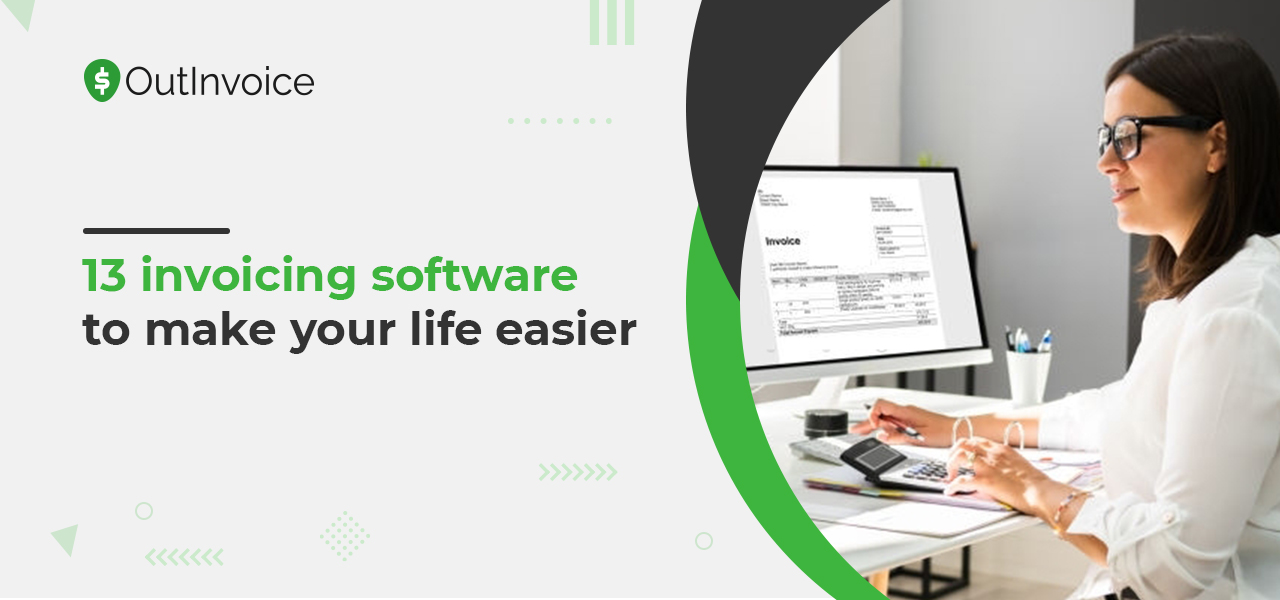 13 Invoicing Software to Make Your Life More Easier
What's the best invoicing software for small businesses? Without a devoted accounting team, the job of invoicing falls to small business holders themselves. But using invoicing software to create an easy invoice can make your life easier and simpler.
If you have thought of drafting, sending, or processing paid invoices brings you out in a cold sweat, the software or app listed below has the best invoicing software you can find. Here are the eight well-known apps that could make your life easier.
1. Quick Books
QuickBooks is one of the popular, well-known invoicing and accounting software for small businesses. Generally, QuickBooks is the accounting software that helps to streamline your business's finances. With QuickBooks, you can even connect your bank account to the software. It helps to eliminate human errors.
Similarly, it also has a great feature of invoicing. You can see updates of your invoices in a single dashboard, automates sending your invoices, and the software can eagerly show you the impact of paying bills and your cash flow.
QuickBooks has different pricing plans for the convenience of buyers. Self Assessment plans are for freelancers and independent contractors, which costs $8 per month. Also, it provides a variety of choices to the small businesses and VAT-registered companies in their making Tax Digital for VAT Ready Category starting from $12 per month. It is accessible on both iPhone and Android.
2. FreshBooks
FreshBooks specifically traces invoicing for small businesses and freelancers. They also added time and expense tracking features too. In FreshBooks, you can customize your invoices by adding companies logo, name and send them as an email or on paper.
FreshBooks claims that they have award-winning customer service, and the team is very active. Their team helps with setting up software and getting started.
The Plus Plans, which lets you add up to 50 clients, cost about $ 19 per month. It is also available on Android and iPhone.
3. OutInvoice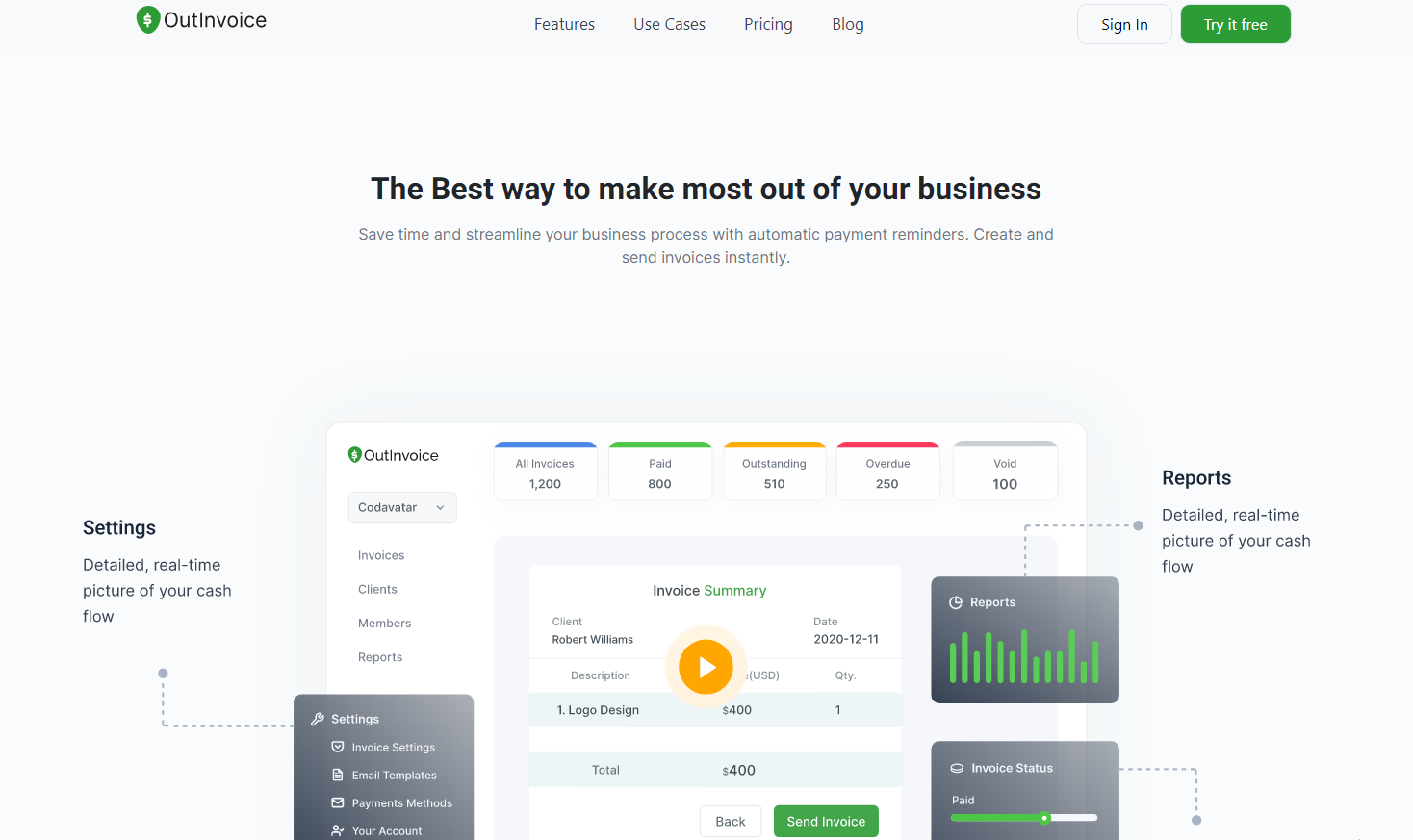 OutInvoice is the best invoicing software for small businesses. It makes every invoice professional in a single click and helps you to pay back in seconds. It has two subscription plans at a low cost. It is in cloud-based software. The monthly plan costs $6 per month, and the yearly plan costs $60 per month. It is fully loaded with multiple features. They are:
Support Multiple Members
Manage Multiple Businesses
Create and Sends Invoices fast
Accept Online Payments via PayPal and Stripe
Save Credit Card Information
Keep Invoice Status in Check
4. Zoho Invoice
Zoho has different applications for small businesses, but its invoicing software is ideal for small businesses. It has extensive capabilities, is very easy to create invoices, has a user-friendly interface, invoices, estimates, and set up retainer invoicing.
It has various pricing plans that suit growing businesses. It provides free service to up to 5 customers. Its basic plans cost $6 per month and let you send 50 invoices.
Zoho is fully-featured Accounting Software that is best suited for small businesses. Zoho is available in iOS, Android, and Microsoft versions.
5. Invoicely
Invoicely is also known as Invoiceable. It provides unlimited features like unlimited invoices to unlimited customers, free plans, and many more. It is best suited for startup businesses.
It is cloud-based, easy to use, and has affordable pricing plans. The Basic plans cost $9.99 per month, providing features like time tracking and expenses, setting up recurring statements, and providing quotes.
6. InvoiceBerry

InvoiceBerry is specifically designed for small and baby businesses, unlike much other invoicing software. InvoiceBerry is very simple to use. They claim that it create and deliver invoices to the customer in under a minute. This software will also send reminders to late payers and thank you note after payment is received.
It has various plans like Solo Plan, which costs $10 per month, allows 15 invoice templates, 35 customers, and two users, and Pro Plan proposes unlimited clients and users, 15 invoice templates, and costs $ 20 a month.
7. KashFlow

KashFlow is a UK-based business, and it is built focusing UK Market. For example, you can directly link VAT return and EC Sales to HRMC. KashFlow is the accounting software and has invoicing features too. It turn-ons quotes to invoices in one click. It also sends automatic alerts to the late payers. It has various subscription plans at reasonable prices. The monthly Starter plan costs $ 8 per month, perfect for sole traders, contractors, and micro-businesses.
KashFlow Go is the mobile version of the invoicing app available on both Android and iOS.
8. Zervant

Zervant is the invoicing app specially designed for entrepreneurs and small businesses. It allows the free plan to send unlimited invoices to up to five customers, while the premium plan costs $8 per month, including features like payment reminders and scheduled and recurring invoices. It comes in handy in both Android and iOS(Apple).
9. Tradify

Tradify is the job-tracking and invoicing software for people who work in the trade. On the more expensive side, it costs $19 per month, but it provides a wide range of features. It keeps track of receipts, quotes, timesheets, and contracts all in one. Invoicing Software has features of automatic payment reminders. It comes in handy in both Android and iOS.
10. Your Tradebase
YourTradebase is made for trades by the trades. This software helps to manage scheduling, job sheets, and quotes. One plan costs $25 per month. If you need to add more users, you have to pay an extra $5 per month. It is available on Android and iOS.
11. PayPal
PayPal is the biggest online payment processing platform. It has been in the payment processing industry for 20 years. It gives you more recognition and credibility. It is best for invoicing.
PayPal allows you to create and send invoices, review account activity, and issue refunds too. On top, you don't need a special account to log into PayPal Dashboard. Once you logged in, you can generate and invoices and view paid and unpaid invoices. Creating an invoice takes just a few seconds. Also, it has features of saving details of customers.
You can generate a basic invoice with just a few line items or create advanced with partial payments or photos. This overall process is quick and automatic.
Customers will receive the invoice via their PayPal Account, where they can pay through Credit Card, Debit Card, or PayPal balance. The funds will be deposited in the PayPal account, where you can transfer the balance. But, you have certain limits to your debit card or bank account.
You can automate PayPal with PayPal's Zapier Integrations, which allows you to log into new PayPal sales in a spreadsheet. You can subscribe to new PayPal customers through an email marketing list.
12. Square
If you want to integrate your online and in-person payments, Square is the best option. Not only this, but it comes with eCommerce capabilities too but offers high-quality point-of-sale hardware. For invoicing, especially, you can choose to use the standard Square invoices app.
Square lets you build an item library of your products and services to fasten the invoice creation process. You can add customer details in the library and make the bill as per the bill.
Square has the features of creating recurring invoices, schedule invoices, and send them later, automatic payment reminders. You can customize your invoices within your account setting. For instance, you can change the color, logo, select whether you want to display your address or not, add custom text, and more.
You can simplify your processes by automating Square with Square's Zapier Integrations. You can add new Square Customers through the email list, Slack channels, and more.
Square has different pricing for processing and invoicing. It costs 2.9%+$0.30 per transaction for credit/debit card payments made on invoices.
13. Stripe
Stripe is known as the best online payment gateway available in the eCommerce platform. Most of the famous invoicing and accounting software like OutInvoice, Square, Shopify uses Stripe for the payment purpose. Setting up the Stripe account is not so hard. It is user-friendly. Along with payment processing for the online platforms, it also includes invoice creation.
To create an invoice, you need to create a Stripe Account; you can see the customer portal and invoices. Here you will see all the list of invoices that have been created earlier. This invoice includes draft, past due, or paid due. When you click on the create invoice button, you are capable of setting up your invoice manually.
You can select the customer, add items, know about their cost, and if coupons were applicable taxes and other fees. You also have options to pay invoices online with a credit card on file.
The main advantage of using Stripe for invoicing is that you see all your revenue reports in the same place. So when it comes to accounting and taxes, you don't need to worry about taxes and accounts. You can automate Stripe with Zapier and can add sales to google sheets.
What makes great Invoicing Software?
To find the best featured free invoicing software, we assessed and tested more than 30 tools. We find that you need to have the following criteria or features:
Unlimited Invoices
Many tools limit the number of active clients and invoices on a free plan, while paid versions are featured as per the plans and upgrade to a premium plan.
Simple and Easy to Use
Most people prefer simple and easy invoicing tools to use. It has simple typing in a word processor allowing companies to save their client information at reasonable prices and more.
Accept Online Payment
The most important factor of invoicing software is getting paid on time. All the listed tools help you get your payment paid on time by sending invoices, reminders, and thank you after the payment is made. You can make payment online, Bank deposit, Cash, or Bank transfer.
Most of the listed apps create quick invoices and send them to the clients. For the more advanced features, you can subscribe to more advanced or premium plans.
Another important thing to seek while making an online payment is the payment gateways. This may be process card or bank payments. PayPal and Stripe are the most generally used third-party payment gateways. So, even though the invoicing software is free, all its apps charge payment processing and transaction fees for accepting payments.
Conclusion
There are numerous invoicing software available in the market that claims themselves to be the best however it depends on their features and functions.
Thus, it is always a good strategy to invest in robust invoicing software that helps you to perform accounting professionally. OutInvoice can be the best option for any small business and freelancer to efficiently create, send, and manage invoices. Also it helps to make your life easier with modest features.
So, try OutInvoice 30 days free trial and choose that suits your business.