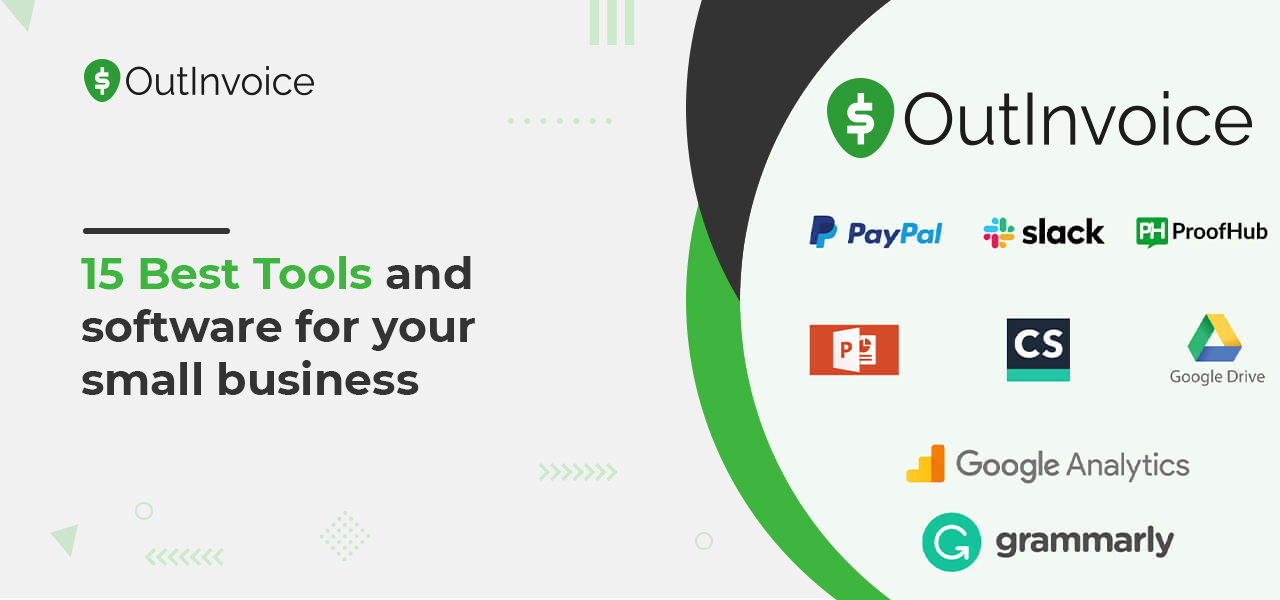 15 Best Tools and Software For Your Small Business
Whether you're running a small business or multiple businesses at a time, there will always be several activities going on at a time. And it would be tough to handle things without making a mess every time. The best companies identify the errors and problems getting in the way of productivity and eliminate all of them. So it would be more appropriate to use the business management software to stay on top of things.
List of Best Tools and Software For Small Businesses
This is applicable not only to the companies but also to all individual staff members, freelancers, entrepreneurs, and anyone out there who thinks of making the best of every minute and time they spend.
Many companies and organizations invest in business management software to get things done, predict risks, and improve overall efficiency. It would not be wrong to say that business management software makes things a lot better and convenient for all sorts of businesses.
Productivity tools come in various forms and take a whole different approach to improve your cash flow. Here are some of the apps that will help you out to solve your problems and make things a lot easier:
1. Slack
Slack is a messaging app in development for teams and is perfect for remote workers. This means it can be used on multiple devices and platforms for teams and workplaces. It is equipped with a robust feature that allows you to do instant messaging, creating channels where team members can join and leave as required so that nobody receives messages that are irrelevant to them.
You'll be able to share files and upload them too. And team members also can chat outside the topic by creating a separate group that prevents them from interfering. Some of its key features are:
Instant Messaging
Team members can live to communicate with each other through seamless collaboration.
Status
Users can use different statuses about availability, offline and more to focus on individual tasks as much needed.
File Sharing
You can drag and drop files, pdfs, images, and any other sorts of videos and links to share.
Voice and Video Calls
You can use both voice and video calls within slack.
Screen Sharing
It allows you to share your work with your team members in real-time for decisive participation.
2. OutInvoice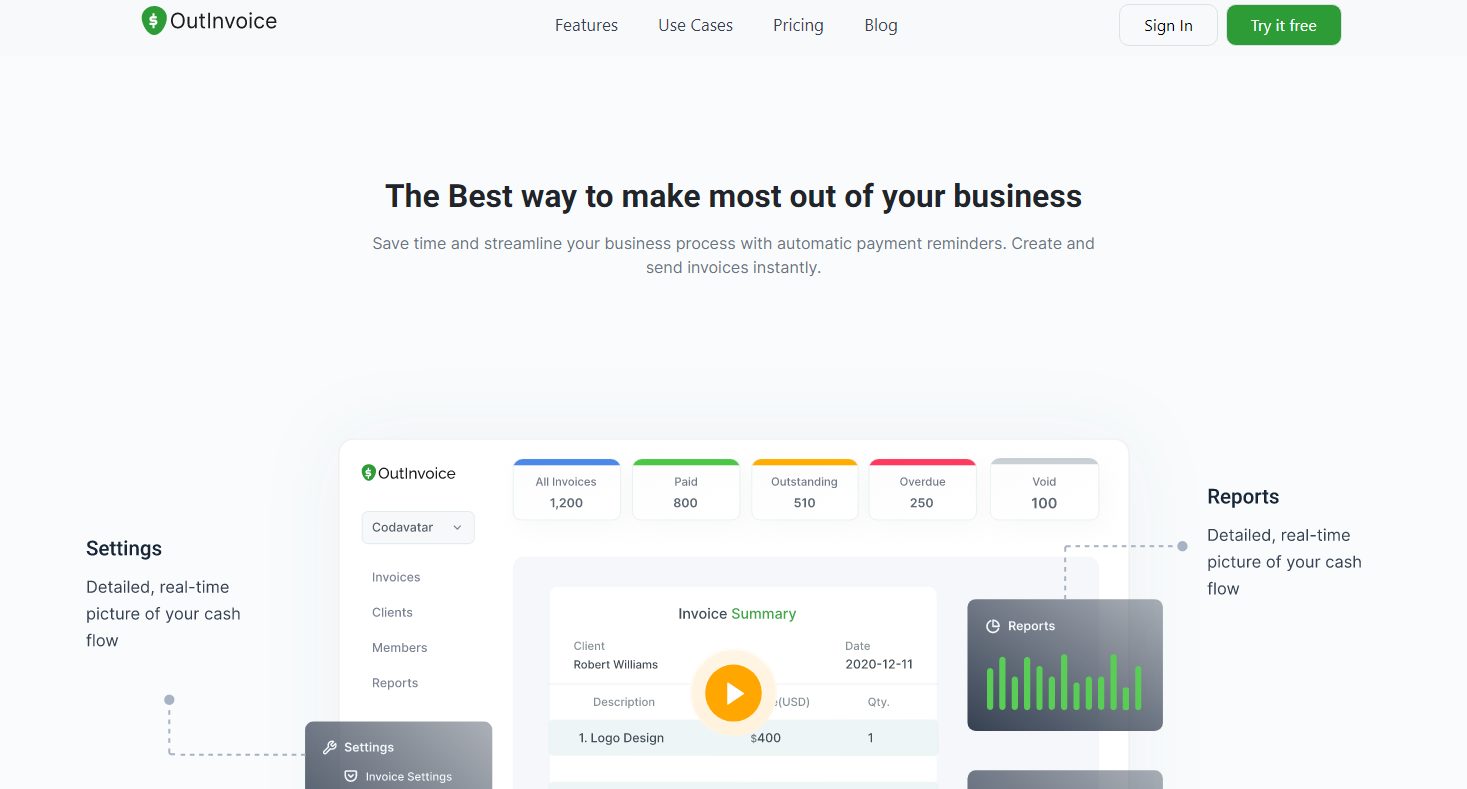 OutInvoice is the simplest and best invoicing software designed for small businesses and freelancers to make their invoices more professional. It helps remind clients to pay faster, which also helps maintain the business's stable cash flow. There are multiple features in OutInvoice, and some of them are :
Multiple Members
You can create a multiple members profile from the company side to manage the invoices for the company. This helps save time by sending invoices or monitor overdue, void, and paid invoices. So overall, it helps to manage the business with the integration feature on your devices.
Manage Multiple Businesses
You can create a separate invoice account for every business, making it easier to manage and handle them. You can now monitor the status of multiple businesses with a single account.
Send Invoices Fast
Creating invoices online and sending them can always be annoying and troublesome work. But with the help of Outinvoice, you can easily send an invoice without any hassle. Now you can create and send invoices from anywhere in a matter of seconds.
Accept Online Payments
OutInvoice accepts payment through your preferred options. You can use either PayPal or Stripe for one click and pay directly from one click. It helps to save time as well as you can easily avoid to-and-from communication regarding the payment methods.
Savings Credit Card
OutIinvoice saves the information of its regular client payment methods like Paypal credit card payment details, stripe payment for future transactions. So you don't need to ask every time for the invoice payment method and details of your clients.
Keep Invoice Status In Check
Keeping track of invoices helps to improve the cash flow of your company. It also helps to generate and send invoices, monitor overdue sn receipts with a single click. It also manages and tracks the payments of each invoice.
3. Doodle
Communication plays a huge role when the number of remote workers increases on your team and collaboration is needed. But not everyone might be available for instant messaging, organizing, and managing meetings as the time zone differs or how many teams your workforce comprises.
Doodle is a great mobile app that helps you schedule meetings with clients, colleagues, or teams. It helps to exhibit meetings with the current email back and forths. It doesn't matter how large your team is, how many time zones differ, or how many teams your workforce comprises. Doodle solves all of them. Some of the key features of a doodle as social media are:
Team Schedules
It arranges the meetings, video calls, audio calls, and collaborative sessions without emailing back and forth.
Availability
Team members can set their availability hours which will help to alter the time zone.
Manage To Schedule
It combines all the people that need to be asked the same question into one format. It simplifies the updates and sets reminders to auto-send or turns them off entirely.
Personal Events
You can keep private meetings, tasks, and events hidden from the team members so that only employees can see what they need.
Users can set the availability time for a meeting based on everyone's availability. Users can confirm their availability and join the meeting as scheduled. Team members are also notified so that no one misses anything.
4. Zapier
Zapier is a tool that helps you to automate repetitive tasks between two or more apps. It is the most simple automation tool that helps to save the tremendous time that is spent on the different mobile apps and social media. It sends data like Trello and Gmail so that emails are automatically sent.
Thousands of existing automation is available in zapier that can help improve and handle recurring tasks, which lets them focus on more important and fruitful tasks. It helps to get things faster.
Some of Zapier's key features are:
Top-Notch Security
Zapper has globally distributed SRE and security teams on calls 24/7, which provide constant monitoring of security notifications.
Built-In Actions
Users can send emails, filter tasks, convert data, and more with Zapier's home-spun apps.
Extendable Workflows
It automates multiple tasks with a single trigger.
5. Grammarly
Grammarly is a cross-platform cloud-based writing assistant that fixes critical grammar, punctuation, and critical errors. Grammarly makes sure that everything you write is not only correct but also clear and easy to read. This is also applicable on social media and other mobile devices. It comes in three different versions: free, premium, and business plans.
Free
It provides basic writing suggestions like spelling correction, punctuation, and grammar check facility free of cost.
Premium
Grammarly premium ensures that everything you write on the web is captivating, precise, and easy to read. It checks for grammatical errors, provides vocabulary enhancement suggestions, detects plagiarism, and provides citation suggestions. It is mainly designed for email and blogs.
Business
It was created for businesses with prominent team members from 1 to 149. It also provides the style guide, admin panel, centralized billing, and priority email support for its clients.
6. Pocket
Pocket is a free service that helps you discover the great content of your interests and save the content so you can read it later on any device. It's your one-stop destination for reading engaging content, catching up to your favorite blogs, and watching the videos that you couldn't because of the wrong place and wrong time.
Pocket has three plans, and you can explore most of out them:
Free
This plan allows you to read, write, save, watch and listen.
Annual Membership
Annual membership costs you 44.99/year. You can watch, save and listen to audio and videos, keep a permanent library of everything you save, suggest tags, full-text search, unlimited highlights, and premium font services.
Monthly Membership
It costs you around 4.00/month, and the services you get are everything like in annual membership.
7. Microsoft suite: Word, Excel, and Powerpoint
Microsoft is one of the world's top and most valuable companies, leaving Apple behind. Most companies use the Microsoft suite to build professional invoices and for better productivity. You can take advantage of Microsoft tools to create a single and multipurpose platform. You can scan Pdf files, transform spreadsheets or draft up documents anytime and anywhere. It uses cloud-based, making it easier to share stored data through high-profile services like drive and dropbox. The apps are free for basic features and sign in to the office 365 subscription plan for premium and more advanced features.
8. CamScammer
Camscammer is a Chinese mobile app that helps you transition your intelligent camera phone into a portable scanner. Users can scan and crop files and images through their phones into high resolution. It allows users to scan documents and share the photo either as JPEG or PDF. It is available on both Android and Aos. It comes with free and advanced subscription plans, and features are limited within them.
9. Google Drive
Google Drive is a cloud-based storage solution that allows you to store files and folders online, and you can access them anywhere and anytime. It is easy and secure to access all your information and content online and access them from any medium. You can use the drive on your computer and mobile device to securely upload and edit them. There is already a free version that provides a 15GB data storage facility, or you can have a 9.99$ drive file stream.
You can access files directly from the cloud to your mobile device or PC. Any changes made to your drive will be synced and updated automatically. You are always provided with the latest and updated version.
Some of the cool features of the drive are:
Shared Drives
Within shared devices, users can search, store and access content facilities. The files shared will be available to anyone on the team instead of an individual so everyone can access the files and content they need.
Data Loss Prevention
It secures sensitive content from people from outside who do not have access. It scans files for sensitive content and information and blocks everyone from outside the environment to access them.
Offline Access
If you don't have internet access, you can still access files, create and even edit them in Docs, Sheets, and Slides.
Also, Google Drive comes with various subscription plans.
10. Tick Tick
Tick tick is a powerful to-do and task management app that comes with seamless cloud synchronization across all your devices. Whether you need to append tasks, subtasks, set deadlines, reminders, tick tick is always there to get stuff done and keep track of your life. You can even share all the things with your teammates and colleagues. It helps you set your key priorities and achieves a better result. Some of its key features are:
Breakdown a complex task with task nesting
Sort out your list with section
Simplify note-taking with a note
Integrates and turns on the email
Keep updated with what to do next: organize and manage to-do lists and due dates
Helps you focus on your goals
11. Google Analytics
Google Analytics is a web analytics service provided by google analytics that provides statistics and essential analytical tools for search engine optimization(SEO). Its primary purpose is to track website performance and collect visitor insights. It helps in every aspect of the business, from budget association to market optimization. Small and medium-sized businesses often use google analytics to analyze customer behavior, which helps improve marketing campaigns, drive website traffic, and retain visitors.
Some of the things that google analytics can do are:
Data visualization and monitoring tools.
Data filtering and manipulation
Email-based sharing and communication
Predictive analytics
12. Todoist
Todoist is a cloud-based service that helps to make to-do lists and task managers for professionals and small businesses. It lets users streamline their personal and teamwork for productivity. Users can manage their projects and collaborate with other members using a board or list. Every user is free to take control over their productivity and work more effectively. Some of the critical features of todoist are mentioned below:
Personalize your task views
Centralize all your work in one place
See tangible progress
Share the workload
13. Proofhub
It is a powerful business management software that combines all the best features that you need to manage your business. It streamlines your processes, shares, and stores files, and also shares feedback within one roof with your business. It's a project management software that helps to organize and track the progress of your project. It is developed with an idea to help people plan. Manage, connect, share and do everything from a single tool.
Some of its top features are:
Practical project and task management
Gantt charts to keep track of your project
Time tracking to calculate the time spent on each task
Dynamic reports to get clear insights
14. Xero
It is a cloud-based accounting solution mainly aimed at small businesses. It provides tools to help businesses monitor their financial performance as well as cash flow in real-time. It also provides features that help the accountant to keep healthy balance sheets. It connects your businesses to your bank, accountant, bookkeeper, and other businesses. It simplifies the overall everyday business tasks.
Some of the features of Xero are:
Pay Bills
It tracks and pays bills on time to get a clear overview of accounting and cash flow.
Claim Expenses
This simplifies employee expense claims. It captures costs, submits, approves, and reissues claims and views spending.
Bank Connections
Connect your bank account to Xero so you can securely maintain the transaction flow into Xero each day.
Track Projects
You can keep track of time, cost, and profitability within Xero.
Capture Data
It gets a copy of original documents and key data into Xero automatically without using the manual data.
Files
You can also use Xero as an online filing system. You can manage and share documents, contracts, bills, and receipts safely from anywhere and anytime.
Inventory
We keep track of stock with the help of inventory software.
Send Invoices
You can easily send invoices from your phone or desktop and work more intelligently with intuitive invoicing software.
15. Paypal
Paypal is one of the most extensive online payment solutions available on the market. It is a better option for small businesses and entrepreneurs. It is easier to set up and use, making it a better choice for small business owners. Paypal helps thousands and millions of people worldwide send and accept payments using bank accounts and credit cards, so it has become one of the most widely accepted platforms in the eCommerce industry.
Paypal is one of the most accessible services available for businesses and customers which comes in two versions:
Free Trial
It does not offer a free trial period, but merchants do not pay for most plans' startup or termination fees.
Tech Support
Papal offers multiple customer support sources, including a community forum, resolution center, and text and email support.