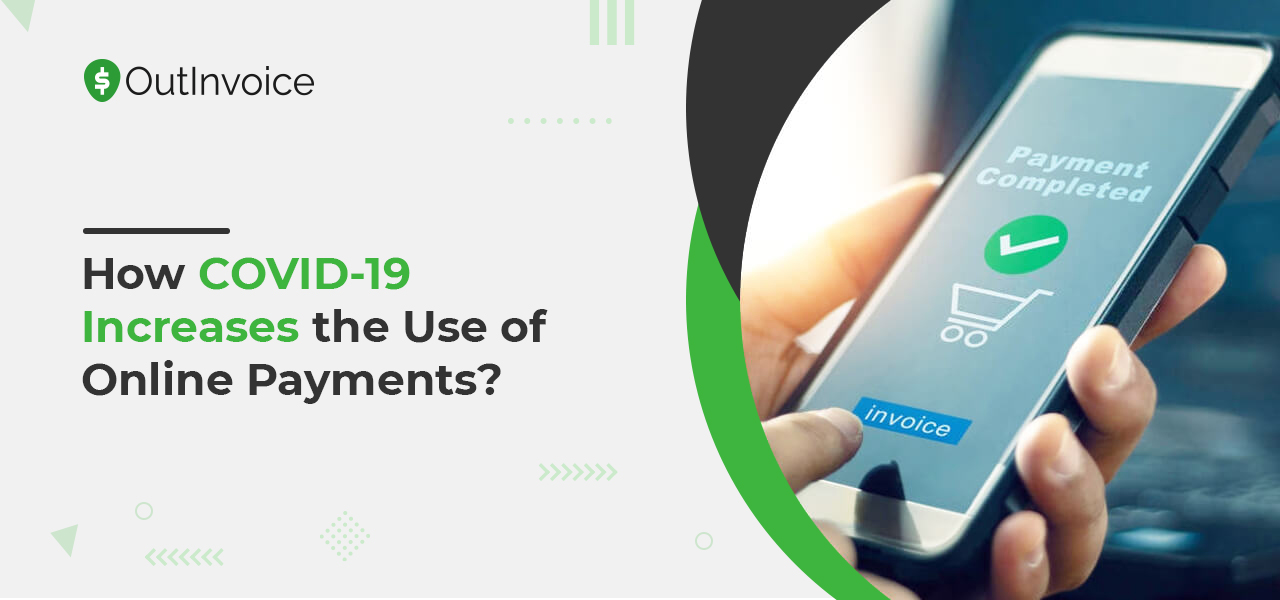 How COVID-19 Increases the Use of Online Payments?
The COVID-19 Pandemic has affected the lives of every single human directly, and social distancing has been the new normal to human lives. Every sector and industry is affected directly or indirectly by the ongoing Pandemic, but the work cannot be stopped for years as running or operating every business for years will lead to business collapse or economic crisis. So to resolve these problems, every business needs to come with solutions. One of the best solutions they started was working remotely as it maintains social distancing and saves all other official costs. Secondly, most of the businesses started accepting online payments.
For any business, cash flow is crucial, and king of the business and cannot neglect it at any cost. It is the primary source to operate any business. After the Novel Coronavirus broke, online payment is the only option to resume business activities with physical distancing and following social distancing, which is the basic norm in COVID-19.
The gradual increase in the usage of smartphones has also given another prospect to the usage of digital or online payment options. A recent report published by Statista forecasted that sum of transactions via the overall digital or online medium would reach USD 4,769,370m by the end of 2020 and later will increase by 15% as per the witness. The novel Coronavirus is playing a significant role in increasing the usage of smartphones in multiple folds. Now let's understand how COVID-19 will lead brands to accept digital/online payment through the globe.
Effects of Coronavirus on Industry and Market
The sudden outbreak of the Coronavirus has brought many changes in the human lifestyle and the world to a shocking unknown pause. The entirely broken demand and unexpected halt have brought a notable impact on the manufacturing sector due to consumer behavior. As most of the population is locked in their home, and their behavior has changed.
Consumer behavior and the sudden lockdown have also forced many companies to either a complete shutdown or work remotely as war possible till the next favorable situation to bring life to be normal.
We know Coronavirus is here to stay, and neither is there a chance of its complete disappearance. Also, its side effect is not limited to a list, but every sector, business irrespective of any boundaries, is expected to hit hard. While many startups and SMEs are assumed to disappear, economics are expected to go through a major business recession. Every part of the world is already facing experiencing the first-hand experience of lockdown. However, it will be interesting and overwhelming to see how the adoption rate of digital/online payments will rise in the current scenario.
Factors accelerating digital/ online payments solution acceptance
1. Cash will consequently lose its value
As the Coronavirus is expected to stay for more than 9 hours, currencies are supposed to be a harmful carrier of the virus. Developed countries like the USA, Canada, the UK, amongst others, have found their way of dealing with it. From the major foreign exchange being reserved for more than 24 hours before broadcasting it back into the economy to washing currency notes, those with plastic currency. But the use of online payment gateways has helped to suppress outbreaks to some extent, even minor.
Also, there is a gradual and steep rise in the number of downloads for online grocery stores with the ongoing situation. Moreover, just like other sectors, banks are working with a minimal amount of employees. Thus, retailer and SMBs are finding difficult to deposit cash. Therefore, banks to receive cash or withdraw cash are shifted towards online payment methods like PayPal and Stripe for easy process.
With the increasing use of smartphones, more than 38% of consumers are preferred to the online payment system, which is accepted globally. According to the survey in Germany, post the COVID-19 outbreak, the download percentage of online payment apps has risen to fifty percent from 35%. Such a scenario is seen all over the world.
Online Payments are card-based and do not need any physical interruption, apart from being safe and simple. There are multiple factors people choose for online payments or transactions over physical currency exchange.
2. Increase in the demand for e-commerce after the outspread of Pandemic
Being locked in the houses are choosing for online shopping. People prefer an E-commerce store that agrees to deliver in time with contactless delivery. Even in countries with partial or no lockdown, people avoid going out for shopping, rather than staying in a queue, maintaining social distancing to break the chain of the virus.
Many companies are actively working to serve their online customer, and others are trying to develop software to serve them and improve some features. Hence, the practice of receiving payments online has increased by 28% in apparel, gadgets, automobiles, travel, tourism, and hospitality industries.
3. More extensive perspective
In the current situation, Coronavirus isn't ending soon, and it is affecting every individual's lifestyle directly or indirectly. There is a progressive and gradual increase in the number of people using online transactions and increasing day by day. But it is necessary to understand that only essential commodities are in demand due to sudden economic recession. However, as soon as life goes to normal, it is expected to increase the volume of digital/online payments with the ongoing changed behaviors.
What are enterprises expect to do?
Before, Coronavirus broke the adoption of digital payment platform was an alternative. But, with current situations in 2020, the overall look towards digital/ online payments has changed completely. Clients or Customers have shifted towards online payment more regardless of the business type, sector, size, or type. Online Payments sooner or later will throne over a cash transaction. So, every business and the client should be prepared for digital payments, payment processes, and invoicing processes to send invoices and receive payments online without human interventions.
Invoicing Software will now play a primary role to help businesses and also to shape the needs of digitization with the help of online platforms. Accepting technology will take time as customized solutions will increase invoicing and payments to help businesses benefit from overall process efficiency.
How OutInvoice help you to increase Online Payment?
OutInvoice is the invoicing software for small businesses that make professional invoices in a single click and get paid in seconds. With OutInvoice, you can create instant online invoices. Adding multiple members is not an issue. It creates business profiles, secure payment, real-time invoice reports, PDF downloads, and many more. Also, it is fully packed with business tools.
Features of OutInvoice are: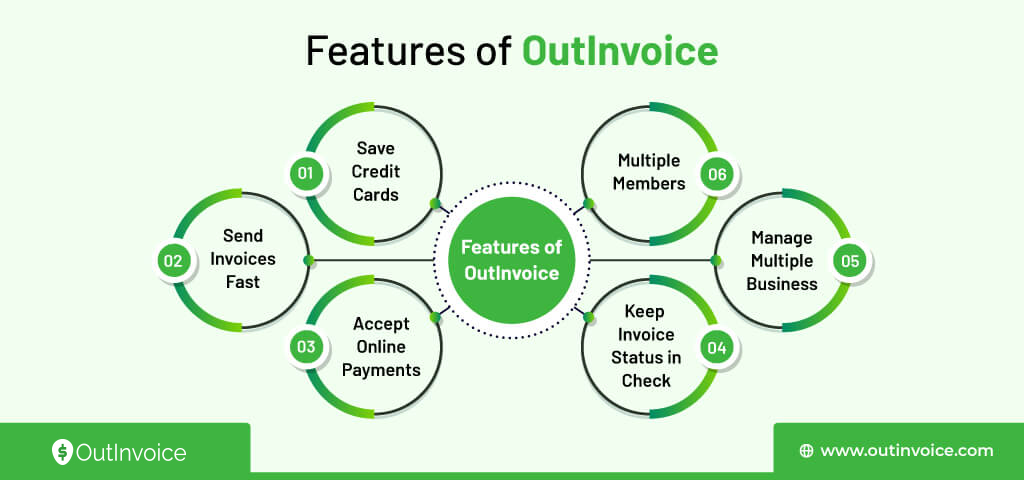 1. Multiple Member
Creating multiple members and letting others manage invoices on your behalf is not a problem. It saves time that is spent on sending invoices or monitoring overdue, void, and paid invoices. Now it helps to work together in a team.
2. Manage Multiple Business
With the help of OutInvoice, you can manage multiple businesses by creating separate invoice account for each of them. Hence, you can establish a multiple-market account and monitor the status from a simple account.
3. Send Invoices Fast
Creating invoices and sending them is always laborious and irritating. OutInvoice lets the business instantly deliver invoices without any nuisance. To create and professional invoices from all around the works in seconds with OutInvoice.
4. Accept Online Payments
You can choose your preferred online payment methods like PayPal or Stripe in one click and lets your customers pay directly from the invoice. So it helps to save your time, pay invoices online, and avoid to and from communication regarding the payment details and methods.
5. Save Credit Cards
Every time a customer requests, you don't need to ask for invoice payment methods and card details. You can save the information like PayPal and Stripe payment methods.
6. Keep Invoice Status in Check
Keeping track of invoices is very important as it gives insight into your company's cash flow. With OutInvoice, you can monitor overdue, void, and paid invoices within a single click. It helps to manage and track the payments of each invoice.
9 Advantages of Online Invoice Payment Method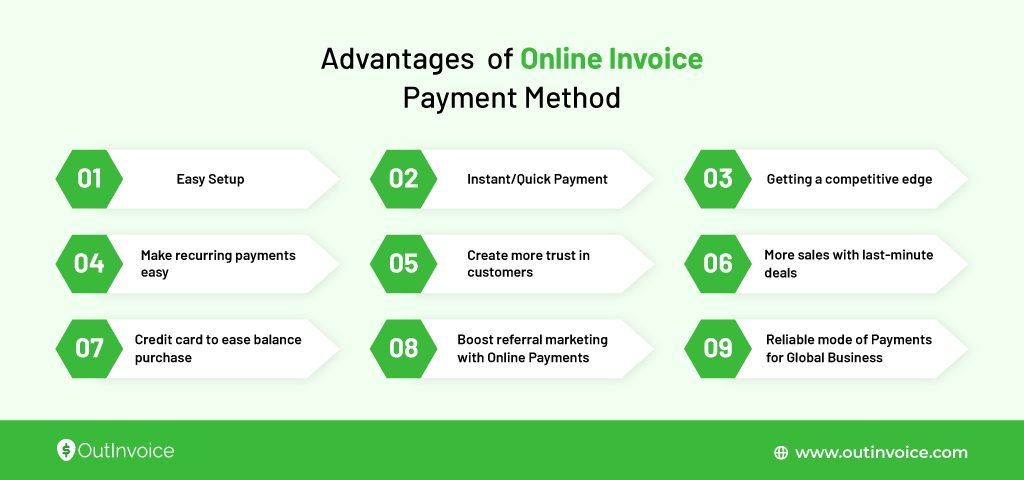 1. Instant/Quick Payment
Online payment provides immediate payments for an organization. It breaks the geographic restrictions and lets consumers purchase even without physical presence. One can easily make a payment from their home. The gate to make the transaction will be notified.
2. Easy Setup
Providing the option to receive online payment is easy and ready to start selling minutes after executing it. Moreover, many facility providers are available today that offer affordable plans with zero setup fees and very low transaction rates.
3. Reliable mode of Payments for global business
An online invoicing software with advanced features to receive online payment is more secure, reliable. There is no risk of cheques bounced.
Create more trust in customers. Customers today are more dependent on sellers and prefer online payments through their sites. It inspires them to do business with the merchant. Similarly, online invoice payment offers the consumer the fraud and thieves protection that secures the money.
4. Make recurring payments easy.
If you are providing subscription-based services where your customers need to make payment after a certain interval, the option to receive online payment could be more suitable for you. Instead of sending reminders and requests to send cheques for the payment, you can automatically collect payments after the subscription term.
5. Credit card to ease balance purchase
Clients can use their credit cards to make payments, even if they don't have money in their bank account, as you can break down the payment into multiple installments if you are selling expensive items. They can use credit cards to purchase in installments.
6. Boost referral marketing with Online Payments
If you have an online invoice payment system in place, you can create an affiliate program where your affiliates can earn referral commissions by sending buyers to you. This will boost your sales, and you can find an affiliate network working to increase your revenue.
7. Getting a competitive edge
For a businessperson, an option to receive online payment can improve reliability, letting it gain the customers' trust. Moreover, when you use online payment systems, you cannot ask clients to pay through cheques. If you do so, it sounds obsolete.
8. Influences impulse buyers
An online invoice payment method may inspire customers to purchase more items from their shop since the transaction is quick and easy to pay through credit cards. It attracts buyers to grab the deadlift online payment system operates properly time.
9. More sales with last-minute deals
Merchants provide cost-deals to attract customers. If you can receive online payment with the help of various invoicing and accounting software on your website, a customer can grab a deal even at the last minute, which helps increase sales.
Conclusion
There are many challenges for businesses to operate in 2021, and the impact of novel Coronavirus has made drastic changes in consumer behaviors and payment trends. Many small vendors are finding it difficult to meet new demands, addressing new risks due to the new normal. Now, you don't need to worry, and even you are a small business vendor. You can use an OutInvoice that perfectly matches your requirements at an affordable price. We also provide 30 days free trial convenience. The shift to online payments will only increase, and businesses need to welcome this and boost their processes to adjust and offer the easiest ways for customers to complete transactions.