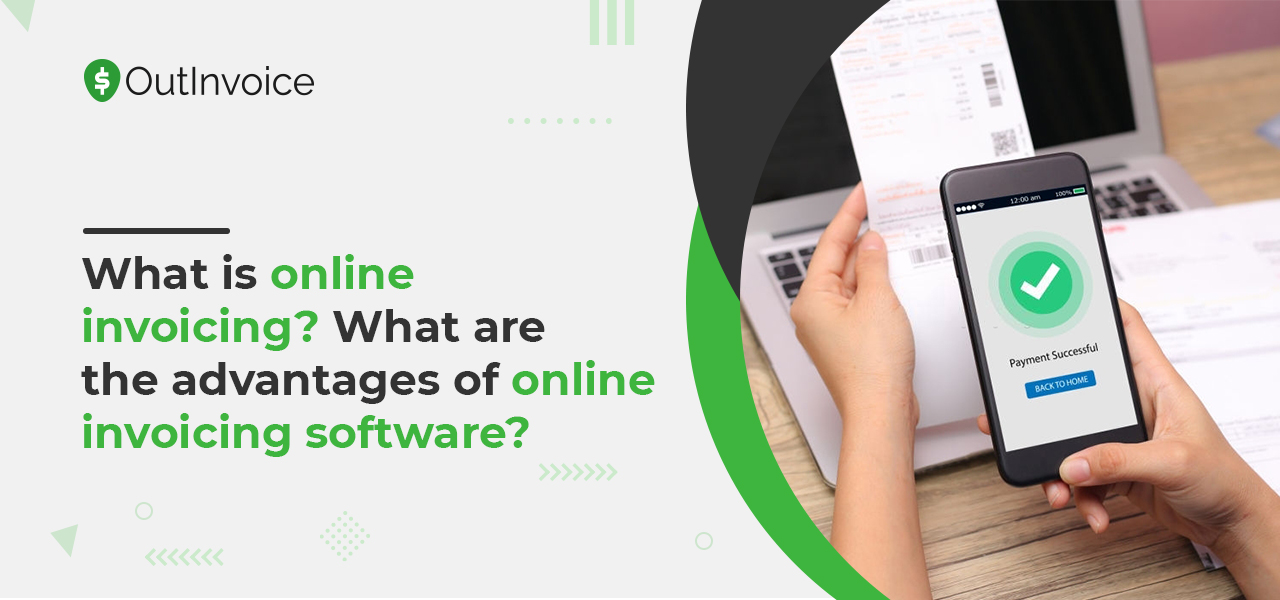 What is Online Invoicing? What are The Advantages of Online Invoicing Software?
Establishing a small business organization is not a big deal today. It would help if you were cautious, make a plan and come out with the best strategy to start a business, but it takes a lot of effort to maintain the day-to-day operation, bill accounting, and running a business without any loss. The online invoicing software plays important role in small businesses, freelancers, and large businesses for account management.
You can't expect to have a lot of profit the next day you start your business. The detailed attention and consideration in the phases and aspects of the daily business operation can only lead to success.
In this competitive market investing in modern and advanced technology can be the best way to move ahead of other competitors. As the business market keeps changing with the change in the market trends, it's a clever choice to embrace the technology in your business operation. You can have software and apps that can make your work easier and faster.
Evolution of Invoicing Process
Technology plays a vital role in business. It helps to make business systematic, easier, efficient, and faster. This will help your business to improve productivity and gain other achievements.
When we start talking about online software for business, one cannot ignore the significance of online invoicing software. Even though this technology is introduced recently, it has been actively acknowledged by both small and large business organizations as it saves money and time and increases business efficiency.
This is basically because the invoicing tools bring an automation process in invoicing and keeps track of bills and invoices with ease. It replaces the manual work of bookkeeping tasks, chasing clients for the payment and tracking bills record. This directly increases business operation efficiency, saves time, makes an automation process, systematizes work, and most importantly, helps to get paid faster.
Sending invoices to the clients is the initial step to get payment. Basically, the invoice is created for every product or service that is sold and supplied; it is a medium of business for payment. Therefore, online invoices are a way more competent method in comparison with any form of offline invoicing. The best solution for the time-consuming and paper procedural practice of the invoice method is to send online invoices or applying invoicing software.
What is Online Invoicing Software?
The software that automatically creates or generates bills for the sold or supplied product and services is referred to as online invoicing software. It replaces the manual work of billing and accounting and brings efficiency to the business workflow.
The invoicing software is a tool that forms a list of products and services with their related costs, including tax, and sends them to the corresponding receiver. Each invoice that is generated includes the actual total cost that the client needs to pay. The invoicing process helps to deliver invoices through email or other delivery mediums.
The business can keep track of bill payments, record finances, track cash inflow, process payments faster, etc., with the help of invoicing applications. It also provides different online payment options to clients.
This software allows you to generate invoices using professional templates that can be customized with your company's logo, name, contents, etc. Therefore, invoicing software helps you to send professional invoices within a few seconds and saves your time and effort.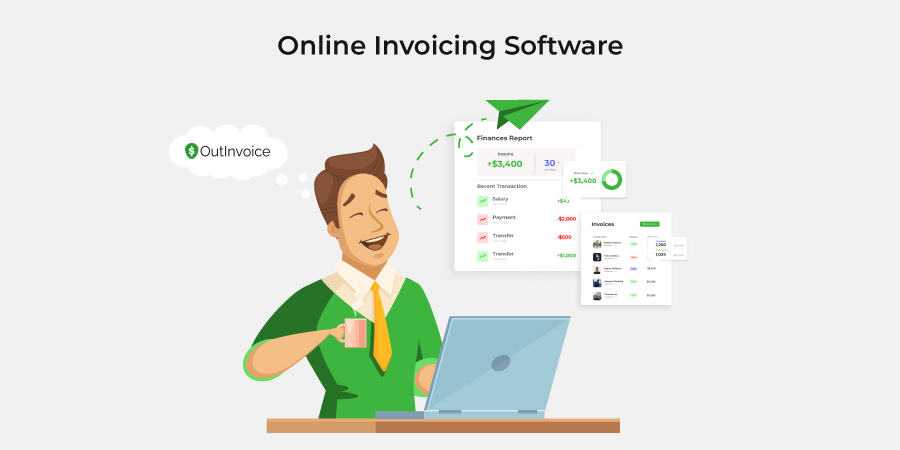 Advantages of Using Online Invoicing Software:
1. Create and Send Invoices
The main purpose of having invoicing software is to create and send professional invoices. It replaces the manual work of creating the invoices and also customizes and personalizes invoices according to your business. The online invoicing software allows you to access your financial data anywhere and anytime.
Thanks to an automated invoice system, invoices that take a lot of time can be created and sent within few seconds. It is also easier to have a professional look on your invoices with your company's logo, slogan, and contents on your invoices. Advanced invoicing software can also track the bills, estimates finances, and record cash flow. It also lets your customer pay the bills with just a click of a button.
2. Simple and Easy Process
You may have faced the situation where it takes a lot of time and effort to either fill out a spreadsheet of invoice details or login to the invoice template site just to generate a single invoice. It becomes quite a lengthy and frustrating process to send out multiple invoices.
In this type of situation, invoicing software like OutInvoice can be the savior to your business. With the help of invoicing software, you can save a lot of time in the day to day business activity. Switching to an invoicing system can help to create error-free invoices simply and easily.
The invoicing applications or software saves information like the client's name and address, invoice number, payment terms, and others that are needed for the billing process. All you have to do is log into the account, select client and bill details. Then send an invoice to the preferred clients in few seconds. Thus, it speeds up the payment process.
3. Automation
All the business organization wants to have an efficient workflow for their daily operation so automate process and methods are must for them to get success and benefits.
The invoicing program follows the automation and systematic system to create and send invoices. It can also automate several processes for your business. The invoice tools have the capability of automation, so you didn't need to manually create each invoice and find other mediums or tools to send it. The invoicing software can do that for you automatically.
The automated invoicing software saves the cost of billing tasks and also increases the efficiency of business workflow. Furthermore, it increases the cash flow by streamlining payment procedures and sends follow-ups and payment reminders for upcoming and past-due invoices.
Thus automation with OutInvoice is precisely intended to support your business by establishing a subscription-based business model that helps you to maintain relationships with your customers. The automation process can save an adequate amount of your time, money, and effort.
4. Enhanced Security
In traditional business practice, paper invoices and used for payments. You cannot be sure that the paper would be lost, misplaced, and destroyed. It carries important information that can harm the business if you lose track of it.
Thus, the online invoicing process is the most secure business method as it is based on the cloud accounting method. It saves the backup file of all the important information. It also defenses files against intrusion and loss. It ensures that there will never be any possible data loss or leakage.
Security must always be a priority in business. Trustworthy invoicing software must be applied to your business that follows all security standards.
5. Instant Invoice Delivery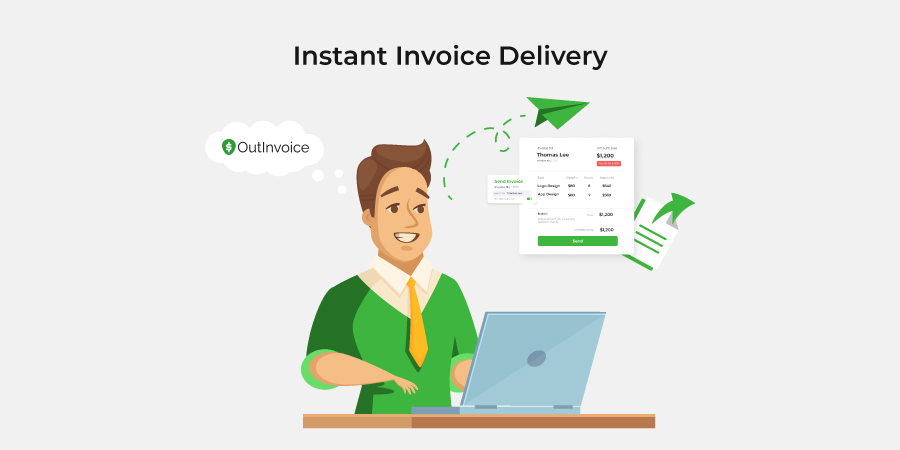 It is clear that invoicing software generates the invoice way faster than manual work. With the help of this invoicing process, you can create and send the invoices in few seconds. It even allows you for real-time tracking of the invoices.
Online invoices are faster than paper invoices and can also be sent with a simple click. It can save a lot of time and effort in the invoicing process. Thus, it also leads to faster payment. Invoicing tools like OutInvoice can help you to get your payment faster by allowing your clients to choose from multiple payment options.
6. Faster Payments
With the help of online invoices, you can generate and deliver multiple invoices in less time with ease. It is a matter of seconds that your clients start the payment procedure after getting the invoice.
You don't need to wait for weeks just to deliver invoices to clients. The entire payment process becomes shorter, your invoices are sent faster, and you get faster payments from the clients.
Likewise, the online invoicing software is the systematic and automatic method and you can customize your invoices as per your requirements. You don't need to worry about new clients' invoices as the invoicing software can conveniently and instantly generate in few seconds.
7. Improve Customer Relationships
As you know now, invoicing tools have many features and benefits. Besides that, it also directly helps to improve your relationship with customers and clients.
The invoicing applications provide professional invoices with accurate billings, preferred payment methods with simple and easy methods. Some invoice programs can also include that customized message. The faster communication and the bills or invoices with clear objective and accurate results help promote your brand name and show your customers' efficiency.
Thus having a good relationship with the customers can solve the problem of payment delay and your business have regular cash inflow.
8. Online Payment Options
The traditional payment processing method like payment by cash, cheque, credit card, etc., is not applicable to all business organizations. Most businesses follow modern technology for business operations that can save time and effort. Likewise, online payment has become the famous medium of payment for all the business.
Invoicing software has a reliable and secure medium for online payment. It allows you to send online invoices. Therefore, you can add simple "Pay Now" button with the invoices that can directly link your customers with the payment portal. You can get the payment as soon as the invoices are delivered with an easy and reliable method.
Popular online payment medium like PayPal payment and Stripe payment is also applicable on OutInvoice software.
9. Simple Audit Process
The automated invoicing apps allow you to save everything and also have backup data. It provides you with an overview of your estimates, invoices, expense receipts, and any other finance-related documents online.
You can get all the details and information with one glance at the dashboard. This dashboard makes work simpler and easier in the time of analyzing financial reports.
Thus a cloud accounting and invoicing software help to locate all the expenses and receipts quickly from one place. The data from the software are more accurate and easier to access. It makes it easier for you to keep the detailed audit trail of the payments.
10. Modernity and Professionalism
The software for invoicing benefits your business by smoothly sending professional invoices to your clients. You can't deny that the invoicing program can generate more professional and accurate invoices than manual paper ones. It helps to create a brand image of your business and leave a good impression on your clients. This may not seem like a big thing, but it directly affects customers' mentality and can help you get paid faster.
It's true that invoicing software not only creates and sends an invoice it also helps your business in many terms. For example, OutInvoice invoicing software offers features like multiple user profiles, manages multiple businesses, and keeps finances in check to increase efficiency in the business operation.
11. Environment Friendly
Leaving paper invoices behind and using digital invoicing is the first step to become an environment-friendly business. Every time the online invoices are sent, you save the environment. It helps to save natural resources and minimizes the pollution created by the papers. This may sound a bit insignificant but, it really can save our environment. You can also advertise your business as being environment friendly and attract the customers also.
Adapting the online invoicing software can benefit both your business and also the environment.
12. 24/7 Access
The online invoicing software allows you to create, maintain, send and access the invoices at any time. You just need the software or application installed on your desktop, laptop, mobiles to access the billing information and client's information.
You can manage the billing and invoices from any location with a simple process. Thus, invoice apps make life easier and efficient as we can send and manage invoices 24/7.
Conclusion
There is no secret that every business organization needs faster payments and increase efficiency on the day to day operation. The business organization search for the best way to save time, effort, and money. So, in terms of sending invoices, best invoicing software must be used.
You can't just buy and start using the invoicing apps and software. Searching and choosing the right accounting software is the important part. You need the appropriate features that can match your business. Don't waste your money paying for the features that are not used in your business.
Thus to make your life easier in 2021, it is essential for your business to invest in an invoicing tool that is both legal and efficient. OutInvoice software is the best invoicing software for small businesses and freelancers. It is the ultimate online invoicing software packed with great features that can be beneficial for any business organization. It provides the offer of a 30days free trial with unlimited business and customer profiles, unlimited invoices, and no transaction fees.