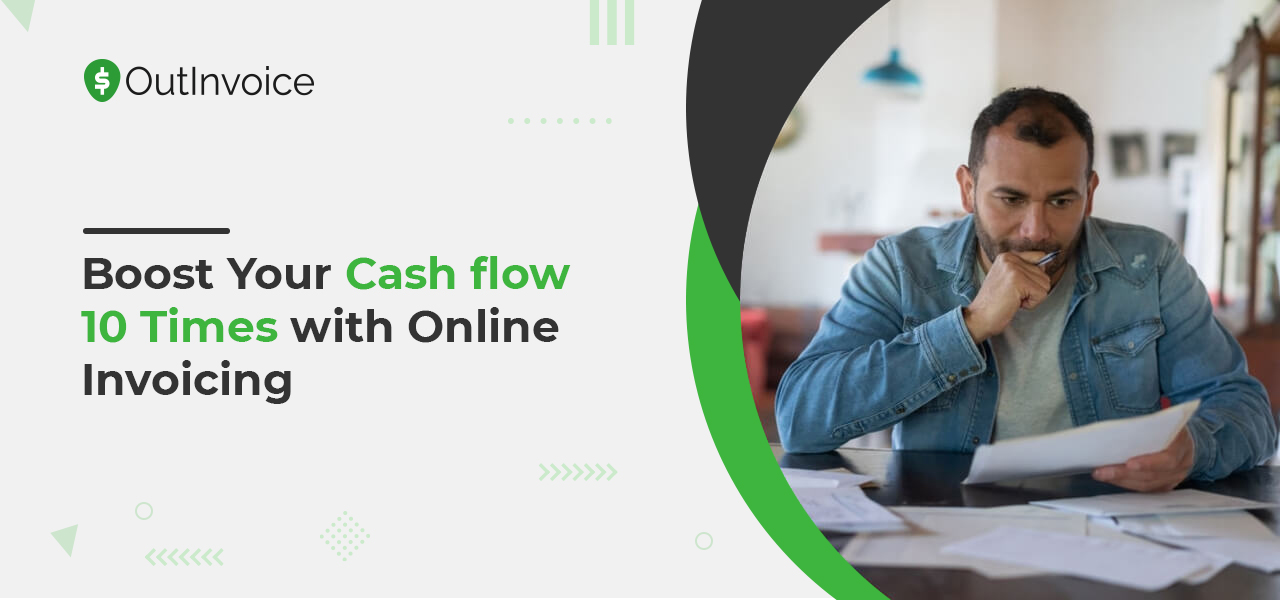 Boost Your Cash flow 10 Times with Online Invoicing
Today's market is competitive whether you are a freelancer, small business owner, or an enterprise. Attracting clients is important to grow the business, and engaging them is a tough task. Business needs to analyze out the ways to save money and time. Increasing productivity and satisfaction hold the uttermost importance. Hence, online invoicing software helps to sleek the overall invoicing process.
And scaling an entire business might seem a far-fetched dream. However, you need to start at some point, and it helps to improve invoicing process. The best invoicing process will lead to an increase in cash flow and business productivity. However, generating invoices on paper and sheets is not the most structured way to improve invoicing. Cloud-based invoicing and billing software is the safest way and trend to go for businesses. Many businesses are already started using online invoicing software for business benefits. Let's explain it on broadway.
Top 10 Benefits of Online Invoicing Software
1. Quick, Simple, and Easy to use
Spending hours is creating one paper invoice daily in business activity. It is usual but not beneficial. Creating multiple invoices is a frustrating task, and it involves a lot of attention and calculations and is prone to human errors. With online invoicing software like OutInvoice, you can save all your client information in one dashboard. It allows to create invoices in a single click and gets paid in a sec. It is suitable for small businesses. It has the features like managing multiple members and businesses, sends invoices faster, accepts online payments, saves credit cards, keeps invoice status checks, and more. Hence, reducing the extra hours, you spend on the managing invoicing task.
2. Cloud-Based Invoicing Software
Talk about cloud-based invoicing software, and you can be sure of never losing any data ever again. Computer crashing or email hassles are the things of the past now. Every activity performed on the web will be automatically saved on web-based billing software and automatically saved in the cloud. With online data storage, you need to log into your account and start billing your account right away.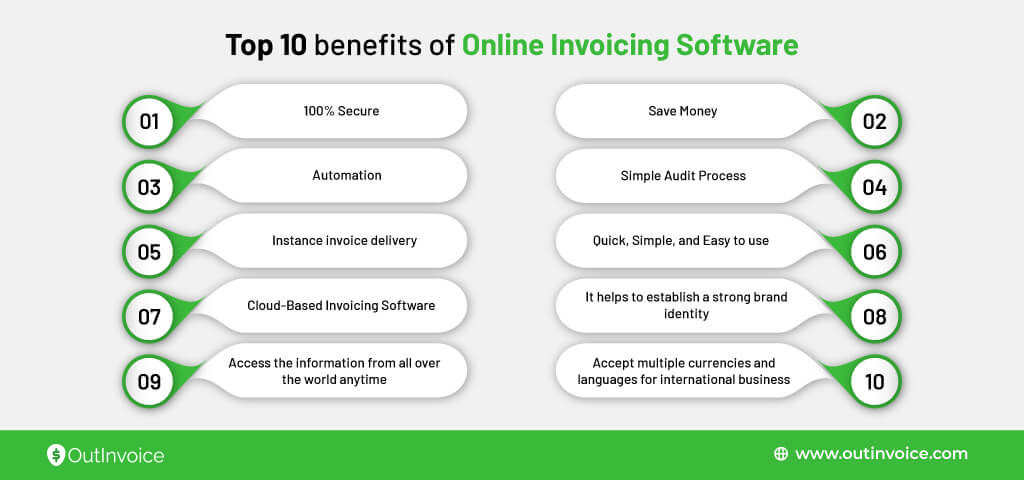 3. Automation
One of the greatest advantages of online invoicing is the automation power. This means we can set up a recurring payment account for the regular clients and notify them of invoices in time. Automation with OutInvoice will help you establish a package-based business model to help you grab your customers for a long time. Automation features of OutInvoice have made it easier by setting up recurring payments for long-term clients and sending reminders for payments and dues automatically. Thus, it helps to save plenty of time.
4. It helps to establish a strong brand identity
OutInvoice is the best invoicing software that helps to build a strong brand identity. It provides an easily customizable invoice template with a logo, colors, and fonts that match your brand. A generous strong brand identity leaves a positive, strong impression on the client and gets paid in time. It has been proved that including a logo in your invoice helps to get paid three times faster. It even lets you create customized messages for your client when they ask for payment or receive them. It is advisable to leave a link for your client to solve extra queries before sending any official communication.
5. 100% Secure
Losing paper invoices and information is the most usual issue that every business person faces. You might lose or forget important papers while traveling. The human mind is not perfect, and errors or faults are common. But how is it possible to track all this information? For some businesses keeping track of documents itself is a task. Sometimes loss of valuable documents will lead to the worst nightmare.
Security is the major reason that every business person has in their mind. OutInvoice is the one that provides 100% security and lets you save data in the cloud. Once data are saved in the cloud, it will be immortal and omnipresent for you. It means you can access these data from any part of the world just by logging into your dashboard with some credentials. Developers of OutInvoice have developed the invoicing software, which is most friendly and secure.
6. Accept multiple currencies and languages for international business
OutInvoice breaks the language barrier and removes the hassle of currency exchange with free online invoicing. The best invoicing software provides multiple payment gateways to allow you to receive payment from any part of the world without any barrier. The multi-language features help to create invoices in the preferred language of clients. Thus, it helps to increase trust and confidence.
7. Save Money
Invoicing software automatically generates invoices, bills and sends a reminder to the respective customer. It avoids all the paperwork of every business, like making monthly payments, generating receipts, and sending them.
8. Access the information from all around the anytime
The cloud-based online invoicing software lets you access your information at any time. It allows you to take your information wherever you go and enhances businesses by increasing productivity. The online cloud-based billing and accounting software enables you to manage multiple members and client information. You can manage your business, finances, and invoices with small devices at your fingertips with OutInvoice.
9. Simple Audit
OutInvoice is the invoicing software for small businesses that allows you to save everything with cloud-like invoices, estimates, expense receipts, financial reports, and more. The dashboard allows you to access every report for detailed analysis.
10. Instant Invoice delivery
Creating an invoice with invoicing software takes seconds, and real-time tracking lets you see the exact status. It is much faster than paper invoices, and it cut down the time required to create invoices and receive payments, and Online Invoicing has increased the payment by three times faster.
Ways to Boost Your Cash Flow with Online Invoicing
Finding ways to boost your business's cash flow can be tough. Maintaining a steady cash flow is important to support a business and put it in a position to successfully flourish and grow. However, running a business is costly, and it cannot be easy to find a balance between making money and spending it.
Improving cash flow between income and expenditure can boost cash flow and put you in a position to implement long-term sustained growth for your business. Know some tips to boost your business cash flow.
1. Define terms and conditions clearly
Setting crystal clear and direct terms and conditions in every document will fasten the payments. It provides you the power to avoid any chances of conflicts in the future. Providing clear terms and conditions will protect you and your clients from playing with each other and maintaining a high professional level. It also avoids the questions like charging late fees, early payment discounts, payment methods, the number of days the payments are expected after the invoice has been issued, payment upfront, and more.
2. Keep defined and short terms for payments
It is essential to set a definite period for payment to avoid any issue in the cash flow. If you are running a business that deals in services particularly, it is recommended to set your payment terms within a week than a cycle of 30 days. Also, 30 days payment cycle is old fashion, and it is a journey of the past where the payments were made by cheques.
However, with the advancement of online invoicing systems, payment methods have become easier and faster. Businesses are now able to receive payment three times faster than in the past. In an absolute economic world, you are eligible to demand payment as soon as you finish your job. For instance, if you are a software engineer and went to an organization to solve problems. There is nothing wrong if you ask for the payment as soon as you complete your job. The use of mobile apps or mobile invoicing software or web search will make it easy for you by creating to generate an invoice and get paid immediately.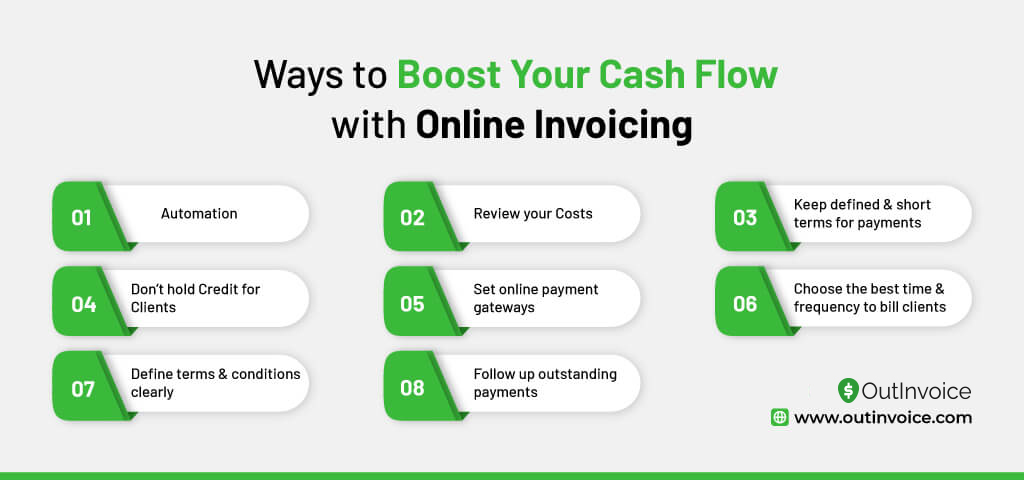 3. Choose the best time and frequency to bill clients
As mentioned above, you can invoice your clients and receive the payments quickly after you complete your job in the economic world. After all, the facts say, the longer you wait to make an invoice, the more likely you are to get paid back on time. As per the research, only 18% of invoices are paid if they exceed 90 days. Sadly, we are always confused about the best time to invoice. So, what's the right time to invoice your clients? And how often? The best solutions are recommended below:
If your invoice is weekly or bi-weekly, send the invoices on the weekend when your client's inboxes are not overcrowded. You can automate your invoicing routine with online invoicing software. OutInvoice is the Best Invoicing Software for automation and sends invoices on time to your clients and indulge them for more productivity
If you make invoices monthly, be strict while sending your invoice on the first of the month since payment needs to be made within 30 days. Making up recurring billing with free invoicing software will always notify and send invoices to your clients in time.
If you send invoices during the weekdays, then Tuesday will be the best day. It is advised that sending emails and invoices just before lunchtime will be more effective.
If you talk about frequency, either you should collect your invoices together or automate them with an online invoicing software so that you can send them easily, letting you save time. Using an online invoicing platform like OutInvoice will automatically track your payments with your clients and notify them of late payments. It acts as a partner to perform jobs simultaneously, enabling much space for other productive activities. Apart from the above-listed methods, you can also determine the best time and frequency for sending invoices to the clients
4. Don't hold Credit for Clients
It is recommended to ask your clients for an advance or deposit after you are done with your job so that you can easily pay your vendors. It evades any conflicts with your vendors and eradicates the hassle of chasing your clients for the same. With invoicing software like OutInvoice you can send invoices in fractions of seconds without spending time over one thing.
5. Automation
Even Though customizable templates are available in OutInvoice makes the task even more, smoother, and faster. Automation in invoicing makes your job even easier. Whether you run any kind of business as a freelancer, small business owner, or entrepreneur, you are loaded with work. By automating the task by using online invoicing software, you will get more time to extend business and earn extra profits. Don't forget to set reminders, as payments are the key activities of automation.
6. Set Online Payment Gateways
With online payments like PayPal and Stripe integrated into theOutInvoice, the best invoicing software that lets you receive payments online from all around the world. It eliminates the hassles of currency exchange or physical deposits. It helps boost your cash flow 3 times, giving your business a chance to increase your productivity in less time. It also lets allows you to send invoices in different languages your client prefers for better customer service and maintenance.
7. Review your Costs
It is important to sit and think of that where the money is going—removing unnecessary expenditure however ensure that you do not cut costs that negatively affect the customer journey and investments. Take enough time to find the best possible deals for regular expenses like insurance, phone and technology services, power, and water. Although reducing costs will help you with cash flow without affecting business investment.
8. Follow up Outstanding Payments
Tracking unpaid invoices is important for maintaining healthy cash flow. If you don't already have a process in place for regular follow-up on overdue payments. Online Invoicing Software has the features to track the unpaid invoices and also to generate reminders. You also need to have methods to deal with disputes quickly and effectively.
Conclusion
If you are searching for online invoicing software to use for your business. Then try OutInvoice 30 days free trial before purchasing. I am sure you won't be regretted after using it. It provides multiple features at a reasonable cost. It provides monthly and yearly packages.