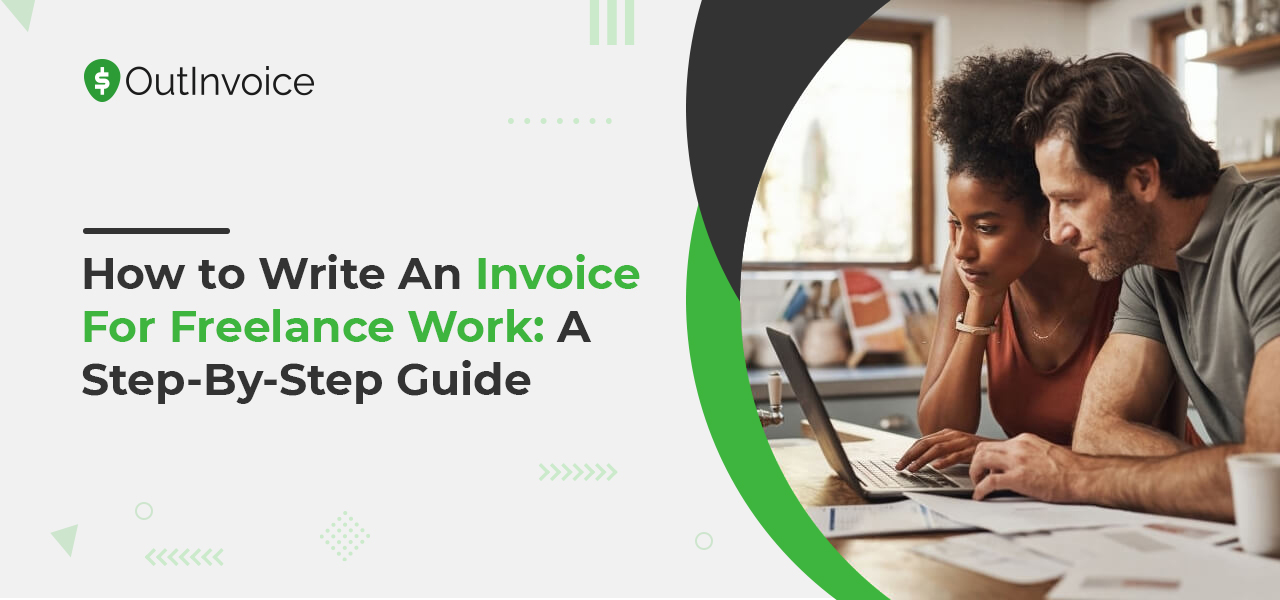 How to Write An Invoice For Freelance Work: A Step-By-Step Guide
When you work as a freelancer, you are responsible for ensuring that you get paid for the clients' work you have completed. Invoicing is the most efficient approach to collect such funds. You may have given your customer an estimate that indicated how much their work request from you would cost. After your work is completed, you will get an invoice that explains the work that has been accomplished and the amount of money you anticipate to be paid for the work you have completed.
Invoicing for freelancers doesn't need to be complicated. That said, freelance designers need to put in place a system to ensure that invoices are complete, tracked, and properly followed up. Create your invoice or use a free invoice template and follow our tips below to make sure you're billing in a professional, consistent manner that will impress your clients. Want to simplify your invoicing process? OutInvoice has easy online invoicing software that creates beautiful invoices and gets you paid faster.
List of Important Elements Freelancer Must Include in Invoice
Here is the list of important elements that the freelancer must include in their invoice.
1. Contact Information
Make sure to include your name (and, if appropriate, your business name) and address. If the client wishes to reach you, include your email and phone number. If you have one, include it in your invoice to make it appear more professional.
It's also a good idea to include your customer's or business's name and address. Include the name of the person who reviews their bills if you know who it is.
2. An Invoice Number
Whether you use invoice-generating software or manually produce invoices, you should constantly keep track of your invoice numbers. As a freelancer, you may be required to respond to customer inquiries about your work or chase down unpaid invoices. Having structured invoice records will assist you in answering such inquiries when they arise. An invoice number will ensure that the client and you are discussing the same transaction.
3. The Issue Date and Due Date
Because the payment timeframe begins when the invoice is issued, it is critical to include the issue date on your invoices. If you number your bills incorrectly, referencing the issue date might also assist you in differentiating one invoice from another.
Remember to add your payment due date as well to get invoices paid faster. The number of days following the issue date when payment is due will be determined by the terms of your contract or agreement with your customer.
4. List Item Description and Total Due
The breakdown of products and services you delivered is the most significant information on the invoice. Each item should be included separately, with a description of the labor you did or the good you gave, the quantity of that product or service provided, the rate for that product or service, and a clear total amount owed.
5. Payment Methods
Make paying you as simple as possible for your customers. Include choices for how clients may send money to you, as well as any information they'll need to complete the transaction.
If you take checks, make sure you provide a clear location where customers may mail the check. Include any email addresses linked with your company's PayPal payment account, as well as bank account details for bank transactions.
You may also utilize payment software that allows you to take alternative payment methods such as a credit card, although such payments usually come with a charge.
6. Additional Information
Include details about late payment penalties or early payment discounts. Provide relevant information regarding additional costs, discounts, or expenses.
Different Types of Invoices for Freelancers
Freelancers come in many shapes and sizes, and the payment method you choose for your clients is determined by your business structure, the services you offer, and the demands of your clients.
Fortunately, there are numerous different sorts of invoices you can use to make sure you're collecting payments in the most efficient way possible. Check out the many sorts of invoices for freelancers below to choose the one that's right for you.
Standard Invoice: A standard freelance invoice is a bill sent to your customer that details the amount you owe them for your services.
Recurring Invoice: This invoice may be used to bill a client regularly. Suppose you're joining up for a monthly subscription or another ongoing service.
Prepayment Invoice: Send a Prepayment Invoice to a client to collect a deposit as a percentage of the amount due.
Time-Based Invoice: This invoice is used to bill customers for the number of hours they spend working on a project.
Credit Invoice: You can send a Credit Invoice to a client when you issue a refund or notify them of a positive balance.
Mixed Invoice: A Mixed Invoice shows credits and charges made to a client account
12 Invoicing Tips For Freelancers to Get Paid on Time
Your freedom from the corporate world as a freelancer comes with the extra responsibility of managing your funds to ensure you are paid for the work you accomplish. Invoicing your clients is an important aspect of any freelancing business, and therefore here are some suggestions for freelancer invoicing.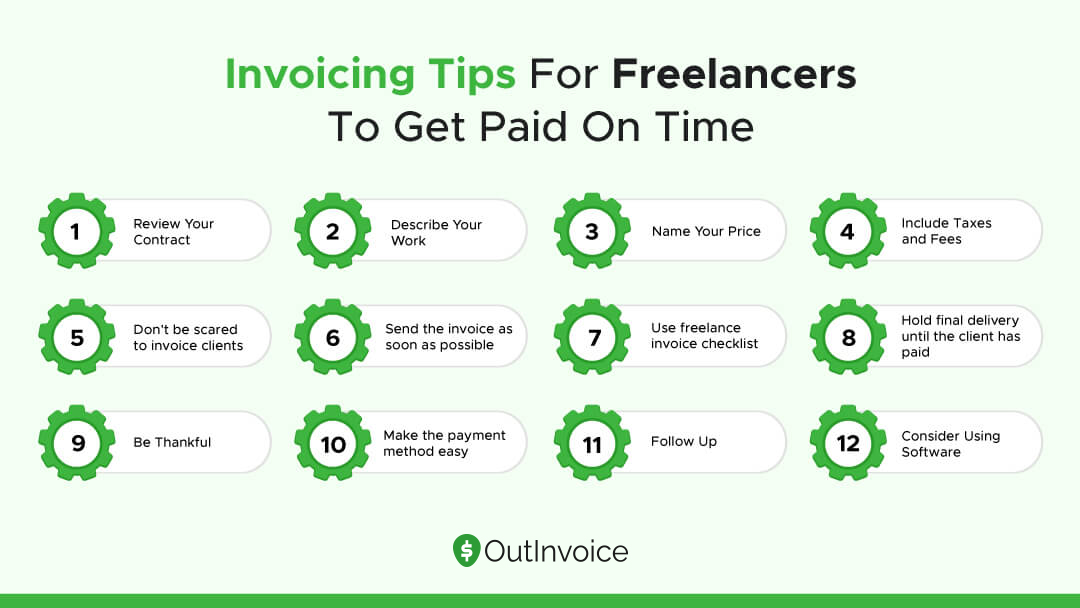 1. Review Your Contract
Before you begin working with a customer, you should have specified the specifics of the job you want to accomplish for them, as well as the amount of money they should anticipate to pay you for it. A freelancing agreement, contract, or work offer should have included this. One of the most common reasons freelancers are not paid is that the payment request does not exactly meet the conditions of the original contract.
Always review the terms on your freelance contract and decide whether:
You met the required deadline.
Discussed payment methods
Discussed payment timelines
Make sure you keep track of your initial contract to follow the agreed terms when you are creating the invoice.
2. Describe Your Work
Your customer may be dealing with several freelancers, so be specific in your description of the task you'll be doing for them. Provide a thorough explanation of the assignment in your invoice, as well as identifying information such as your company name, the allocated date, the due date, and your contact information. Which will help you get paid faster by eliminating client confusion.
3. Name Your Price
When you accept work from a customer without first stating your rate in your freelancing contract or job offer, make sure you're aware of any possible costs for things like changes or late payments. Send a follow-up recording of the agreement and outline your pricing if the first communication about the job request was done informally in a conversation or through text message.
Instead of lumping all of your labor together as "work accomplished," make sure to explicitly explain the work you've completed in itemized lines on your invoice. This clarity can assist your customer gain clearance for your work from someone at their organization more quickly. Accounting that makes you look good.
4. Include Taxes and Fees
Some freelancing contracts are more intricate, and the freelancer may be required to pay out-of-pocket expenditures or fees. If you have any additional expenses, be sure to mention them in your invoice. If you impose a late payment fee, make sure to put that information on your invoice as well.
Make sure you include and disclose all necessary taxes separately and that you are familiar with the tax regulations for freelancers. Depending on where the client is located, you may need to charge VAT, and if you don't get it from the consumer, you'll have to pay it out of your pocket.
5. Don't be Scared to Invoice Clients
Never be scared to deliver your job invoices. Clients may ask you to do something, and you may be hesitant to charge a certain sum, but remember that you deserve to be compensated for your efforts.
6. Send the Invoice as Soon as Possible
You most likely agreed that the final payment will be done at the end of the job, therefore submit the invoice as soon as the last work is performed. Clients take their time processing bills, and therefore the more you wait, the later you will receive payment.
7. Use freelance invoice checklist
You want to make sure it's written professionally, that it's error-free, and that it's devoid of grammatical errors since it's such an essential document.
8. Hold final delivery until the client has paid
You won't work in all areas, but if you're developing a logo or a website, you may withhold the finished product until you receive payment.
9. Be Thankful
10. Make the payment method easy
Ensure that your preferred online payment option is simply accessible to the client. If there's an alternative to the traditional wire transfer, offer them a link with instructions on how to execute it. We recommend checking out Wise's borderless account, which allows freelancers to receive money with no costs and the true exchange rate while working with other currencies.
11. Follow Up
It's critical as a freelancer to have open channels of contact with your clients. Make it easy for a customer to contact you with any issues about the invoice or your payment after you've submitted your payment request with your invoice.
Send your invoice along with a pleasant email note or cover letter that contains a thank-you note in the body. Any subsequent follow-ups concerning past-due payments will receive this added touch.
Send polite reminders as your due date approaches, and ask if they have any questions or reservations about completing the payment. Your invoice may have fallen through the cracks in certain situations, so this gentle nudge is a nice remuneration.
12. Consider Using Software
You may make the procedure a lot easier by using invoicing software, which will help you save time and keep track of your bills. The program may frequently assist you with numbering and tracking your bills, as well as keeping track of when payment is due or overdue. It is a far more user-friendly approach than manually inputting this data into a spreadsheet.
OutInvoice is online invoicing software that allows you to create professional invoices in a single click and be paid in seconds. You may generate quick online invoices using OutInvoice, and it generates business profiles, secure payments, real-time invoice reports, and PDF downloads, among other things. It also comes with a plethora of business tools.
Conclusion
Freelancers get into trouble while making invoices and keep track of everything in one place. Managing multiple clients with their different invoices will be a difficult and hectic process. So it will be best to use online invoicing software to manage all the invoices-related work and focus on the work rather than an invoice. You may utilize an OutInvoice that is tailored to your needs and is reasonably priced. OutInvoice also provides a free 30-day trial for new customers. The move to online payments will only accelerate, and businesses must embrace it and improve their procedures to adapt and provide consumers with the most convenient options to make transactions.
Here is a free Invoice design template for freelance work: