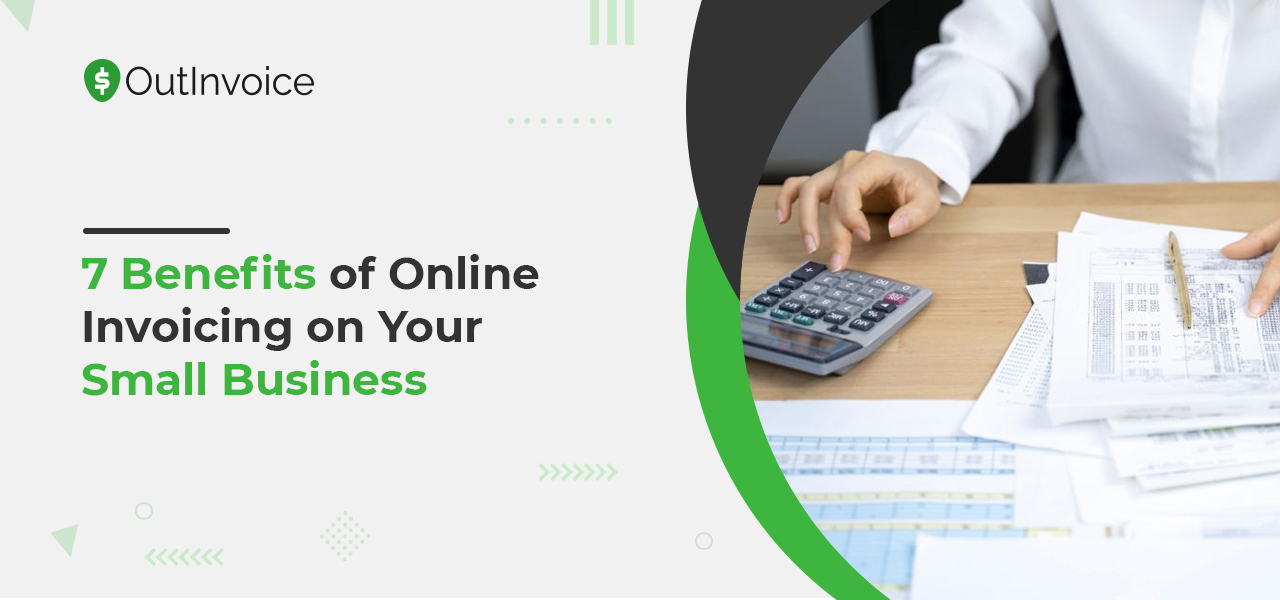 7 Benefits of Online Invoicing on Your Small Business
Small business is a business privately owned cooperation, partnership, a sole partnership that is started with small resources and investments. The essential part of every business is its finance. To optimize the performance, every company tries to make maximum use of the available resources.
You know that the tech industry has expanded in every sector. You can find a lot of programs that will help to make your work efficient and time-consuming. It will also serve you according to your business industries, such as online accounting software for laws, medical facilities, hospitality, designers, small businesses, digital marketing agencies, and many more.
Invoicing is an essential function in every small business. As a small business owner, you will want to go for invoicing solutions for small businesses because traditional and old billing methods are very tedious. It requires creating, printing, and mailing paper. It turns out to be very costly, unrelieved, and time-consuming. When you start to use online invoicing software, you will get many eco and user-friendly features.
The online invoicing comes with various features such as clients can create multiple members and letting them manage invoices. Clients can also create business profiles and handle multiple businesses. It also helps to send invoices in a faster and time-consuming way. It also accepts online payment and saves the credit card as well. They keep invoice statuses and finances in check. It also helps to manage and track the payment of each invoice. As the company keeps on growing and the requirements for quick billing will be vital.
Why do you need Online Invoicing?
As a company owner, invoicing is a long process but an essential daily activity. As your company grows with time, speedier invoice management and recording requirements will also become more critical. A professional and dependable invoicing system is an essential and intelligent investment for the business's stability and development.
Invoice tracking is difficult in the traditional business model. Online invoicing makes it easier to manage bills and payments. This business concept is very headache to suppliers as well to the owner of the business. Using the traditional concept is very time-consuming as well. Companies store invoices in a folder and send them by very time-consuming mailing. It can also lead to rapid decay.
Online invoicing is a very efficient process while comparing it to offline invoicing. After using online invoicing, a small business can save many overhead costs and smoothen its account management activities. In traditional business, the paper of invoicing is full of administrative steps. Online accounting software can also reduce your desk time and can also clarify your workflow. We can say that 67% of accounting professionals would choose an online accounting system rather than the traditional paper method from the record. OutInvoice to ensure you have a professional invoice where your data will be secured as well.
OutInvoice is packed with fully functional online invoicing tools that will help your business perform professionally. It's swift and easy to send. This is just one example; there are the following reasons why online invoicing will benefit your small business.
Benefits of Online Invoicing on Small Business and Freelancers
1. Cost Reduction
The pile and piles of the file of the client's invoices are passed. In the present day, a small business also uses an invoice generator system to reduce the cost. While making the invoices on paper, many papers, envelopes, and stamps will be expenses. So by using the online software, you don't need any stationaries as well as document storage. This intelligent choice will lead the company to save cost as well as space.
Processing and preparing paper records can also raise human resources and administrative costs. After using the system that created invoices, unnecessary steps and costs will be decreased. Accounting also helps to improve your business revenue growth.
After using the invoicing system, there is no need to have additional system management or maintenance, local PCs, or expensive software updates. The system will provide all these features. Each person is sufficient to handle online invoicing along with fewer human resources. Also, one person will follow it in a shorter and efficient time.
2. Eliminates Human Errors:
In this century, many businesses have left the traditional system of recording accounting and have overcome the online recording method. There are many long processes in traditional paper invoicing, and there are more significant possibilities for errors. While correcting the errors will take a lot of time. It is very time-consuming. An online invoicing system helps to eliminate human error.
After using easy invoice software, there will be no chance of false data or missing data. It also manages the method to have the correct information, which it does by amending invoices in the same manner that any other text document is edited. As all the calculation is done mathematically by the system, there will be no chance of error. Additionally, it will also help to decrease the overhead problems.
As we all know, the market is very competitive. Different firms like a medical, designer, small business, writer, and freelancer are implying methods to save money while growing earnings regularly. While managing the invoice, there can be several errors. Errors can delay the payment process, which can also damage the relationship with the client. Solving numerous invoicing errors can cost you thousands of dollars if it is not appropriately handled. While using the online invoicing system, errors can be corrected within minutes.
Wrong data, missing information, wrong number, and the invalid number in the past problem. Online invoicing software ensures correct numbering and detailed information in invoices. With the help of simple invoice software, it is elementary to correct every piece of information by editing and updating invoices as you would do in paperwork.
3. Comprehensive Savings On Time
Some businesses are still operating with the traditional invoicing style. Invoice is created at the end of every billing time, then printed and mailed to the customer. While creating and delivering period, a lot of time will be consumed for the business. Also, there is a considerable risk of invoices getting lost in the mail.
An online invoice will let you create multiple invoices in a concise period. According to our records, it takes almost 25 minutes for a professional accountant to manually create an invoice. While with the same process of invoicing, online software takes a maximum of 4-5 minutes to create the invoice.
Time is significant in every human's life. Human wants to save time as much as they can. This can be done with online voicing software for small businesses. Having online invoicing software can save a lot of time. It helps to create and send many invoices. This is one of the most important reasons why small businesses should start using an online invoicing system. Small businesses may benefit from an online invoicing system for small businesses in terms of money and time.
There is a lot of time that you save in the whole process. With online invoicing, you can quickly create and send more invoices within a minute. While following the online invoice generator, you can save time and spend a lot more time on essential business activities like spending an extra moment in relaxation, improving conversion, managing your staff better, and signing necessary contracts as well.
In the old invoicing procedure, they used to require the exact details repeatedly. Earlier, you will need to create a new document if you need to change the estimate or a quote in an invoice. Currently, online invoicing software can store all the details of a regularly used service. All the data related to the time spent on the project is added to your invoice automatically. This includes numbers, payment terms, and client details.
Online invoicing is very useful for small businesses because it saves your time, which will help you take care of unnecessary steps and costs. Online invoicing shortens the time between sending an invoice and receiving payment. Also, after having piles, it is tough to stress if you lose those paper-based invoices, and it was the only backup. After using an online invoice generator, there will be no tension with online backups.
4. Simplify Payment Options for Your Valuable Client
In the traditional invoicing method, when an invoice is received in hand, the payment procedure usually takes a lot of time. It takes several processes before arranging for the payment. Online invoicing software accepts various getaways to help you speed up your payment process. With the help of an invoice generator, creating and sending out your invoice is very simple and classic.
A common reason is to make it super easy for your client to pay that amount. Online invoicing software helps you provide simple multi-payment gateways that work best for your clients. It makes the work easier not only for your clients but also for the manager of the system. This will also save you time and help with the invoicing process. Most of the systems let you include a link to your invoice.
It also helps clients make single-click payments and keep up with the payment cycle in a systematic way. You can also enjoy the advantages of online payment You can send polite reminders to your customers, give them multiple payment methods, and initiate payment with a single click.
5. Data and Details Accessible
After using this system, you can say bye-bye to the piles of multiple folders and files. You don't need to spend hours and hours looking for client bills and details. An online invoice generator will help you generate invoices within a minute. There will be no restrictions or rules to follow while using the invoice generator.
After signing in to the system, you can manage all the information from one web application. All you need is an internet connection. You don't have to be office, and you can also check and access invoice data from anywhere. Be at home or on vacation or sick leave, and you can generate invoices in the minutes. With the help of online invoicing, you can easily manage, organize your invoices and search for information in them. Online invoicing ensures that all relevant data is within your reach, anywhere and anytime.
As there will be much information about clients, it will be tough to remember every piece of information all the time. Using the generator will be straightforward to record the details as it is convenient and done within minutes. You can easily access your data and details of your clients by sitting in your home or vacation station. This system will remove the process of staying in the office space and working with the papers of client's invoices.
6. 100% Enhanced Security
Invoicing should be very private, and nobody's business except for the employees of the business. The data of the small businesses is very critical. While using the traditional method, there can be a high risk another human being may wipe out all the accounting data. However, online invoicing software is very secure and safe to use. Every invoice is sent with the most secure and encrypted connection.
Sometimes, there might be cases when the computer crashes; all the data in the computer will fail to back up. All the critical files might not be able to backup. The online invoice generator will give you peace of mind as all the data is secured and backed up in the system. Data is securely protected and backed up on all invoices. It also safeguards files against loss and interference.
After using the online invoice generator, clients and you will be able to relax appropriately regarding security. There will not be any leakages or any data loss. The software will provide enhanced security so that your business or customer's details will not be displayed publicly during the transaction process.
7. A Systemized Process
As there are many invoice generators online like OutInvoice, it is now time to come out of your invoicing software and set up a process to get the best online invoicing. You can create multiple members and let them manage invoices on your behalf. It helps save time, and you can also add a team while you work on other important and valuable aspects of your business.
Online invoice generators like OutInvoice help handle multiple businesses by creating a separate invoice account for their clients. You can monitor your business status with a single account and help set up a multi-market account.
An invoice generator helps to keep track and manage each invoice. It helps to have an insight into the cash flow of your company. Paid invoices monitor overdue; the void can be checked through the click of a button.
Online invoice software also provides different gateways that can help the client to pay quickly. After connecting to your preferred form of online payment, the client will pay directly from the invoice. This will help to save time and also avoid to-and-fro communication regarding the methods and payment details. Once the payment is made online, software like OutInvoice will not ask for the invoice payment method and card details with the repeat clients. It will already display the saved information and will only ask for their approval.
As the online invoice generator has all these features as multiple small business members can manage, multiple businesses will carry on, help track and manage invoices, help with different gateways, and save credit cards. It will be performed in a very systematic way.
As the invoice generator software has many features which will help to keep the business systematically, it's time to change the traditional method.
Wrapping Up
Whether you're a small business owner, freelancer, large corporation, or startup founder, the business's marketplace is very competitive. Businesses of all sizes need to invest appropriately to save time and money.
Proper accounting is one of the primary keys to corporate success in business. Online invoicing systems like OutInvoice generate billing in a very manageable way. From creating multiple members and businesses, letting them manage invoices to sending the invoice faster, accepting online payments with various gateways, saving credit cards, keeping invoice status and finances in check, online invoicing software does it all.
Proper functionality of your business should be very applicable. Invoicing software like OutInvoice helps business owners to manage their business in systematic ways. The advantage of using online invoicing software is very time-consuming. While switching the invoice process, choosing the right invoicing solution with different functional features should be considered. There are also many invoice benefits that will help you to learn about invoicing.
Are you still looking for online invoicing software? Let us help you with the best invoice software. Contact us by email or sign up to get a free trial package for 30 days.