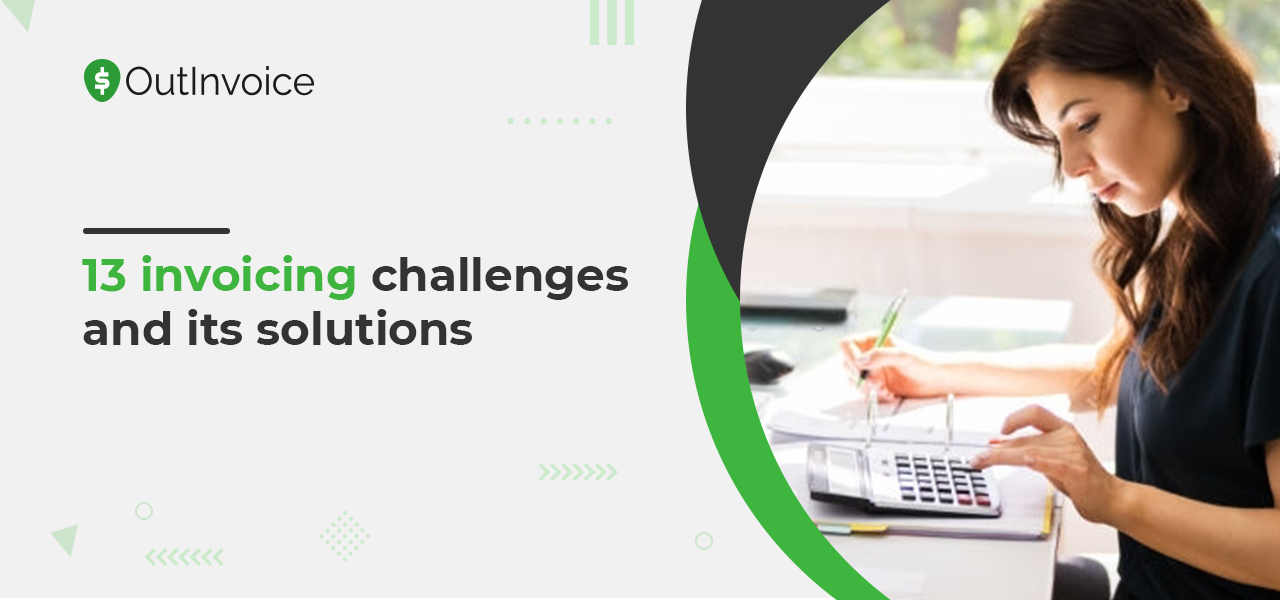 13 Invoicing Challenges and its Solutions
Invoicing is a fundamental aspect for any company; it requires time and accuracy. Even if your company does an excellent job, has dedicated and hardworking team members, and serves a great group of customers, your business won't run for the long term if its invoicing doesn't function properly. And if you mess up any information, you won't get paid or paid later for any products/goods or services you provided, which impact your cash flow.
Some businesses use traditional paper-based accounting processes that have existed for a long time. In comparison with other modern invoicing apps and software, it is considered a slow process. Using those digital accounting programs and invoicing apps can reduce rates of non-payment and make invoicing more convenient for both businesses and their clients.
Whether you involve paper-based or businesses that are stuck with hard copy and digital workflows, it can negatively influence the bottom line. However, identifying the invoice processing problems facing your business and implementing the proper solutions that address them thoroughly doesn't have to be complicated.
List of Invoicing Challenges in Businesses are:
1. Poor Accounting Systems
Whether the accounting system uses traditional processes or modern technology, those administering the department should manage them properly. To run the business effectively and productively, the owner should research and best practices and follow them strictly, including accurate, comprehensive, and legible record-keeping on professional templates and other resources.
2. Slow Processing
Traditional manual and paper-based processes can lead to lengthy approval timeframes while the documents are shuffled in different departments, resulting in lower payments. It takes too long to approve invoices and especially if companies are still sending checks by email.
Falling behind in payment can mess up the chain reaction of ill-effects, like late-payment fees and delayed shipment of goods. Slow payment can also affect your business' credit rating and reduce your ability to gain favorable terms from suppliers and lenders.
3. Missing Invoices
When your invoices don't reach out to their intended recipients, then you're not going to get paid for the services. It will be too late when you realize that the invoice is missing, especially when you're using net 30 payment terms with your customers and you don't receive an automatic confirmation of receipt. This can significantly impact a business's cash flow, and you also have to start the invoicing process repeatedly.
4. Error-prone Procedures
There are multiple channels, such as mail, courier, fax, email, etc., to deliver an invoice. But having such multiple channels can create confusion unless all of the invoices are keyed into the same system. The data entry process also has to be done manually, which can further lead to possible errors. Some common errors include paying the same invoice twice, paying for services without delivery, paying incorrect amounts, duplicating invoices, etc.
5. Labor-intensive Processes
A lot of time and effort is wasted when you manually check and verify your invoice. It is a time-consuming method when the accounts payable team verifies the invoices by checking the purchase order or contract. If any data or information is missing, they have to inform the higher authority for cross verification. And depending on the size of the business, thousands of invoices have to be sent around and can result in unnecessary waste of time and resources.
6. Missing Purchase Order Numbers
In some cases, the invoices received by your accounts payable team may not have a purchase order number. When the supplier provides goods or services without receiving a purchase order, invoicing numbers go missing. So, the main challenge is to identify the purchaser and the original authorizer and make the overall invoicing processing process lengthy.
7. Duplicate Invoices
For any company, duplicate invoices can be the real challenge to deal with paper invoices. The tracking of the corresponding paper is also very challenging due to duplicate payments arising through fraud or due to guinea mistakes on the supplier's part. All these mistakes can lead to higher costs and wastage of unnecessary time in the entire paper-based invoicing process.
8. Missing or Incorrect Data
If some data goes missing and someone included incorrect data in the paper invoice, it may be challenging to identify in the processing line and maybe only noticed later. But this can be easily solved by highly efficient invoice management systems. This type of system ensures that all the required information is available at the start of the process.
9. Unclear Invoice Status
Often the status of all the individual stages, like has the invoice been checked? When will it be posted? When will it be paid? It is not clear and involves more time frames due to the lack of transparency. And it does not apply to the supplier but to the customer too. And as a result, more and more inquiries arise. Answering all these questions by themselves further burdens the accounting department and delays the process.
10. Confusing Invoices
The language you used to write an invoice may be clear to you, but your customers or clients might not understand because they can see the information from a different perspective than yours because of language differences. This can lead to confusion over invoices, and it's especially problematic if you are selling multiple products or services to the customer and invoicing them multiple times.
11. Tax Arrears Due to Incorrect Invoices
If the invoice document does not match the VAT requirements, things can get pretty expensive. Especially when the tax requirements of the sender and recipient countries have to be compiled with in-cross border supply relationships, it's not uncommon for an invoice to not meet such requirements. And if the input tax is incorrectly deducted when an incorrect tax invoice is not recognized, an additional subsequent payment is a risk due. This adds up not only the cost of money but also the internal expenditure.
12. Slow Invoicing Processes
Sometimes it takes a long time to mail out to the customer when the invoice is already prepared beforehand. So even in this digital era, paper invoices are still preferred or required in many cases. You can speed up the process and save your company valuable time and money by outsourcing your printing and distribution to a trusted invoice mailing service provider.
13. Wrong or Missing
Most of the company gets a particular employee to check and have a specific email box or employee to receive all incoming invoices. At the same time, larger companies may have multiple people handling this task through various corporate divisions. If your invoice doesn't get in the hand of the right person, then there's a good chance it lands in the "lost letter pile" of invoices that never get paid. You can solve this issue by conforming- and reconfirming -the correct recipient of your invoice.
Invoicing is a tedious yet essential function of a business. With technology, it seems backward to allow some of the most straightforward functions to slow workflow. We adjust to common obstacles and also develop work-around processes that further impede productivity.
Some of the Ways/Solutions to Invoicing Challenges:
1. Make it Cloud-based
One of the most significant document management system problems is filling and keeping track of records. There are some individual storage and collaboration challenges in both paper-based and electronic systems. So, if you use paper invoices, you'll have enormous piles of paper to look through for the old record and not to mention high paper costs too. And if you prefer to store invoice records electronically, you have to scan and upload all invoices into your system. But it doesn't guarantee access to records from anywhere.
So, using a cloud-based invoicing platform makes sending and storing invoices convenient, with access to your folder from virtually anywhere. Using a reliable platform like this minimizes the risk of losing invoices. It also allows customers or clients to comment directly on invoices if they have any queries or concerns. Billing can quickly collaborate with sales to make changes, all in the same platform with the help of any Internet-enabled device.
2. Digital Systems
You should leave all the paperwork behind for good. You can instantly improve the visibility of every invoice just by transitioning toward innovative digital systems such as ReadSoft and quickly eliminate several common bottlenecks. With the help of a digital system, you don't need to wonder whose desk an invoice is sitting on and can start sending every invoice for approval faster than ever. Using a digital system makes your work faster and helps save time, effort, and cost wasted on paperwork.
3. Use Analytics to Trace When Invoices are Opened and Read.
When you send clients invoices, we can never know when they have received, open or read them. But a follow-up call to a client may reveal the reason behind the late payment, as any error on the invoice. The billing department needs a better intuition into what keeps clients from paying on time. So, intelligent document analytics implementation into your invoicing system can create smart invoices that inform you when the client opens and sees the invoice. Then you can do a better quick-follow up call to ask clients if they have questions or concerns in the invoice.
4. Reduce Steps Requires to Pay
A long and complicated payment process can dramatically slow invoice processing. Turn multiple payment steps by placing into one by placing credit card processing right into the electronic invoice document. Try to use invoices documents that integrate with tools like PayPal and Stripe. Automated payment processing reduces steps on the back-end with complete payment information in one place and allows transactions to occur immediately. This whole process saves time in processing and entering payment data.
5. Keep a Content Library.
With the help of a content library with templates, you can reduce the time it takes to build invoices. With the help of templates and pre-built content blocks, you won't have to start from scratch every time you create a new proposal. Instead of using old documents as templates and overwriting them, putting together a fresh proposal in minutes reduces the errors.
6. Merge your Contacts' Information with your Invoicing Platform
One of the most tiresome parts of building an invoice is entering repeated data like company name, address, and other contact information that doesn't change regularly. Using invoice builder with a tokens feature, you don't need to enter data every time.
7. Requesting All or Some Payment in Advance
Many companies and businesses do this as a matter of course with all clients and customers. These lines protect the vendor at the front end and the customer at the back end of the transaction while making an arrangement. Getting some advance payment from customers can at least repay some of the cost of doing business. This approach does not help minimize the number of unpaid invoices but reduces the total amount owed from the customer.
8. Pursuing Legal Options
As invoices act as legal documents, when pursuing payments suing the customer should remain the last resort. It should only serve as a practical option when all the other avenues of effort have been exhausted. Suing the client is not an approachable method even when the patron is in the wrong. It affects the company's reputation and can open the door to the public gaining restricted information about the company.
9. Using Factoring Services
Factoring services are top-rated these days, allowing small businesses to quickly recover most of the money owed by patrons, selling their unpaid invoices to factoring service at a discount. The factoring company typically pays 80 to 95 percent of the total bill automatically. Then they engage in collection efforts. If they receive full payment, they turn the remaining percentage of the bill to the company owed, minus fees and other charges.
10. Implement Best Practices
The most advanced tools and magnificent ideas about AP department transformation aren't enough to make it happen. Staff members should be trained on new tools as it is a most crucial step to emphasize using best practices. When the employees can follow each step in the automated workflow, the human-machine combination can produce a lot better, and outcomes are faster.
Conclusion
Many invoicing processes are not perfect and efficient. They take much more time, money, and effort. But all this can be changed entirely with a digital process. All the data included in the invoicing is essential to arrive in some digital form but also needs to be structured form. Then only can it be processed electronically without complication?
Above all, the entire invoicing process should be taken into account, which starts with the order. So, therefore, during the processing, there are continuous updates and enriched data. The information is crucial from the preceding documents, shipping notifications, and goods receipts to also be included. After all, they only form the invoice after including the correct data basis in the invoice. Further sources of errors can be eliminated automatically, pre-attributing the corresponding invoice fields on this data.
So, all this ensures the correct purchase order reference, clearly attributes invoice, and accelerates processing, clearance, and payment. And the primary sources of error can be quickly taken care of if an automated compliance check is integrated before the invoice is sent.