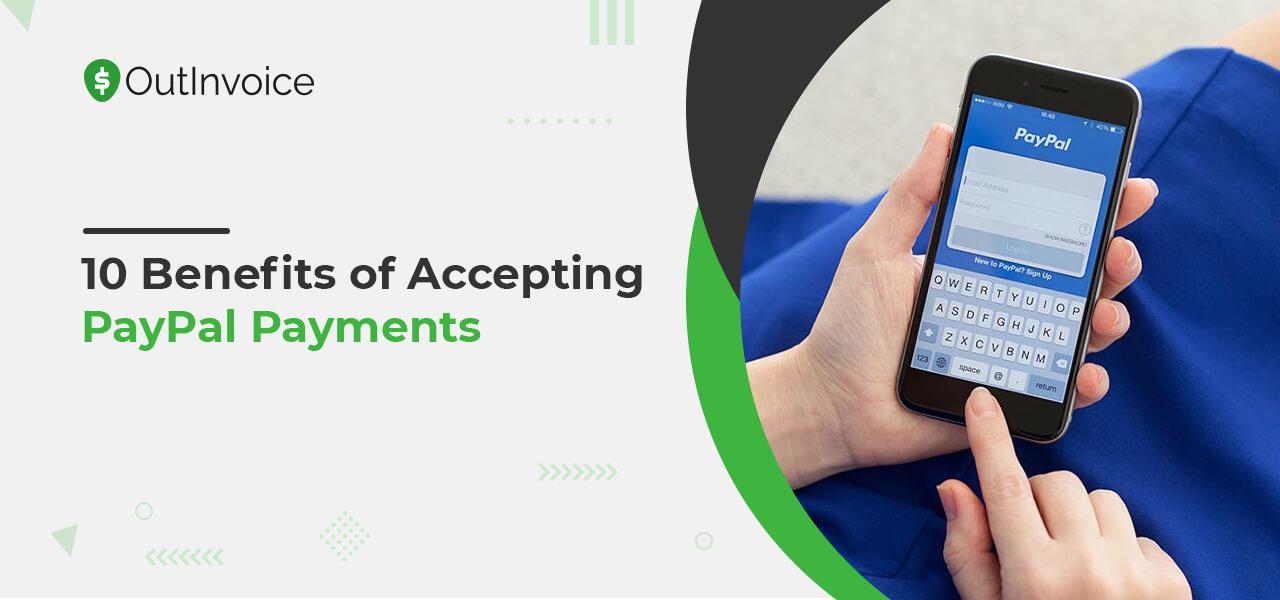 10 Benefits of Accepting PayPal Payments
When it comes to receiving payments online, there's no other more prominent name than PayPal. The e-Bay owned company gives both businesses and individuals the tools to take payments online and access that money immediately.
Also, PayPal is highly user-friendly and easy to use. Whether you are buying an item online or setting up PayPal as a payment option for your business, PayPal is straightforward and manageable.
The benefits of using PayPal are unlimited these days due to the online and remote culture of the business. From running a business to personal use, PayPal helps everyone to get their payment on time.
PayPal is a highly secure platform that gives protection for your account and your purchases. While using PayPal, you don't have to worry about sharing all your financial information. PayPal keeps your information secure using sophisticated encryption while processing any transaction.
The best benefit of using PayPal is that it is one of the world's largest online payment networks. It makes payment easy, and you can pay online stores across the world.
Why choose the PayPal Payment Method?
Simplicity: PayPal helps small businesses to accept payments and for consumers to pay with just a couple of clicks.
Variety: PayPal consists large market of users, and it provides a variety of solutions for accepting credit and debit card payments, eCheck, Apple Pay, Google Pay, and much more. With all of these benefits, PayPal brings efficiency for small business owners and other banking and POS(Point of Sales) tools.
Affordability: One of the eye-catching advantages of PayPal is, it is free for consumers, and retailers are charged according to the competitive rate for processing transactions.
Before using PayPal payment, first of all, you have to know what Payment Gateway is.
Let me guide you; when you first open a business, one of the hurdles you came across that is how you can process customer payments. Is there any suitable payment gateway to use?
Now you'll find that all sorts of businesses, such as local grocery stores and retails stores, are using some kind of payment gateway why do they use payment gateways because it allows these businesses to accept payments in person using a point of sales terminal.
Most the retailer used the card reader to gate payments for goods. But the same thing can be done through your payment gateways, which cuts your device costs, and manages all the data. The use of PayPal makes the retailer business more versatile.
Benefits of Accepting PayPal Payments
Highly secured payment gateway
Best Customer Experience
Acceptance of Domestic and International Payments
Lower Transaction Fees
Fastest Payments Service
Receive Payments Instantly
Set Up Recurring Payments
Maintain a Reliable Seller
Sponsors Discounts
Multiplatform Support
1. Highly Secured Payment Gateway
Whenever using an online payment gateway for paying bills, sending money, or making a purchase, PayPal works very hard to keep every user's data secure and all the financial information secure.
By using PayPal for your personal or business process for billing, you have to submit your details and send money to anyone you want to.
Where PayPal encrypts all the customer's data to the highest possible standard. It constantly checks your browser to make sure that you are using highly encrypted technologies.
Paypal stores all data on the server for making payment, so if some third party uses the PayPal portal, then the site redirects to the PayPal portal they pay their amount, and after the completion of payment, they came back to the original site.
This is the crucial feature that transactions are only handled by the PayPal portal, not on a third-party site. Once the user login and confirmed the payments, the transactional processed, and users are redirected to the original site.
While using PayPal payment, no credit card data is submitted via your site, so there is no critical data to manage. It is beneficial for both your business and its customers.
2. Best Customer Experience
Everyone prefers online shopping nowadays that accepts your preferred methods of payments. There are hundreds of millions of consumers that use PayPal to shop online. Those online shopping businesses which have yet to accept online payment can't compete on the market.
If any merchants or businesses having multiple payment options on their site that can become the key to their business growth. Where a lot of people are using Paypal and getting full benefits of using online payment services because there's no need to enter private financial details.
Where in PayPal, you simply login and confirm the total for payment. There is an option where you chose from a PayPal balance or a connected credit or debit card.
For the fastest and straightforward user-friendly payment method, you can integrate PayPal into your business. It offers a seamless and fast buying experience. Where users can quickly login and pay for the product.
The main goal of PayPal is to make it customers easy for to do business and managing unlimited transactions.
3. Acceptance of Domestic and International Payments
As a freelancer or small business going international is a big thing. But there are some difficulties where you have to send and receive payments from different countries.
The main problem that occurs in international payment is the varying currencies. Having a feature like converting currencies into preferred currency is a crucial aspect for ease of doing business. Otherwise, you have leftover money that you only spend in your own country.
Here is the solution for all of these problems called PayPal, where you're able to send and receive payment from 203 different counties and 25+ currencies all over the world.
So why is anyone limits to their own country? Start working internationally with the help of PayPal, which makes your business like a butterfly. Start accepting payment for your products and services by using PayPal.
With the help of Paypal, every business is managing its international clients efficiently. The goal of PayPal is to reach every individual to make their payment process more convenient and Faster.
4. Lower Transaction Fees
While you have been researching the best payment services with a low transaction fee, I guaranteed you find PayPal which is one of the most affordable payment services where a payment service called Authorize.net changes the monthly fee, which is $25 plus -2.9% +30 cents per transaction.
And they only accept payments from five countries, with 11 different currencies and six types of cards, whereas the benefits of Paypal are much more; it only charges -2.9% + 30 cents per transaction without any extra monthly subscription charge.
Where benefits of PayPal are not only limits here; it process payment from 203 different countries, with 25+ different Currencies and nine types of cards.
Low changes and an extensive global scale make Paypal a popular choice among every business owner, freelancer, and consumer.
If you are looking for the best payment gateway, then Paypal is the only King in the Market. You can get all the benefits from PayPal for your business financial transactions management.
Last year, the users of PayPay increase by 25% in 2020, which is nearly 3.7 million users. According to their report, PayPal users must increase in the future. It will be 5 million by the end of 2021.
5. Fastest Payments Service
For the business, time is money. The business can't afford to wait days to a week to get the payment system set up. That's one of the best benefits of using Paypal.
It is a quick and easy process to set up an account and start the payment process right away.
Paypal's most important benefit is no need to enter all the financial information every time you shop. The fastest speed through with Paypal checkout.
Using Paypal Services increased the productivity of any business where PayPal integration doesn't require high technical knowledge or an extensive and strict application process.
PayPal automates the business to provide online payment processing for doing that business provide their detailed plan, suppliers, and trading history.
6. Receive Payments Instantly
Generally getting payment delay, decrease the productivity of individual freelancers or any company. So the benefit of PayPal comes here, which helps to send money PayPal to PayPal and card-based transactions really fast, which is one of the benefits of using this payment platform.
Every business can get benefits from the PayPal payment to get the payment instantly, and they can confirm the receipt of payment and start offering their product and services to their clients and customers.
Customers have the best benefits for accepting papal payment instantly without waiting for a long time, and also customers get their products and services on time which builds trust and loyalty towards business and customers.
PayPal makes it easy for all individual creators to their own business online efficiently. Today most online platforms are using PayPal for their payment services. PayPal makes ease of doing business progressively.
7. Set Up Recurring Payments
The recurring payment will be very beneficial for all those businesses who provide the subscription-based model for their product and services, where the customers can get their services best on-time interval according to payment done.
PayPal helps you to build recurring payments by securing consistent cash flow for your business each month or year. The subscription-based model for product design by PayPal payment gateway.
For the subscription-based, payment reminders and invoices are sent to your clients or customers. Were they can automatically be billed by PayPal through credit card/ debit card, bank account, or PayPal balance.
The recurring payment system of PayPal helps manage the automatic business cash flow over a certain period of time, making the business profitable.
8. Maintain a Reliable Seller
While using Paypal, the payment process gets quick and delivers products and services fast. This process increased your business cash flow with consistent payment for your products and services.
The benefits of Paypal maintain the client and business owner's relationship smooth. That builds trust between them and builds a reputation as being reliable Payment services.
Every online e-commerce is using PayPal for its payment gateway. That helps e-commerce stores and service providers with consistent payment processing to get a high result.
Suppose any system has a flawed system that does not gain high customers that leads to business losses. Then PayPal is the platform that has constantly updated and a highly secure system that performs business tasks smoothly.
PayPal has a large number of working people who take care of their platform, so the business owners don't have to worry about the platform. They just use it to increase their sales and make a profit from it.
9. Sponsors Discounts
The benefit of PayPal is that it offers sponsors special discounts for every customer that can purchases with Paypal at selected retailers. Paypal offers special discounts to their customers.
While users visit shopping.paypal.com there, they can get special offers and discounts from top companies like Nike, Wal-Mart, HP, Barnes & Noble, and more.
The primary purpose of PayPal is to save your money on the things that you needed from the places where you are shopping. PayPal has a wide variety of partners that works for sponsoring their products or services prices discount and make customer attraction to PayPal.
10. Multiplatform Support
These days businesses are using multiple platforms to sell their product and service, so there are must required things for payment on all these platforms.
Most people are using mobile devices these days for payment for the product and services, and they use the PayPal app to buy and sell their products online.
PayPal has a Web-based payment gateway, Android, IOS, a Desktop application for payment, and the API for third-party web app integration to increase productivity on business transactions.
The PayPay multiplatform support feature makes it more beneficial for every business owner and Consumers to get their payment done quickly and efficiently.
Cons of using PayPal
Your business has a certain impact on what you choose for your primary online payment. So it's always a good idea to know about both pros and cons of the payment method you are going to use. Here are some of the cons of using PayPal.
PayPal's customer service
If you want to directly contact the customer service of PayPal then it's a quite difficult task. The people who have the habit to call the customer department or visit the office to solve their problems then PayPal doesn't provide that kind of service. It has customer service but doesn't have a quick response so it's hard to solve the problem instantly.
Processing time
The processing time for the PayPal fund is slightly unsatisfying as you are not able to use the money right after your client paid. It takes around four business days to withdrawn funds to clear in your bank account.
Account suspension at any time.
If you have a new business and use PayPal then you will surely face account suspension. PayPal will freeze the money until it makes sure it's not a fraud. Usually, PayPal waits and makes sure the customer doesn't start to complain. After you prove your innocence the money will be released. Otherwise, if your account gets suspended your funds will freeze for a long time.
Large fees for chargebacks
PayPal charge fees if you are making business transaction or sending money via PayPal for business purposes. As we all know PayPal is free to use if you are sending money to friends or family. They also charge a 1% fee if you want instant access to your money and a free bank transfer takes several days.
Trust
PayPal is the leading online payment company but still, some people don't trust their transaction methods. If clients refuse to use PayPal then the business may face losses.
Conclusion
If anyone asks which is the best online payment service for international and national transactions, then the answer is only PayPal. As the vast variety of Benefits of using PayPal for online payment systems gives a boost to any business owners and freelancers to grow their business all over the world.
If you have been overcharged for a credit card payment transaction, then switching to PayPal will be the best option. Because it doesn't charge everyone monthly; instead, you have to pay when you used the services. This feature makes PayPal an excellent Payment gateway service.
The invoicing software like OutInvoice also uses PayPal as a trusted payment partner for online transactions. So then, what are you waiting for, start paying by PayPal?