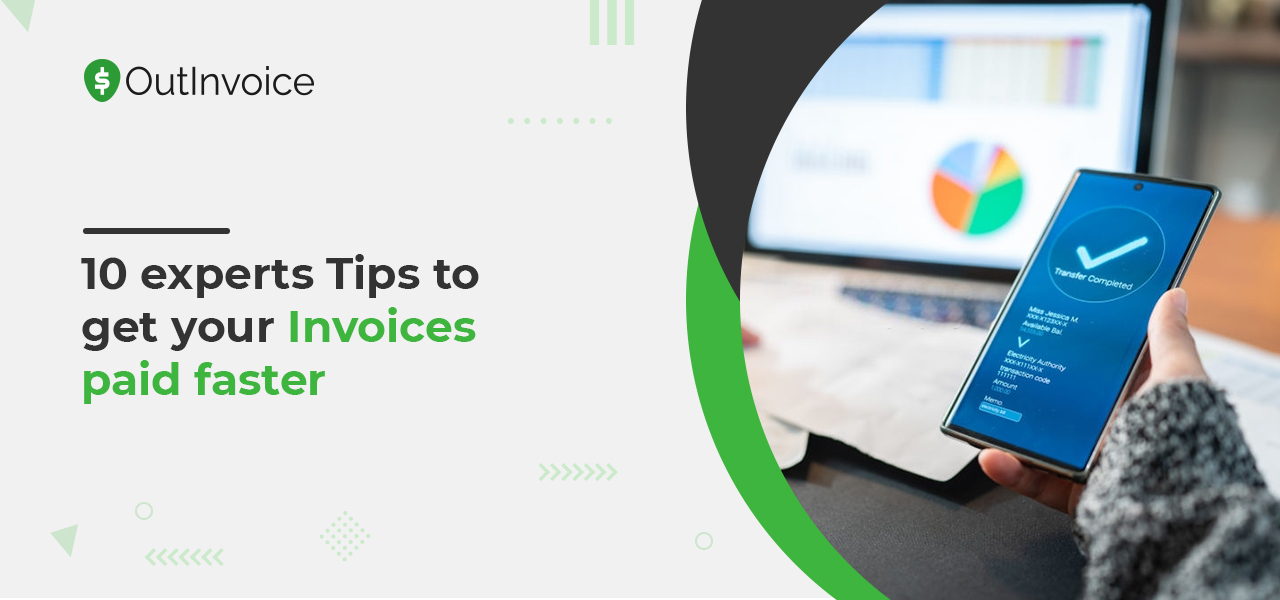 10 Experts Tips to Get Your Invoices Paid Faster
Any business owner or company aims to make a profitable income through sales and services. However, dealing with overdue invoice payments is too burdensome and can introduce more challenges that overshadow growth. You're probably familiar with this context: You finish a job and send invoices to customers, waiting for weeks, even months, and still waiting for a payment to come through.
For a small business, a delay in payment can be a matter of life and death. In one of the study, it is concluded that 82 percent of business fails due to the issues of cash flow in the business.
Why don't Clients Pay Invoices on Time?
There are a lot of reasons behind the delayed payment of the invoices. The common reasons are busy schedules, bad support systems, lack of accounting management, and in some cases, the buyers don't have money.
But generally, your invoices may have some problems too. Most people have the money but lack patience when dealing with the payments.
Some Expert Tips to Get Your Invoices Paid Faster
Here are some tips to get your invoices paid faster and maximize your cash flow. Follow these steps to maintain the cash flow of your business.
1. Work on Electronic emails rather than Paper
Paper invoices are difficult to maintain as it is vulnerable to lose, misplacement, or damage. Instead of spending time printing invoices, stuffing envelopes, and waiting on the mailman, all these hassles will be gone if you send your invoices to customers instantly through electronic mail. Your customers get their invoices faster, which points towards quicker payment.
And you do not need to worry about whether your invoice might get lost in the mail or sent to the wrong address. Most invoicing software programs offer invoice tracking features so you can see exactly when your customer receives and views their online invoice.
When it comes to small and local businesses, time is money. So, with e-invoices, you'll save both. For invoicing software to operate, you may need to spend some amount of money on invoicing software or accounting software, but you did not need to bear the cost of envelopes, ink, paper, stamps, etc., every month.
Switching to online invoicing can save your time and effort. You can use your free time for managing other more important aspects of your business. Hence, there is a significant improvement in the account management system as an efficient result of reliable features of invoices software.
Conversation through online invoicing software can reduce your companies processing costs by 81% and help you get paid up to 77% faster.
2. Send Invoices Immediately after Delivery Service
Sending invoices as soon as service is delivered will drive a sense of top priority. It will force clients to see task completion and resultant payment as one step. Although the process isn't static, it will give clients psychological suggestions to pay all payments timely. It helps to manage cash flow.
Businesses that offer subscription services should use an automated invoicing system for easy service and bill management. Many organizations only send invoices every couple of weeks or even monthly, which only increases the time to get paid and helps manage account bills. So, the frequent message should be delivered to the clients as a reminder.
It is more applicable to small businesses with limited cash flow, and they had to depend on clients to invest in other products. Also, make sure to track the date and time when services or products are delivered to clients. So, sending invoices frequently and setting reminders helps to get paid faster.
3. Keep Invoices Simple without Technical Terms
While setting your payment deadlines, don't hesitate to ask to fasten the payment. Standard invoicing terms vary by industry and company, but net 30 (which means your customers have 30 days to pay) is the most common. In some industries and companies, net 60 or net 90 is also common. It will be better to set short payments for about 5 or 10 days. Some companies include business loans not to burden the clients, and they can pay on installment as per the agreement.
Setting these terms is easier to do with newer clients as they don't know a difference but working with existing clients to move closer to your preferred terms is hard as they are familiar with the company. Keep in mind that early and frequent communication can help avoid issues or confusion later. Give them a call or ping them an email a couple of months before the new changes go into effect.
Also, it is impossible to cover all deadlines, terms and conditions, service costs, and essential company's plan and policy in service level agreement(SLA) before opening doors to services for the clients.
4. Discount and Offers for Early Payers
A common way to get invoices paid faster is to offer customers discounts and offers for paying early and saving money. This invoicing method encourages customers to pay early to grab discounts and offers. Most companies do this by offering a 5-10% discount if the invoices are paid upon receipt, but a 5-10% discount may not be the best invoicing mechanism if you're taxing to collect a huge amount of money. Fortunately, discounts and offers are not the only way to determine early payments, and you might just have to be a little more thoughtful:
Give exclusive benefits to customers who enroll in features like auto-pay or recurring billing, on-spot payment by swapping credit card terms, which helps you cut costs.
Call your sales team to help you collect the receipts and give information about the advantages of early payment terms and conditions. Hence, making the sales team a collections partner of your company. And it makes the invoicing process realistic.
Extend your payment terms and referral invoicing software mechanism features and their benefits in the longer term. Explain collections of individual personnel bonuses for improving their assigned accounts and offer to increase the incentive if the entire invoicing terms and condition meet their goals.
5. Set Multiple Reminders
Whenever you're sending out, your invoices make sure you send them to the right contact and people. It will increase the probability of getting your invoices paid faster.
Alerts and triggers are muscular characteristics that can boost your payment recipients and remove hours of tedious, repetitive, manual tasks from your workload. Set up "if/else" scenarios for various tasks like following up on late receivables, reconciling your payments, or transferring funds across accounts, early payments.
Handoffs: Handoffs are the slow process of invoicing where manually approving one task is laborious, and starting the next can add delays and slow down the execution process. Saving monthly for every payment recipient and allocating invoice payment terms takes longer hours. So, invoicing software and apps make the task by automatic generation of triggers and handoff.
Status Updates: Once bills and invoices are confirmed, there's no reason you should update the invoice status again and again in your invoicing software system. It will save time, help in faster and smooth execution. The amount of time you rescue, or better than the previous medium, how quickly would your monthly close happen if final or completed tasks were automatically updated in your invoicing system and reached to owners?
Reminders: If a business has a fist of high recipient customers, sending invoices or updates is extremely fast. However, if you're like most businesses, the process to remind customers when due dates are coming or have passed can save the enormous time of your caseload.
The list of tasks that you can automate using triggers are:
Prepare and send invoices.
Add payment links to invoices and emails.
Write and send pre-invoice reminders.
Accept payments from customers.
Track payment settlement
Verify the customers who have made a payment
Send late payment reminders.
Sending payment receipts
Running financial reports
Accept online payment
It is crucial to send the invoice and accept payment from your client automatically. This process helps both you and your customer to focus on work instead of sending and paying invoices.
6. Implement the Late Payment Penalty
Penalties can be an eye-opener for people who do not pay invoices faster by the rules and protocols. However, many experts say that imposing a penalty could scare away clients and may even fraction the relationship with customers, and they are also provided with a certain period of the due date. But, let's not worry about it as we are here to make business, not a relationship.
Perhaps, suppose some companies or businesses make the overdue payments by 90+ days. In that case, penalties will be partially or entirely or added levied, while those who pay before the permitted period can be forgiven additional charges. Also, in doing so, client-company relationships will remain unaffected.
7. Send Frequent Invoices at Intervals
Another easiest way to start getting paid faster is to send customers a friendly reminder through email or text a few days before sending them an invoice about their dues. It gives them time to prepare their payments, and it gives ideas about product conditions and how it is working. It is also an overview of the customers about the product.
Ideally, you could send a notice about a week before sending them an invoice for the payment. In this note, You will give a polite recommendation giving the client a courtesy, and giving an overview of due payment. Request them to go through the process if possible. Think about asking them if they're pleased with the invoicing software and service, if everything is on track for payment or if they need any kind of help to operate the product/service.
In all aspects of business, follow-up is used time and again. When a client misses their deadline to invoice payment, here are the things you might do to reach clients from time to time:
Sending Invoices with a Reminder: Initial step is to resend the invoice with a friendly email reminder.
Call the Client: If the client does not invoice the pay, make sure to call the client. And, if they don't answer the phone, drop a message so you can speak at a later time. Mostly, you can get your client on the phone and have them pay the invoice while speaking to you.
Sending emails: You can always connect to the customers through emails. You mentioned products and services; ask if they like to pay payments mentioning late payments consequences and early payments benefits and advantages. Also, you can always encourage customers for early payment by mentioning discounts and offers.
Legal Action: If the client is still avoiding your emails and calls, you can always take legal action. This is rare evidence and often is more expensive, but it is still an option.
8. Provide a Detailed Description
While accounting bills and sending invoices, make sure that all items are explained and descriptively mentioned. It is important to make your customer aware of what items are paying. When customers perceive why certain items bear a special price than others, they are less likely to offer invoice tips.
For instance, make a detailed list of the cash flow, charges of items, TAX levied, VAT added, and each item's prices. Do not make any mistakes while auditing. If you do so, you might have to pay a heavy price in return, so never practice it.
Ensure your payment methods and cash flow are free from any glitches or errors so that your accounts receivable are not delayed. You can always explain to clients about products, payment duration, methods of payments during the initial phase to get a detailed overview of the company's policy and business loans offered by the company.
9. Cease the Product Until Dues are Paid
Another way to deal with continuous late payers is to strict the stand against them by halting further service until dues are cleared. It's a gentle tap on the hand without shaking customers for all. Making your clients notice the value of timely payment and receipt for services by reminding them of the hardship in presenting service, and unless you get paid, you are not going to experience better services. Timing is everything, just like other most important things in life.
Sometimes long-term payment postponed needs to be dealt with strict action because they feel annoyed with multiple reminders, and if you failed to get payment of your services, it is better to get in touch with the respective personnel of the invoicing company and discuss the future of service renewal.
If your customers are still ignoring why you need to get paid despite repetitive reminders, it is not safe to rethink the service extension to the same customers. Explain to the customer about longer-term consequences and effects if dues are not paid. Discuss the losses born by the company due to overdue and late payment.
10. Audit your Invoice and Payment Mechanism
As a job creator or business owner, it is vital to make sure that your payment gateway is free from glitches and errors. Sometimes, customers may prefer another or alternate payment mode or may even take longer to clear the payment.
One of the best ways to prevent customers from delaying invoice payment is by conducting an audit payment system, recipient of the payment, and invoices to ensure that any flaws that exist are caught and set right before its rise in magnitude.
Hence, payment methods should be managed following invoicing according to the customer's accordance and comfort via Credit Card, or any form of online banking methods also accept multiple currencies if possible. On top, payment methods should be online for the fast and reliable payment method and give alternative payment methods and easy accounts receivable. Well, the benefits of online payment are best for any business organization that helps to increase efficiency in operation.
Great invoicing software will focus on your clients only as a business. The user experience should be most favourable from receiving the invoice for making a payment. If the engagement of your client with the program is delightful and memorable, the probability of making the payment will increase – not only that, they may choose your services again over your competitors!
For a great user experience for your clients, find an invoicing software that:
Allowing multiple ways for you to send invoices
Providing a straightforward payment form using invoice templates.
Allowing your clients to open and pay invoices on any device (make invoices paid faster)
Use customizable invoice templates.
Provides tools for quick and easy communication between you and clients
It is unnecessary to surprise and delight your client with your invoices as it is only related to bill payment. For them, the most important thing for a good user experience is an easy, professional-looking invoice sent promptly. For a company, getting paid faster is making the payment process as effortless and convenient as possible. It should be easily executed by any people whether they are professionals in that sector or not.
Conclusion
Business owners and freelancers are facing the biggest struggles of not getting paid on time. Providing a great user experience 'from sending the invoice to payment complete' can reduce stress so you can spend more time on some valuable work and increase the efficiency of business operation. You can use cloud-based invoicing software that provides a versatile and reliable solution to get paid faster. Also, the invoicing tools and software provide the necessary accounting solutions to get a faster receipt for your client's invoice.
For any invoices to be paid faster: utilize the right invoicing software and accounting software, contact the right person at the right time, timely follow-up, and be polite to your clients.
There are many invoicing apps, billing and accounting software, bookkeeping programs, and other alternatives out there, and every program has its own features. OutInvoice is one of the best invoicing software that provides 30 days of free trial to help you understand its features and benefits. Also, take advantage of this offer and find out which program is compatible with your business. It is best for the customers if they got detailed information about the product and payment options through invoices.