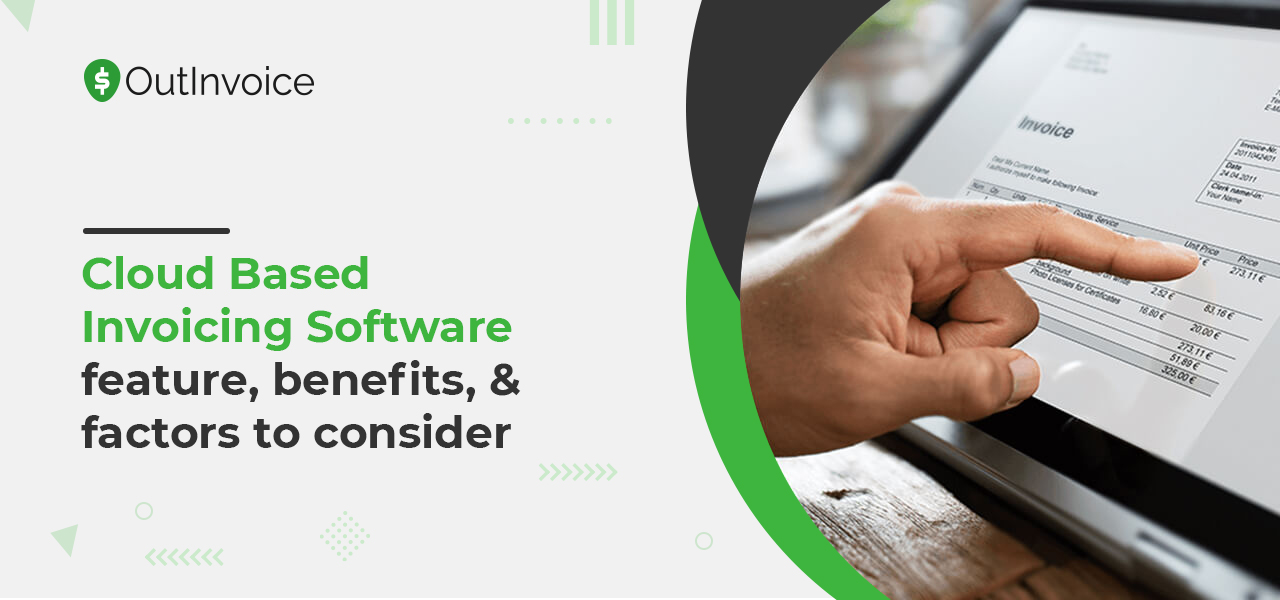 Cloud Based Invoicing Software – Feature, Benefits, and Factors to Consider.
Invoicing is often considered as the pillar of the business, small or large. But somehow, the invoicing process is time-consuming and tiresome. And the straightforward solution for the problem is online invoicing software. And the paperwork is a necessary but often unappealing part of any business. It is an essential part to bill customers to get paid in time but can also be a monotonous task that consumes more time and energy from the more interesting and exciting side of managing a business.
With the current technology, invoicing no longer needs to be a series of Word or Excel invoice templates that need manual sorting and updating. It can instead be fast and not complicated.
With the help of cloud based invoicing software, the invoicing process can be improved and provide sole traders and small businesses with various features and functions that can lift your sales process from quotes to getting paid.
Cloud computing provides access to your business data and information from anywhere and on any mobile device at a reasonable price compared to the cost of hosting servers in-house. Cloud based invoicing makes everything about running a business easier. You can also simplify a range of processes that reduce the amount of time you spend on your desk. Cloud invoicing also means your data is secure and backed up in case your laptop stops working.
Simplifying your business processes should always be your top priority, impacting your productivity and the quality of your output. Using cloud-based software, accounting, billing, time tracking, and project management can help you get to grips with the challenges of dealing with multiple clients at any one time.
Benefits of Cloud Computing
There are some of the benefits of cloud computing that cloud invoicing software can bring out, which are outlined below:
1. Invoice From Anywhere
Many freelancers or solopreneur dream to work from anywhere without the shackles of an office. One day you might want to work from home, and the next day you're traveling to a fascinating conference or taking a well-earned vacation. So, wherever you go, you can easily send your invoices in a short period with cloud based invoicing software.
Your cloud invoicing procedures are still the same, whether it's your home office or any vacation spot. You can easily access all the relevant data, and you don't have to worry about clogging up your computer or your bags with multiple files and folders associated with different clients' tails.
2. Create Invoices In a Short Time
The traditional invoicing procedures often take a long time and have to write the exact invoice details repeatedly. You would use Word and Excel Documents to create rudimentary invoices before adding many varied items of data required. If you want to change an estimate or quote into a deposited or final invoice in the traditional invoice process, you need to start a completely new document.
3. Saves Time
One of the significant invoicing problems is too time-consuming, so cloud based invoicing software helps resolve this central problem of invoicing. It speeds up the process of creating and sending invoices. It makes the invoicing process faster and with quotes, delivery notes, reminder letters, payment receipts, and more. It allows you to save customer and product details information, and with a couple of clicks, your invoice templates can autofill the invoices information every time.
4. Keeps Data Secure and Backed Up
Cloud based invoicing software provides data and information anytime or anywhere and provides a safe solution for your data. You can secure your data with your unique login and password. You can even invite your accountant to collaborate, and they will have their login and password. You can rest assured that all your data is backed up safely in the cloud. So, even if your computer crashes or malfunctioned, you'll never be in danger of losing all of your information.
5. Support Faster Payment
Online invoicing software gives its users the option of connecting an online payment solution. With this feature, your customers can pay instantly online, and the payments are received up to 10% faster. The purpose of cloud based invoicing software is to make the invoicing process simple, faster and to help you get paid quickly while maintaining professional standards and legal requirements.
6. Improves Organization
All of your invoices and related documents are stored online in one centralized hub and automatically update the information when the status changes. Taking an example, when you send a customer an invoice and if a customer views an invoice, then the software notifies you and changes the status of that invoice to 'Viewed.' 'and the same thing happens when a payment has been entered. You can quickly sort out and view the invoices you need, keep track of your invoices' status, and follow up on any overdue payments.
7. Staff Savings
You no longer need a team of specialists to install and update software, manage email and file servers or even run your backups; one good cloud based computing software with a small monthly fee can solve it all. It takes the responsibility of maintaining the service or application.
8. Automate Processes
Time is money when you're a solopreneur or freelancer. Every minute and every second counts, and that's why you need as many automation tools as you can get your hands on. With cloud based invoicing, these tools come as standard and provide automation possibilities for numerous actions. Your cloud based software automatically sends an invoice on the same day every week and every month through recurring billing. Taking an example of the Payment due from a customer, you can automatically have a series of reminders on set dates.
9. Maintain Relationships and Easily Verify Inconsistency
Maintaining a good relationship with vendors and distributors plays a vital role in the success of many small businesses. If any bill hasn't been paid, and any vendor or distributor raises a question about it, small-business can easily search for invoices that leverage cloud-based tools. You can easily search any term to locate a bill and identify whether it was missed, and make the Payment quickly to preserve the vendor relationship.
Some Of The Features Of Cloud Based Invoicing Are:
Here are some of the standard features of cloud-based invoicing software:
1. New Invoice Creation
Every invoicing software creates clean and professional invoices that can be customized according to your taste and match your brand. The system also usually extracts and integrates the information from projects, timesheets, and customer records.
2.Customer Records Creation
It is a feature that enables the business owner to summarize the information of your customer's personal and purchase information and attach relevant files in a single, centralized database equipped with search filters for easy access to customer records.
3. Credit Card Processing
Cloud based invoicing software enables you to save time and facilitate billing by processing credit cards at precisely specified times and allow recurring billing and secure customer management. Some systems even enable auto-billing of credit cards so customers won't miss a due payment.
4. Predefined Templates
The system provides professional and predefined communication templates, so your billing and invoices look equally essential and accurate. This helps save you time, personalize your accounting, and allow you to carry your brand.
5. Multiple Currency Setting
With the help of this feature, you can easily connect your billing and invoicing system seamlessly with the rest of your system architecture, similar to your basic financial operations. Using multiple currency settings can help issue receipts, accept payments, and managing taxes, and it is also an essential part of your business with global operations.
6. Receive / Send Information
Since there is no centralized database where all the customer's information is stored, this function allows you to send quotes to your customers quickly and easily and makes them readily available.
7. Invoice, Payment, and Tax Report
An excellent online invoicing allows you to perform within a system and eliminate the need for you to use external systems for tax reporting without losing time and effort to summarize the information.
8. Customizing Your Invoice Designs
An invoice being a legal document contains specific information about yourself, your customer, and the products and services sold. So to stand out and express your creativity, your invoicing software allows you flexibility and adjust the necessary information by yourself.
9. Set up recurring invoices
You may find some regular basis customers in your business, so rather than creating a separate invoice every time, invoicing software will allow you to set up recurring invoices that are sent automatically to your customers, which helps you save time hassle.
10. Process Online Payments
If you offer your customers different ways to pay your invoice, you'll pay as fast as possible. So, therefore, invoicing software helps your customers directly pay your invoice through different online payment methods like PayPal and SumUp. It makes the overall payment process as simple as possible.
Factors To Consider When Choosing Invoicing Software?
There is plenty of accounting software in the market for small businesses, and all of these offer similar functionality at first glance. So how can you decide which accounting software will be the best for your business? You should consider a list of factors first before jumping in and buying the software package you see with just a name that you recognize. Here are some of the factors to consider to think when you are looking for accounting software:
1. It Should Fit Into Your Business Context:
Before you choose any invoicing software or application, you should first recognize all the existing processes as far as possible in the billing process. You should consider all the factors and features of the invoicing platform to fully utilize it to help you become more efficient. You should choose the correct platform to deliver your specific needs rather than opt-out for multi-functional invoicing.
2. Invoices Should Look Professional And Easy To Understand
The invoices you provide to your clients contain some critical information. However, they shouldn't look dull and dreadful. As invoices represent an image of your business, you should try to make it more polished, expertly designed, and straightforward. Your clients won't be considered in high regard if you just cut and paste your invoice directly from your spreadsheet app.
3. It Must Be Safe To Use
Your invoicing platform must be secured as well, aside from looking professional and accurate. It would help if you never compromised the security of your business and customer data. The invoicing software platform you choose should have robust safeguards in place. So, try only from the vendors with a solid reputation in system security.
4. Access Ad Portability
If you have a single business location and do not expect anything to change that soon, any accounting package installed on a network server is suitable for your business. But if you have or you intend to have multiple locations in the future, you need to consider how field employees will access the accounting software. Setting up exchange server logins may be too complicated to install if you don't have any information technology employees.
5. It Must Also Offer solid Customer Support.
There is no doubt that all software technologies are susceptible to bugs and issues, both coming from the software itself and from using it. There are multiple powerful platforms available in the market, but you should choose the only partner with invoicing software vendors with reliable and easily accessible customer service. Your vendor should provide proper sights into your financial operations and also support in the form of knowledge centers, manuals, tutorials, and other resources.
6. Cloud Hosting
Cloud hosting is another prominent influence in the accounting industry because desktop-based accounting solutions offer only limited functionalities and are installed manually, which require extra storage and much more. However, if you opt for a cloud-hosted accounting solution, your hosting provider will take care of such requirements and offer a seamless accounting experience. Cloud solutions offer both the features of a favorite accounting solution and the benefits of the cloud.
7. Cost
The last factor to consider while choosing the invoicing platform is the cost of the remaining software packages. Consider expenses for upgrades, annual licensing, and support. Compare technical support packages and other additional support packages into the overall cost of the accounting software. You should also estimate the installation and setup cost if you cannot perform the installation and setup of the accounting software yourself.
Conclusion
Cloud-based Invoicing software is just more than invoicing. Quality invoicing software will allow you to build up business identity right into your invoices. It helps build strong communication with your customer from the initial quote or invoice right through to the Final Payment.
Moreover, it minimizes the risk and simplifies your accounting process every day. Using good invoicing software can help to solve all the problems you may face on a day-to-day basis. We have explored some of the good cloud-based invoicing features that any invoicing software has to offer. And the point to consider when choosing the best invoicing platform helps you organize your invoicing, accounting, and develop customer relations.