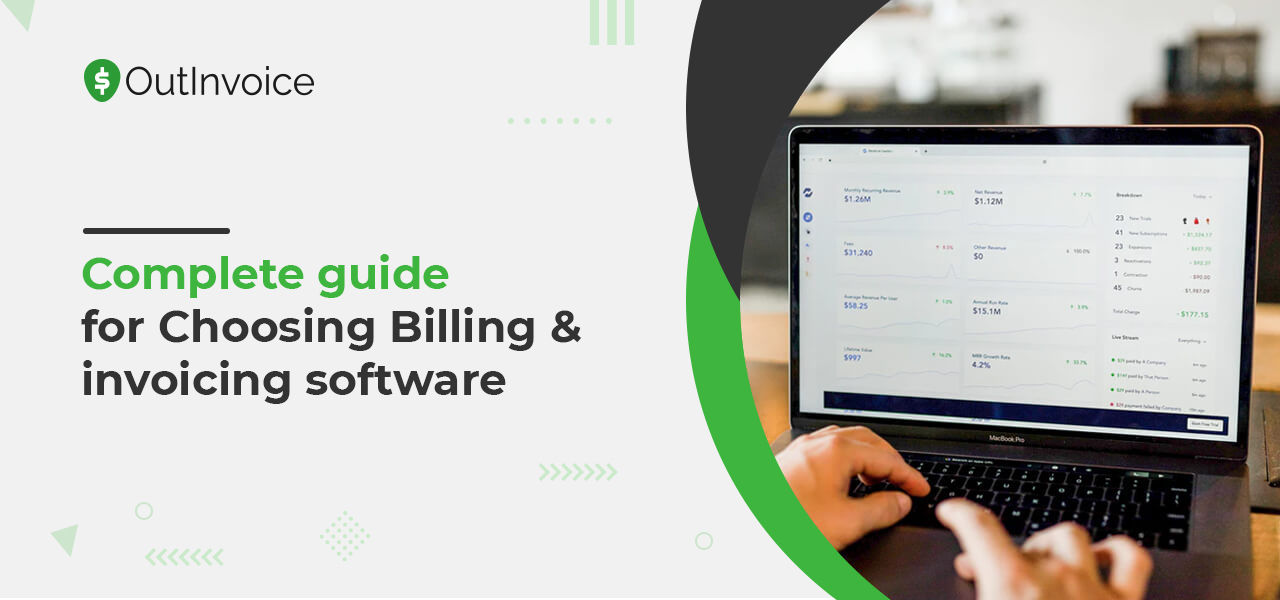 Complete Guide for Choosing Billing and Invoicing Software
Creating bills and invoices is a stressful task. Do you think of the period without accounting software on a computer? Previously companies used to hire human resources for creating bills and invoices and data entry management for manual maintenance of bills and invoices, records in heavy files. The process was tedious, and it took weeks and sometimes months to create invoices, send them to respective customers, and following up on unpaid bills is a burden on workers. Above this, time and money will cost even more.
Now the time has reversed. This is 2021, the purposes of sending bills and invoices have been automated, the generation where companies no longer need to enroll accountants and data entry operators to accept payments and project managing.
Instead, there are numerous billing & invoicing software that can successfully manage these processes, saving a lot of time and expenditure.
All credit goes to this billing and invoicing software, and it is quite safe to keep and send individualized invoices. This invoicing software ensures that all the bills get paid in time to not lose track of payments.
What is an Invoice?
Generally, invoices are records or documents necessary for getting paid faster. In other words, when a company finishes its job with all the documents and products/services and now its customer time to pay you back.
It is a commercial business document that must meet a pre-requisites sequence to be considered a legal invoice. And it is a column of the sales operation. It is an important aspect if you want to increase the business's efficiency while selling goods or services.
The accurate and legal invoices are not only important for helping you get paid faster, but they are also crucial for right record-keeping, maintaining healthy finances of your business, and returning taxes accurately.
What do Billing and Invoicing Software typically do?
Create & Customize Bill Invoices
For every business to track payments and services, it is better to use billing and invoicing software instead of manually. It reduces cost and work burden and helps to do other fruitful work.
Simplify Bill Payments
It is easier to manage bills and accounts through guidelines mentioned on billing software, making payments faster.
Generates Reports of Every Transaction
Billing and Invoicing software generates reports for every transaction. Also, it makes account management easier, and you can keep track of each invoice.
There are many choices and options in the market, and each calls itself the best. And, the problem that arises in choosing an ideal billing and invoicing software is challenging. So, how would you choose which one is suitable for your bills and invoices for your company? Well, this blog will provide you with the answer that will help you choose the best billing and invoicing software for your business.
Why do we need Billing & Invoicing Software?
Here are the most important key features of billing and invoicing software:
1. For the Fastest Payment Method
The process of billing & invoicing was tedious in the older days. It used to take many days or even weeks or even longer time to complete the payment process. However, in just a few minutes, the right billing & invoicing software can process the payment. Imagine the amount the time it saves and the amount of productivity we can increase this way?
2. To Reduce the Chances of Payments Lost
Payment loss was the biggest problem in the old-school approach of invoicing and billing software. A lot of payment gets lost due to work pressure and negligence from the respective departments, especially accounts, which are reduced drastically by using billing invoicing software as billing and invoicing software keeps a detailed record and tracks every transaction. So, the chances of missing or losing out on any payment are close to impossible.
3. To Simplify your Billing Systems and Financial Processes
The process of sending bills and invoices required employing a large finance department consisting of various accounts, back in the old days. Even so, there was no arranged or organized process.
Payment reminders often used to get postponed and sometimes got lost. However, thanks to the billing & invoicing software, the whole process has been organized and easier.
You do not need to hire a large team like in an old school; instead, appoint a small team who knows how to use billing software and invoicing tools efficiently. Also, things get done and planned according to the need of the company. This will lower the unnecessary costs by reducing the staff's sending bills and invoices in the respective department. On top, it helps to save time and can submit work earlier following the clients.
It simplifies the whole accounting & financial process increases the cash flow with faster invoice payment and enhances your relationship with customers.
4. To Decrease Fraud & Improving Security
The older technology of the billing & invoicing process was full of risks and was tedious and laborious. Anyone could steal files, burn records. Sometimes your people could enter false records burn records, and sometimes file gets lost.
However, billing & invoicing software these days comes with enterprise-grade security features, ensuring that the whole billing-to-payment process remains secure and safe. Now you don't need to stress about false records. To conclude, the new billing and invoicing software features are way more secure and safe than manually preparing invoices. That's why it is high time to switch to new technology.
5. It Helps to Maintain a Professional Image
We know the fact that billing and invoicing software help you process bills and invoices faster, reliable, decreases the probability to lose payments, and put forward an organized and timely approach to simplify the accounting execution.
Also, it ensures protection from theft and cyber frauds – which helps to improve your brand reputation drastically. The level of trust will increase, and more customers willing to do business with your increased payment process.
6. Adopted by Government
With time, governments also have realized that using new billing and invoicing software can save more and perform billing & invoicing more rationally. As a result, companies like Australia, South Africa, the USA, New Zealand, started using e-invoicing.
In the USA, all government agencies adopted e-invoicing in 2018 and allocate the billing and invoicing software budget. All public administrators begin accepting online invoicing in Europe in the same year. Then the popularity of online billing and invoicing software increased and still gained popularity.
7. Real-time Economy get Increased Through Online Invoicing Software
Thinking about how much time and money can be saved through online invoicing is imaginable. It makes faster bill processing and also keeps an accurate record of each payment. The features of a real-time economy attract many business and government officials to shift towards online invoicing software. A buyer can quickly validate the data and time, and the supplier or officials can immediately respond to invoices that can be modified and sent again to the services provided to the customers. It reduces the context of late payments or missing bills, frauds, and faults.
What are the features of an Ideal Billing and Invoicing Software?
The features you should look at while choosing a suitable billing & invoicing software for your business:
1. Creation of New Invoice
Billing and invoicing software should ensure professional and executive invoices that can be molded according to the brand requirements. It must be able to create and send the invoices in less time to get faster payment.
It should allow the execution, integration, and extraction of information from timesheets, documents, file projects, and customer records for a more explained invoice creation.
2. Creation of Customer Records
The billing & invoicing software can summarize personal information and product purchase details of each customer with attached relevant files in a single, centralized database which should be easily accessible.
3. Acceptance of Various Payment Methods
Your billing platform must support various payment methods. When customers get their preferred payment method, then they likely pay faster.
All the payment methods like online payments, cash payments, or credit cards should be processed by billing and invoicing software. Credit card payments and online payments make payment easier for customers as they will not have to waste time visiting the office again and again. Some billing and invoicing software come with an auto-billing feature that helps the client not miss any due payment.
4. Using Predefined Templates and Business Models
If you want to establish a brand, your bills and invoice's looks and structure plays an important role. This urge to have some professional, advanced communication templates in the field invoicing and billing software. Enacting these activities will let you personalize your accounting and represent your brand in the best possible way. It also reduces the burden of repeatedly writing for the same thing as it uses a predefined template.
5. Accept Multiple Currencies
Accepting multiple currencies is an important feature if you have a global business, and billing and invoicing software will make your task easier through its features. It makes sure that receipts, managing taxes, accepting payments, and performing other billing activities occur in time and help to deal with worldwide clients. Thus, it appears to be seamless financial operations and transactions in your company.
6. Sending Invoices and Receiving Information
The customer should be informed that you process bills or an invoice that gives the instant value of time and money. The company should speed up sending details of the transaction through mail or text to get assured of the product. This feature is possible only if they are storing data in a centralized database.
7. Sending Invoices, Payment, and Tax Report
A company should make sending invoices, faster payment, and tax reports as a single process. There is no use if you have an invoicing system and still use the external tax reporting system.
If you still have to use external systems for tax reporting, there is no use even after having an invoicing system. It implies that your billing and invoicing software must be able to perform tax reporting within the same system. Thus it saves hours while concluding the information.
8. Automation
An effective billing system has a fully automatic structure that processes systematically than human effort.
The main advantages of automated invoice processing are it reduces error rates, speeds up the approval process, reduces processing times, and saves labor costs.
It also reduces duplicate invoices and payments. Your invoicing software must be able to integrate with your other business systems to have a better result.
9. Data Security
For every business company, data security is on the top priority list. The cloud-based software can ensure your data safety. the billing and invoicing software must guarantee secure features by following the latest safety standards and protocols.
You must choose the accounting software that provides Secure Sockets Layer or SSL encryption, automatic backup, and secure data-housing facilities.
10. Mobile Invoice Software
The main reason you choose online or cloud-based software is to keep up with your accounts anywhere, anytime, then the absence of a mobile app may be a deal-breaker.
Before purchasing the software, you must check the iTunes and Google Play Store to see if an app is available for your device or not.
Mobile invoice software is popular because it is easy to use. Everyone loves the easier and simple way to work. So the mobile invoice software is the best way to be able to keep invoice status in check, track payments and invoices.
11. Customer Service
If you want to add any software to your business, then you must also look for customer service.
Yes, it's important because you may need some assistance and guidance regarding that software. Just look for the company that provides the services like email, phone, or live chat support, user guides, instant support via social media, etc.
Latest trends and features in Billing and Invoicing Software
If you don't want to be left behind by your competitors and want to stand out, just selecting a billing and invoicing software with basic features is not enough. You must be aware of the latest trends and updates and make sure that your billing and invoicing software tools have those features. Here are the trends and features that you must seek for this year.
1. AI(Artificial Intelligence) and Automation
Many companies have realized that they do not no need any resources for manual monitoring of their financial transactions time. On the other hand, they can save a lot of time using invoicing software and billing systems, and they can keep track of several errors, overdue and missing payments.
Artificial intelligence (AI) technology will play an important role in the forthcoming days in the automation of billing & invoicing tools and services by automating the settlement and execution process, improving cash flow, and automatically recognizing invoicing & billing frauds and faults.
2. Blockchain Technology
Blockchain is a technology that allows companies to simplify the invoicing process and execution as it keeps a record of all transactions and payments involved. It will take a vital role in the upcoming days in the field of accounting and data management. The technology will make cash flow management faster and smoother. Sending invoices faster will remove the chances of fraudulent activities, and a lot of time and effort will be saved by invoicing and billing software in the coming days. In a few years, blockchain will remove the traditional invoicing system in every respect.
3. Cloud-based Invoicing System
Billing and invoicing will also exception to run in the cloud as many technologies do it. Performing these activities allows companies to access data from any part of the world. Moreover, because of real-time updates and immediate actions, accounting life will be easier.
4. Increasing use of Mobile Invoicing
Since enterprise operations and business execution are getting more mobile-centric, billing and invoicing cannot stay behind. That's why mobile invoicing is a must these days. It reduces the burden to overthink about billing your clients. Billing invoices with a payment request on their email and makes the payment directly from their phone. Mobile invoicing will get more emphasis in the upcoming year because it is easy to use, convenient for clients, and saves time. Also, it is very easy to manage cash flow.
Challenges of your Billing and Invoicing software
With all the benefits that the billing and invoicing features provide, there are some challenges, too, a billing & invoicing software you must know about. Instead, do not make the wrong choice while choosing, as it is crucial to know about the issues you might face while using the billing and invoicing software. So, here is the list of some common problems faced by businesses:
Account Payable (AP) on the Cloud and Managing Account Receivable (AR)
What do you think about how easy it is to manage receivables and payables in a large company? They have multiple projects, multiple clients, and accepting payments on a global market, and the whole process is a burden and no less than a headache. Keeping track of all these things at the same time is not possible.
Hence, you need to use billing & invoicing software to keep track of everything and manage every process seamlessly and timely.
A Large Customer leads to more Errors
As an organization grows and you will have more clients, managing clients and their invoices will be hectic. Making a wrong draft, entering wrong details, and sometimes miss out on payments are common mistakes. So, you will need billing & invoicing software that can handle all these errors.
Managing Large Clients' Payment Cycles is Difficult
Payments are a reward for your hard work. You do not want to lose even a penny for your every invoice. Hence, multiple clients mean larger payments and more cash flow, and account management is hectic.
The issue of managing multiple client payment processes is a laborious task, and you need the automation feature of accounting software that can keep track of all these things, not to lose even a penny.
Lack of Common Global Standard
If you have a global business, you have to deal with different working environments, different payment gateways, and different rules and regulations, creating issues in managing bills and invoices while working with global clients. The different variations in taxation and e-invoicing complicate the agreement. As a result, payment delay often occurs, and the billing & invoicing gets limited. So, the need for invoicing software is compulsory to manage global standards without hassles.
For the Data Security, Theft, and Disaster Management
While processing bills & invoices on the cloud, proper security protocols, and safety mechanisms are followed.
Hence we have to choose the best billing and invoicing system that provides all security to prevent data theft or leakage, data loss in a natural disaster, and cybercrime and theft.
Conclusion
Billing and invoicing software play a very important role in businesses that demand fast processing of payments and transactions and a company with many clients asking for services. For example, restaurants that have a thousand clients in a day. Hence this will need a powerful billing and invoicing system. Another best example will be the Governmental office which provides thousand of services every day. They have larger data to manage, and these data should be retrieved after a month, a year, or a decade later. Hence these offices require strong billing and invoicing software based on the cloud.