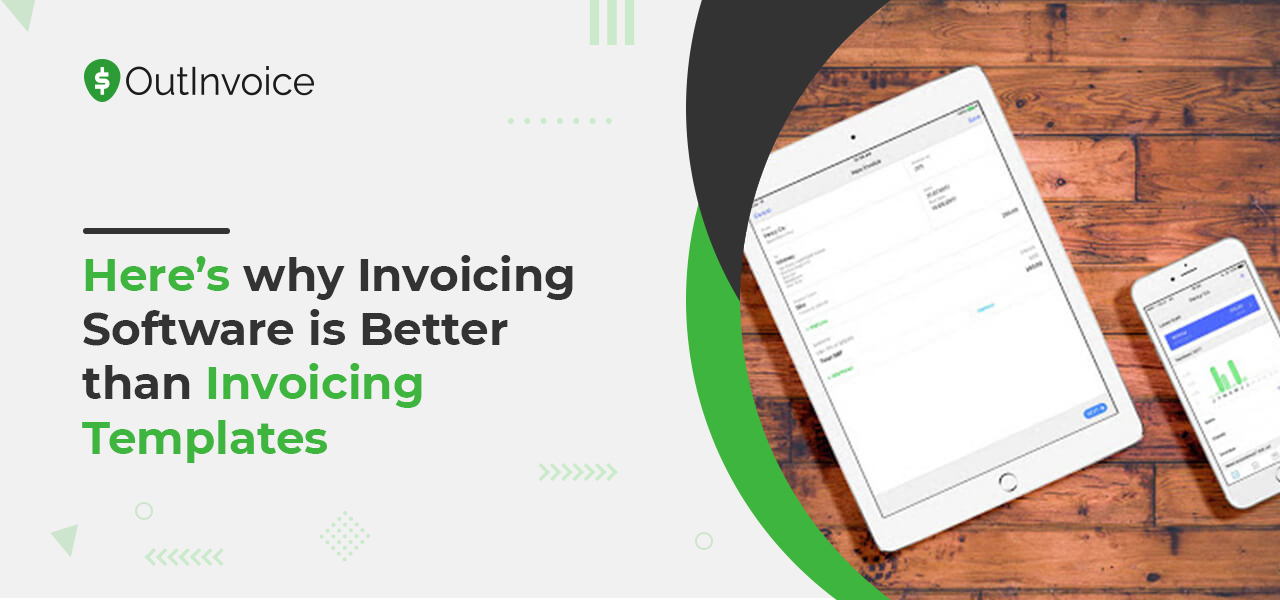 Here's Why Invoicing Software is Better than Invoicing Templates
What is Invoicing?
An invoicing is a document that the seller gives to the buyer to collect payment. It lists the service and product to a client and creates a commitment to the client to pay for those services and products. There are many benefits of invoicing.
You can also consider an invoice as a pillar of the business sent by the seller by the buyer with a written specific amount and cost of products or services. You can also say that it indicates what must be paid by the buyer according to the seller's payment terms.
Term payment usually defines the period that a buyer has to send to the seller for the goods or services they have purchased. It provides a detailed account of the product or service and information on both. It is also a legal way of paying the money.
The invoice template contains:
The seller's name and the client's name.
Price.
Description of the goods and services.
The total amount of the price.
In addition, it makes it possible to find out when the product was bought, sold, and the customer's information. Invoice is essential to both the seller and the buyer. An invoice provides an organized record of expenses with all the details for the client, which helps record all the information. In addition, an invoice helps speed up the payment process for a small business by reminding clients of the payments due.
What is Invoicing Template?
An invoicing template is a billing layout that is organized to replace our details with default stock information. The invoice template typically contains all the necessary information regarding payment and the contact information of the two parties involved in a transaction.
Legally, it is the only way to make an income. The invoicing template helps you fill in the details of the customer and company details and the product or service you're selling.
It has your company information, customer information, the sum of all the goods purchased, VAT number, invoice number, title, date, list of the product, and other payment terms.
Once the seller makes a mistake, it will create scribble information. Unfortunately, that can get a bit messy. Unattractive information can be a cause of payment delays. So while choosing the template, it should be the same for the rest of the business purpose. So, there are more straightforward solutions as well.
What is Invoicing Software?
Invoicing software is a tool that automatically generates a bill for the rendered services and products. The online billing system does the receiving and payment work for you. Online invoicing software also replaces the need for paper invoicing and accounting or Excel/Word-based invoicing and accounting.
Online billing software is one of the most essential and powerful tools needed for businesses today. Billing helps to report the expenses and income of the business. Reporting is also a big part of the powerful business software because it helps the company compare its profit and loss.
Online billing software has "smart" features, which leads to reduced invoicing stress in the business. For example, the online system works like creating invoices, making payments to vendors, and keeping records of the system individually, which will reduce. It also cuts down the time required to follow up with payment or simple data entry.
This online tool creates a list of products and services and their corresponding costs and sends it to the customer as an invoice. This online invoice software is commonly created using ready-made templates which are professional-looking. Therefore, it helps to make the process easier and advantageous to businesses.
What Does Invoicing Software Do?
It's prevalent not to have a capable and dedicated finance department to manage all the accounting processes in small businesses. Therefore, the software also helps to reduce many overheads from working in the business. Following are the points that accounting software does.
Creates Invoice
Nowadays, accounting software is much easier to use than paper, Word, or Excel. The invoicing tool helps you to create invoices in an easier and faster way. Using this system helps to allow you to quickly access information from anywhere to create invoices and personalize them to carry anywhere.
Billing and Payment
Invoicing solutions do not require additional setup. Invoicing software will provide you with the capability of an appropriate payment process. By invoicing online platforms, it is effortless to manage and process payments. In addition, invoicing software usually has features to handle multiple payment gateways.
Generate Reports
Online invoicing software also produces a variety of reports which help to assist you in tracking your finances. You can also quickly get important information through the software that helps to manage all your records, database, and transaction.
If you're a business owner, you must already understand the value of efficient invoicing. Creating clean and accurate invoices and sending them to the client on time can leave a good impression on the client. It can also help to maintain records which help to keep a legal record of the sale.
Earlier, people involved in business used to create an invoice on paper. Later it changed into invoice templates like Excel or Microsoft Word. However, using a word or excel template can create many problems like errors while copying.
Nowadays, many business companies have started to use online invoicing tools because they have more than just an invoice template. Online invoice software is much more efficient for invoice motive than traditional invoice templates.
These are the reasons why you should make the switch to the invoicing tool:
It's Safer
When you use the invoice software, you don't have to worry about losing your data and the details of the clients. Even if your computer breaks down, data is safely backed up on several servers.
Useful Features
Online invoice software is designed with a helpful feature that helps you to process invoices efficiently and quickly. Online invoice software has many different useful features. For example, the online invoicing generator comes with various features such as clients can create multiple members and letting them manage invoices. Clients can also create business profiles and handle multiple businesses.
It also helps to send invoices in a faster and time-consuming way. It also accepts online payment and saves the credit card as well. They keep invoice statuses and finances in check. It also helps to manage and track the payment of each invoice. As the company keeps on growing and the requirements for quick billing will be vital.
You can use an online invoice to use these features by signing in with OutInvoice. It takes a maximum of 4 minutes to create an invoice and enables you to send an unlimited number of invoices.
Less Error-Prone
When using an invoice template, you need to enter information every time you write an invoice, leading to mistakes or mistyping a name or address. In addition, while correcting a mistake, it might take time to correct the mistake, which can create unwanted delays in payment.
With online invoicing software, there is very little chance of making such a mistake. The calculation is all done by the software so you can rely on that.
Maintain a Professional Look
Online invoicing software makes invoices look professional. They make it look clear and beautiful. A professional-looking invoice can also strengthen your business identity with a customer. The professional-looking invoice also makes it easy for clients to find all the necessary information for the payment at first sight.
It helps to boost your company's reputation by creating good billing and invoicing. Most of the software also supports customized logos and other design improvements to pay invoices and documents. It also helps to organize and prompt an approach to discharge a professional image with your clients.
Faster
Invoicing software helps you create invoices faster. It helps to be faster by choosing drop-down menus and calculates taxes, total amount, and discounts. Since the software saves all your payment details, credit card details, and client details, it takes very little time to create an invoice than an invoice template.
In templates, you have to create all the information from the beginning. Once you have invoiced the client, it saves all the information in the database.
Makes Payment Easier:
Invoice software helps your business get paid faster. Professionally designed online software gives your customers clear information focusing on paying this invoice now. While working on online invoicing software, you pay with available payment getaways.
Clients can pay by clicking on the desired method like PayPal. It will make you pay in just a few clicks. The client can make credit card payments as well. You have to save time while doing the transactions.
Invoice templates like excel and word do not focus on payment. Invoice software provides the customer with the benefits of paying by credit card. The client who will be getting the invoice will see the "Pay Now" button.
Customers will be able to pay on the spot when they view your invoice. There are many benefits of online payment.
Minimize Late Payment:
The right online invoicing software can help you streamline your billing and invoicing process. This allows you to make payments mostly on time. It can also help to boost your profitability by keeping your data and scheduling organized.
Invoicing system also accepts online payments. Payment methods are available. It helps to pay the due amount faster. Invoicing helps to collect unpaid invoicing. 
Minimize Fraud and Improve Security:
Excellent online billing and invoice software will help with minimum fraud and improved security. There are levels of a massive number of security features. Online software ensures that the entire billing to online payment process is protected from hacking and fraud.
It is very comparatively more secure and safe than preparing your invoice manually. It also helps to track all the invoices of the sales. Invoice tracking helps to minimize fraud and improves security.
Advantages of Invoice Templates
As mentioned before, invoicing templates are pre-written documents that the user needs to fill in the given information. The advantages of invoice templates are mentioned below:
1. Invoice Templates To Save Your Time
Online invoicing helps save you time, and they also have a feature to send out multiple invoices at once. Invoicing template ensures that your client receives their bill quickly and payouts on time. In addition, invoice templates are speedy and straightforward. It is effortless to interact with, and using an invoice template is very time-saving.
2. Get Your Invoices Paid On Time
Where there is no invoice, there is a chance that a customer won't pay you without getting an invoice first. It's sporadic to pay for goods or services provided before an invoice has been issued.
Creating and completing invoicing tasks is very quick and efficient. You can cut off time to receive and pay your invoice. Many online invoicing templates have a "Pay now" button that enables your client to interact efficiently, which helps you make payments quickly.
Some templates also remember the payment method, which helps to save time for the employee working on invoices. Online invoicing accepts and saves credit cards. Templates accept payments that help pay faster.
3. Useful Record-Keeping Tool
Templates help to record all the data with evidence of sales, income, and expenses. Not having up-to-date and accurate invoices can cause risk in the future.
4. Help Send a Positive Message About Your Company and Brand:
An invoice template helps you look at brands more efficiently and professionally. It has its company logo and website address as well. Professional and efficient invoice and payment collection help to improve customer satisfaction.
Equally, a poorly managed system can easily damage a company's pride and reputation.
Advantages of Billing and Invoicing Software
Invoicing software is the essential tool you need while running a small business or freelancing job efficiently and smoothly. There is much-invoicing software that has great potential to streamline many processes.
With the help of invoicing software, you can quickly keep a record of company expenses and send a professional invoice to your client without taking time in writing and calculating the invoice. There are advantages to invoicing software.
1. Multiple Invoices
One of the most beneficial features is the multiple invoices. A business owner or freelancer with a large number of clients can send multiple invoices. It is also easy to add the services or products you offer the clients. It is also swift and straightforward to complement the required items in the invoice.
Invoice software also records all the invoices you send to your customers and other details you need to preserve for the future. Since we have these features, you can save enough time and energy that you require for billing. It automatically does calculations as well.
2. Improved Accuracy
Invoicing software can improve the accuracy of invoices. They are capable to auto-fill the date and already have a layout as well. With the help of improved accuracy, you can give more attention to the content of the invoice.
3. Improved Cash Flow
Invoicing software can improve cash flow. Invoicing software can happen due to faster production of invoices and the sending out payment on time so that you can receive payment earlier. With the invoice software, you can create invoices straight away.
As you can see in all the cash flow and records of the sales, we can also see due payments. Sending invoices is also a way to ask for payment. Invoice software accepts payments which help you to pay faster.
4. Professional Look
Invoicing software helps to give a professional look to the created invoice. Invoicing software is very useful when you have to print or create a PDF copy of the invoice. A simple and perfectly formatted invoice with a good layout looks professional.
It creates nice highlights on pricing and product details. Invoicing can also help to increase the level of customer satisfaction and confidence.
5. Enable Easy Editing
The invoice software allows easy editing, which helps to consume time. Your billing and invoice information will remain in the system. Since the software itself can generate the required tax and reports, the processing requirement will be speedy and smooth.
If you plan to start or have already started the business, it is the best time for you to access efficient and professional invoicing software.
6. Secure
Security must always be a priority. Invoicing software is very secure and safe. As all the data and information is secured, we don't need to take tension on that. Most of the invoice software is safe as it has an end-to-end encrypted connection.
Conclusion
If you're a freelancer, start-up founder, small business owner, or large company, competition in the marketplace increases day by day. As a result, businesses of every size need to look for ways to save money and time. Nowadays, many large, as well as small businesses, are implementing invoice systems in their business.
Online invoice software performs all the benefits mentioned above in straightforward clicks. Online invoicing not only saves you time and cost but also helps in various ways. And the most crucial part is that it makes the life of both you and your customers.
The benefits of using online billing and invoicing software are greatly appreciated at today's date. It is accounting software, so choosing the right invoicing with efficient and appropriate features should be significantly considered when switching your invoicing process.
Once you choose the invoicing solution process, it should be the same; otherwise, it will be a problem while calculating profits and information.