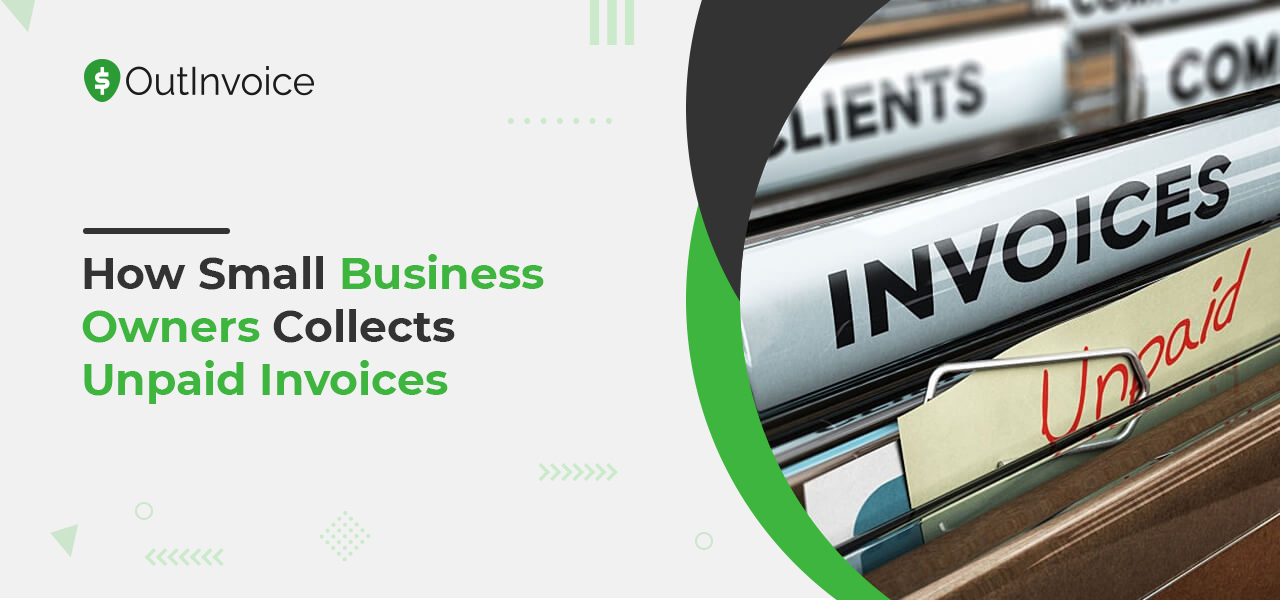 How Small Business Owners Collects Unpaid Invoices
If you are an entrepreneur or a small business owner, permitting even unpaid invoices can entirely disturb your cash flow or the whole system, and dealing with unpaid invoices is a tedious task.
Sadly, most small businesses have problems with unpaid invoices and late payments, which may be due to miscommunication, domination, or not taking them seriously. It's not only you not getting paid but also wasting your precious time chasing after it.
Unpaid invoices wipe out your valuable time and revenue, but there's always a solution to a problem. Following the mentioned tips below can help you to collect overdue invoices.
Tips to Collect Unpaid Invoices
Here is a list of 12 effective tips for small business owners to collect unpaid invoices.
1. Ensure you Followed the Procedure and then Follow-up Politely
Do not lose your cool and make random decisions and start calling, sending messages, or emailing your client a threatening or awful message.
Initially, make sure that you followed all the right procedures for getting paid past due? Did you send your invoices on time? Did you follow the correct method or procedure while sending the invoice? Were your payment terms and conditions clear? Did you mention the total past due? Are you sending it to the right person? Is your mentioned address correct? Is your payment process clear? Did you make a clear statement of legal action? Did you consider invoice factoring?
First, find out if there are your faults or not before messaging anything to your customer. It is extremely embarrassing to lose cool with your client.
Also, consider human emergencies. Sometimes your client may be out of the city or dealing with an emergency. So before getting angry or nasty, send them a polite follow-up email to check if they are in good condition. More often, just checking in email can get you paid.
At this moment, do not mention any "past due." It makes sure that you will have a good working relationship with the client in the coming days.
You should make a special note. Ensure you choose the best invoicing software to track invoices.
It is better to realize before emailing clients to not regret it later after sending them an invoice. It helps to maintain healthy and long-lasting relationships.
2. Give Discounts and Offers
If you present a discount and offers for early payments, customers or clients will be encouraged to pay an early due date.
Mention monthly, yearly, and within days offers. Provide 5%- 10% discount on the total invoice and encourage to pay early. Also, provide a festival discount and offers. It is uncommon to remain absolute for your clients.
Unfortunately, not everyone is motivated by encouragement. Instead, they might care about getting a penalty for late payment. This method helps to pay faster and covers the cost of any financing issues that you have. This protects from not creating a recurring bill for the late payment.
3. Discard the Rigid Business Methods
You followed all the procedures and talked politely, but it still did not work.
You might get serious pain while following up with them. Send multiple payment reminders about the service provided. Also, make a list of unpaid invoices and overdue payments.
Talk about the consequences of not paying on time and the overdue penalty. Even talking about all these and the clients are still stiff at making payment do not hesitate to make a legal consultation.
4. Collections, Arbitration, and Legal Action
Are you having a hard time collecting past due? If you have invoices left for more than 90 days past due, don't you think that you won't be paid and rethink it.
You might get left with other options. You might need to consult with a legal authority or some collection agency to get the late payment.
At first, you might have to contact someone else at the client's office, such as personal assistance, accounting manager manages account receivable.
But do not contact them rigorously, make some research before contacting them and confirming everything is fine from your side. You should follow the following steps:
If you have made a contract with the client, you need to review it carefully. The only way to resolve the non-payment is to go through the intervention board. Get in touch with the intervention board and find out what to do.
If you have a local client, you can use a business negotiation service. This system includes a skilled, neutral mediator who works for both parties to resolve the disagreement and collect unpaid invoices.
What if your system had a problem and could not pay? Consider payment in installment or a three-to-six-month payment plan. It could be difficult if the client goes bankrupt or has a financial crisis. But it is worth understanding the client's problems.
Some of the deadbeat clients have thought of settling payment with some offers. Sometimes it is better not to deal with such clients.
If you have met the client online or as a freelance website, do follow them through the customer service department mentioned on the site to report the problem. If they have too many problems, they will stop publishing ads for that person.
You can always claim lawyers for legal action who are especially suited to resolve these kinds of disputes.
If you have a maximum limit claim, you have to go to regular court to file a lawsuit. In this case, you can represent yourself, but you are not advised to do so. You can choose a lawyer to represent you.
5. Contacting a Business Reporting Bureau
If you are handling a customer who is a terrible late payer, you can always report them to a business reporting bureau and make a public record.
Since records are public, this will affect their public reputation and might limit future payments too. In this case, you might collect unpaid invoices.
6. Make a Clear Contract
It is important to double-check whose mistake it is. It must be either yours or clients before making payment terms. You should make a contract that takes place between you and your client.
If you do not have any contract with your client, you should know that your relationship with the client is binding. All communication forms like email conversations, phone chats, phone calls, text messages, and even in-person conversations are counted as legally binding contracts, and both people agree verbally.
Nevertheless, send multiple payment reminders of your original agreement and show clear proof of the agreement's details.
As possible, do not create a situation to take someone to court. Hence, for this reason, it is always necessary to have a clear contract.
7. Send Timely Payment Invoices
It is important to keep immediate track of your invoices if you want timely payment.
You will easily get a sidekick when you are operating that many duties of running a business. You might not have sent invoices immediately after service or products have been delivered; instead, you sent an invoice week or even months later.
If this happens frequently, there is a greater chance that the client will leave your invoice unpaid, and you suffer from overdue invoices. Clients are not likely to include your invoice in their budget as the invoice arrives late.
Also, they might not have money to pay you right away. Let your client consider invoices that did not arrive on time and let them know you will be a week late for the payment to make. Also, confirm the deadline of the payment that works for both parties.
8. Setting up Automated Payment Reminders
If your invoices are unpaid for a longer period, there are lesser chances of getting paid. Sending multiple reminders a week or days before the payment will increase the chances of receiving timely payment.
Also, sending follow-up emails or messages to clients with overdue invoices within a few days before payment becomes overdue will increase the probability of receiving payment on time.
The best invoicing or accounting software can automate payment through multiple payment reminders. This feature will reduce the work burden to send follow-up emails and allows us to focus on valuable work.
It set up timely payment reminders through automatic and scheduled payment terms and policies. This kind of setup will make a vast divergence.
Another easiest way to start getting paid faster is to send customers a friendly reminder through email a few days before you even send them an invoice about their dues. It gives them time to prepare their payments, and it gives ideas about the product conditions and how it is working. It is also an overview to the customers about the product.
Ideally, you have to send the payment reminder about a week before you send them an invoice. In this note, I recommend giving them a courtesy rather than directly following up on an unpaid invoice.
If it makes the process easier for you to go through the due payment, consider asking them if they're satisfied with the product/service, whether everything is on track for payment or if they need any kind of help to operate the product/service.
9. Provide Additional Payment Procedure
For global business accepting multiple currencies is an important feature; using invoicing and billing software makes collecting tasks easier and avoids overdue invoices.
It makes sure that issues of receipts, managing taxes, accepting payments, and performing other billing activities occur in time and help to deal with worldwide clients. It makes the financial transaction or business credit seamless.
You should check your payment methods closely if you are repeatedly receiving late payments. If the payment method is easy, you will receive payment faster as clients are used to the phenomenon.
Some clients may prefer an ideal bank transfer, some may like to use a credit card, some do cash on delivery, or some might prefer online payment. Using ideal options for the payment process will be convenient for both client and seller.
One way to prevent customers from late payment is to conduct an audit of your payment system, recipient of the payment, and invoices to ensure that any flaws that exist are caught and set right before its rise in magnitude.
Hence, payment processes and methods should be managed according to the customer's accordance and comfort via Online, Card, or any form of banking methods also accept multiple currencies if possible.
On top of that, payment methods should be online for the fast and reliable payment process and give alternative payment methods.
10. Charge Late Payment Fee
Penalties can be an eye-opener for people who do not pay by the rules and protocols. However, many experts say that imposing a penalty could scare away clients and may even fraction the relationship with customers, and they are also provided with a certain period of the due date. But, let not worry about it as we are here to make business, not a relationship.
Perhaps, suppose some companies or businesses make the overdue payments by 90+ days. In that case, penalties will be partially or entirely or added levied, while those who pay before the permitted period can be forgiven additional charges. Some customers who may have forgotten about the payment will not have to bear the penalty. Also, in doing so, client-company relationships will remain unaffected.
Sometimes long-term payment postponement needs to be dealt with with strict action because they feel annoyed with multiple reminders, and if you have failed to get belongings of the payment, it is advisable to get in touch with them and discuss the future of service renewal.
If your customers are still ignoring despite repetitive reminders, it is not safe to rethink the service extension to the same customers.
Explain to the customer about longer-term consequences and effects if dues are not paid. Discuss the losses born by the company due to overdue and late payment.
11. Setting Up Automatic Payment Process and Methods for Repeated Invoices
If you work with the same clients repeatedly using any invoicing software, they should be able to create recurring invoices. It could be a huge help to manage cash flow. It reduces the tediousness to create multiple invoices for a single client multiple times.
Also, you can create an ideal payment method for recurring clients fixing the date to make a payment so that they will be ready with the money they have to pay.
In order to improve your payment rates, OutInvoice can be the best invoicing system for ease and timely payment.
12. Considering the Invoice Factoring
Once overdue starts piling up, and cash flow starts to diverge. To make bills and cash flow on time and help to grow business. Invoicing is always an option to make bills pay on time and also helps to collect the cash flow and growth of the business.
Invoice factoring knew as account receivable financing, which connects you to a third party that collects the fund for you. If you do not get paid in full, you will get a certain amount of the total you need to owe. Also, you will save time to send multiple reminders. This option will be suitable for those invoices which you do not think they will get paid anymore.
You can always seek legal action as well. First, you have to make sure you have done everything right to get your cash back and follow all procedures to collect them. It is high time to rethink what to do with unpaid invoices. You have already wasted your precious time setting reminders and invoicing them repeatedly.
Looking for legal action is always expensive and time-consuming, but it is necessary to make your client paid. You should make invoices, fast payments, and tax reports as a single process.
If you are using invoicing systems and still not getting any absolute output, there is no benefit in using them. Thus you must know how to choose the best billing and invoicing software for your business that would also perform data management and security.
Conclusion
If you want to get paid on time, make sure you reach out to the right person and research their history on other businesses.
Secondly, do not forget to make a signed contract, keep a detailed record and backup for future reference, and make certain deposits before starting a project.
Similarly, make the payment process as easy and convenient as possible, set up repeated invoices, and make stronger client-vendor relationships. Above all, know when to stop chasing for payment. It is a waste of time, energy, and money to hunt for a smaller amount.