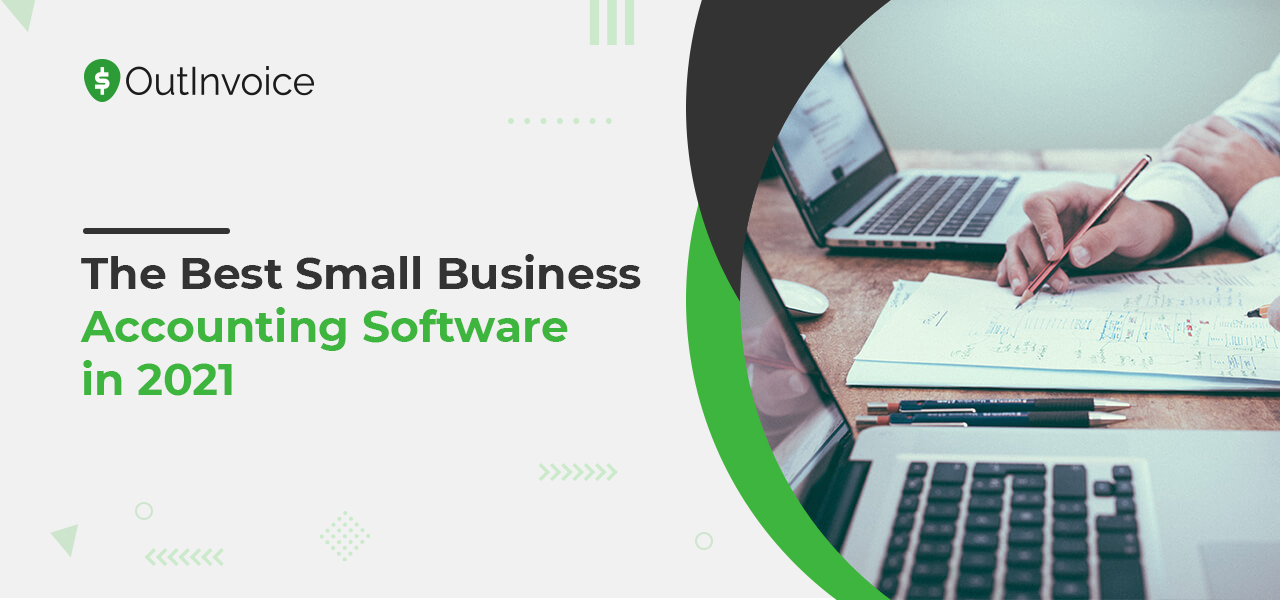 Best Small Business Accounting Software in 2021
It is a fact that good accounting software should be easy to use, need to have affordable pricing, and need to have adequate features to handle all of your accounting needs. The best accounting software is Wave, Quickbooks, OutInvoice, FreshBooks, and more.
Small Business Owners are benefitted from Accounting Software as it helps to follow accounts receivable and accounts payable. The use of accounting software makes it clear to understand their profitability and be ready for the tax season. In accounting software, a small business can use invoicing software that doesn't require modifications. As a business grows, you need more advanced accounting software, and Enterprise Resource Planning(ERP) system is needed.
Unlimited accounting software choices are available in the market at various prices. Normally, the type of industry and number of employees is the factor that makes companies choose related accounting software.
20 Accounting Software Companies were researched, tested, and compared before choosing our top best-suited small businesses. While assessing companies, we consider ease of use, its features, integrations, and scalability.
1. QuickBooks
QuickBooks is one of the best accounting and invoicing software for small businesses. The majority of small businesses use QuickBooks for their business as they provide online training resources and a forum to provide support if needed. From the dashboard, all information can be assessed, making bookkeeping more efficient and fluid.
Advantages
It is Scalable
Accounting professionals generally use it
Capable of integrating with third-party applications
Cloud-based System
Available on Mobile App
Disadvantages
Need upgrade for more users
Have syncing problems with banks and credit cards
2. Intuit's QuickBooks
Intuit's QuickBooks is the most common accounting software used by small businesses for bookkeeping and tax professionals. This software is cloud-based and accessible through a web browser or a mobile app.

You get 30 days free trial. It provides 4 options for the subscription plan. They are:
Simple Start costs $25 per month
Essentials cost $40 per month
Plus costs $70 per month
Advanced costs $150 per month
Generally, a notable discount is offered for the first few months, and some accounts are given at wholesale price.
The monthly subscription plan can be upgraded as the business grows. Many customization options are available in the mobile app for receiving payments, reviewing reports, capturing an image of a receipt, and tracking business growth. It can be fully operated online.
Moreover, each subscription plan has advanced inventory management, time tracking, budget preparation, and additional users. All small businesses will not have enough human resources and budget to start advanced planning from the beginning. So, they start with a Simple Start plan. However, advanced subscription offers robust financial reporting.
All plans let integration with third-party apps like Stripe or PayPal. QuickBooks has a lot of functions with benefits in each app.
3. OutInvoice
OutInvoice is the best invoicing software for small businesses that make professional invoices in a single click and helps you paid back in a single click.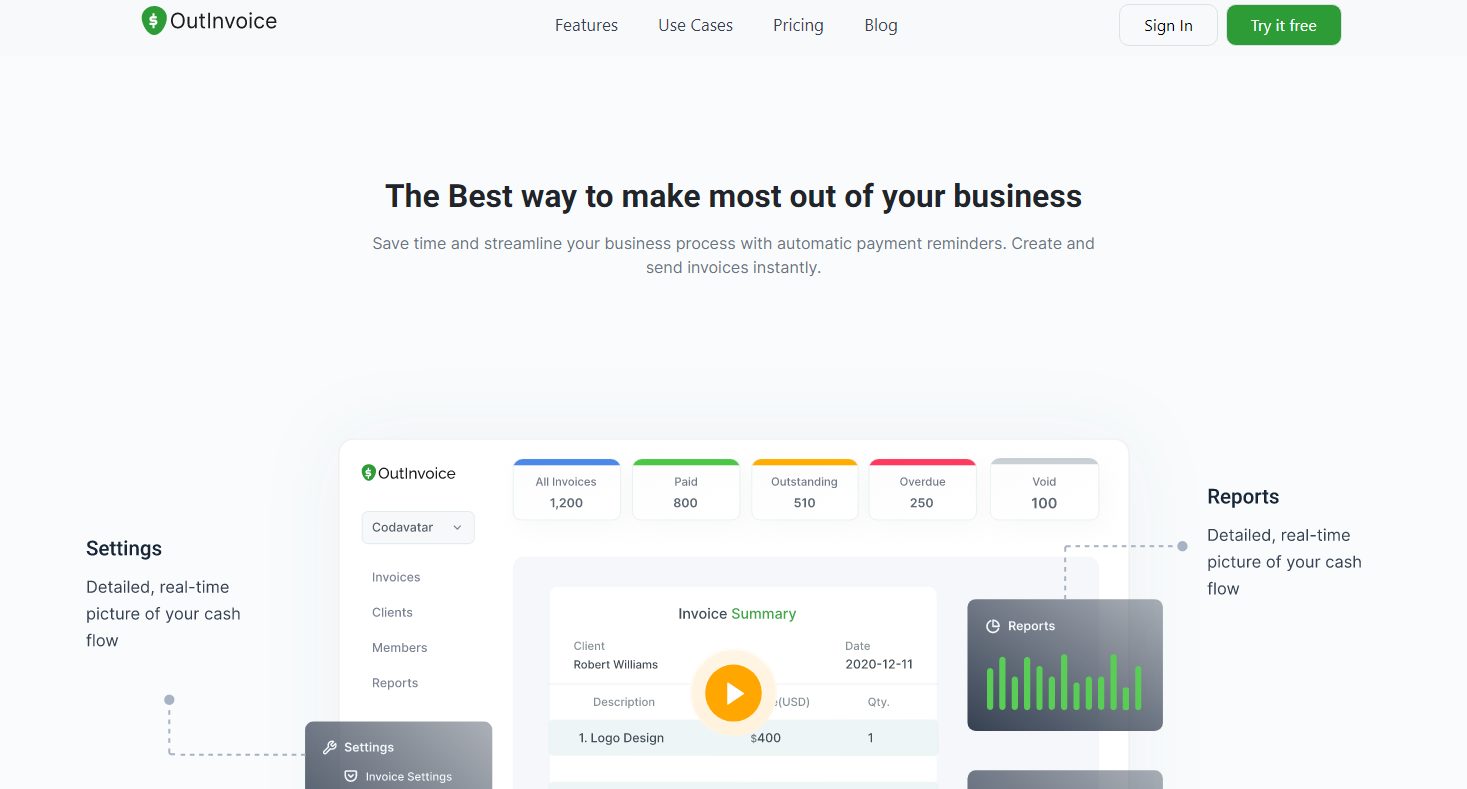 It has the following features:
 Multiple Members
It lets you create multiple members and helps to manage invoices on your behalf. It removes the hassles of sending invoices or monitoring overdue, paid invoices and void.
Manage Multiple Business
OutInvoice helps you need to handle multiple businesses by creating a separate invoice account for each of them. Introduce a multi-market account and monitor the status of the business with a single account.
Send Invoices fast
OutInvoice creates online invoices without any hassles and hard work. It enables businesses to deliver invoices instantly without any hassle. It is the best option to send and create professional invoices from anywhere in the world.
Accept Online Payments
You can pay online through the selected online payment like Stripe or PayPal with a single click. It lets you pay directly for your invoice. Hence, it saves your time and avoids to and fro communication.
Save Credit Cards
You can save information like PayPal or Stripe details so that you don't need to ask every time for the invoice and credit card details. Also, for your recurring clients, you can ask for their approval.
Check Invoice Status
Keeping track of invoices is very important. It helps you to get closure insight into the cash flow of the company. Hence, OutInvoice helps monitor overdue, paid invoices, void, and get paid in a single click.
It provides two pricing plans monthly and yearly. The monthly Plan costs $ 6 per month, and the yearly Plan costs $60 per month.
Try 30 days free trial.
4. Xero
Xero is the best invoicing software for micro-businesses that is simple accounting software. It is fully integrated with third-party service. Also, it removes the hassle of contacting clients multiple times because you can integrate payment into your invoice itself.

Advantages
It is cloud-based
Available in Mobile App
Payroll combination with Gusto
Available third party app integration
Simple Inventory Management
Disadvantages
Limited Users
Limited Reporting
Additional fees are charged for ACH payments
Xero is established in New Zealand and is popular worldwide. It is popular in New Zealand, Australia, and the United Kingdom. Xero provides with three subscription plan that has full-service payroll addon. Early payments cost $11 per month, Growing costs $32 per month, and Established costs $62 per month.
Also, full-service payroll service is provided via Gusto with an additional $39 per month. Plus, $ 6 per employee. It provides offers a 30-day free trial and also 50% off for two months.
The early plans allow users to enter 5 invoices or quotes, five bills, and 20 bank transactions but only for few months. However, growing and established offers unlimited invoices, bills, and transactions. The only difference between them is that established offers multi-currency, expense management, and project costing features. Moreover, all three plans provide Hubdoc, a bill and receipt capture solution.
5. FreshBooks
FreshBooks provides all the needs required for small businesses. It is very important for accounting and invoicing. It offers extensive customization compared to other accounting software. Its major function is to send, receive, print bookkeeping needs along with the business requirements. This accounting software makes service-based businesses easier with invoices, deposits, client retainers, tracking time, and receiving payments.
Advantages
It is cloud-based
It has a user-friendly interface
It has third party integration
Budget-friendly
It has advanced invoicing features
Disadvantages
No inventory management
No payroll Service
Mobile App has limitations
FreshBooks is founded in 2003 in Toronto. More features have been added to the initial invoicing software. They have 4 plans and give a 10 % discount if they prefer to pay yearly instead of monthly. Four plans are:
Lite plan costs $6 per month
Plus Plan costs $10 per month
Premium plan cost $2o per month
Select Plan with custom pricing and service
The major difference between the four plans is the number of clients allowed per month. In the Plus Plan can ha up to 50 clients are allowed per month. In a premium plan, unlimited clients are allowed per month.
The Select PLan does not have any limitations. You can add several clients as per your need, and you will be charged accordingly. It costs $10 per month for multiple team members and $ 20 per month for advanced payment features that allow you to create recurring credit and charge the client accordingly.
FreshBooks is the best tool for project budgeting, making and sending estimation proposals, and collecting customer payments. Much third-party integration is available for the app like Shopify, Gusto, Stripe, G Suite, and more. One of the unique features of FreshBooks is that invoices are highly stylized and customized as per the professional requirement.
6. Tipalti
Tipalti has been the first choice for part-time freelancers and provides end-to-end solutions to automate B2B payments. It helps to track their income and expenses for their tax return.
Advantages
It is a cloud-based software
Available in Mobile App
It is suitable for tracking the milage
KPMG Certified tax Module
Tipalti Detect Feature
Disadvantages
Data cannot be transferred to other accounting software
Inadequate Reporting
Insufficient invoicing functionality and customization
Tipalti offers three plan options
Tipalti Express costs $299 per month
Tipalti Pro costs $699 per month
Tipalti Elite costs $ 1599 per month
They provide a 50% discount for the first 3 months. The two self-employed tax bundles give access to CPA through the year.
Tipalti is also available in the mobile app, making it easy to track mileage and capture photos of receipts for business expenses. Tipalti has special features to separate business and personal transactions. Hence, it is helpful for freelancers to make transactions from the same account without any difficulty.
7. Wave
Wave is the accounting software platform for a service-based small business that sends simple invoices. You don't need to track inventory or run Payroll. The free feature itself will be enough for many freelancers or service-based businesses. It has all the necessary reports from Wave to prepare a business tax return.
Advantages
Provides free Accounting, Invoicing, and receipt Scanning
No transaction limits
Run multiple businesses in one account
Unlimited Users
Availability of Mobile App
Disadvantages
It has limited third-party integrations
Higher fees for credit card payments
Payroll full service is limited to only 14 States only
No inventory management
The Wave was developed in 2010 in Toronto. Initially, it has features like income and expense tracking, invoicing, and scanning of receipts. All were included in free software. These can be obtained online or on a mobile app. Also, customer payment processing and Payroll are rewarded services that charge extra, but all of the bookkeeping, invoicing, and reports features were completely free.
Wave provides payroll options and addon service. An additional charge is added for the additional addons.
First Plan costs $20 per month
The second Plan cost $35 per month
8. Kashoo
Kashoo is a peculiar name, but it is an exceptional accounting solution for small business vendors. It has simple and ideal features for bookkeeping and automation.
With the use of Kashoo, it is easy to send invoices, generate financial reports, and get paid on time in one click. It lets you prepare accurate tax filings and make important business decisions.

The dashboard gives a pictorial view of your business in real-time. You can also sync your bank accounts for easy and automated settlement.
Most look for the benefit of Kashoo is its usability. It makes everything easy to understand, even if you are not an accountant. Also, Kashoo is seamless. By entering information about your business, taxes, invoices, and other setting are simple and easy.
However, client information won't be as detailed as Zoho Books; instead, you can manage those contacts available.
Kashoo provides with time tracking facility. Similarly, Kashoo has the most straightforward and affordable pricing. There is only one Plan with everything all-inclusive. This package is decided on an annual or monthly basis.
It costs $19.95 per month and $199 per year. They also provide 14 days free trial.
9. ZipBooks
ZipBooks is a simple and robust accounting software tool that helps your business to the next level. It is web-based accounting software that organizes all your accounting activities.
It offers various features like managing accounts, creates ledgers, balance sheets, income statements. On-time billing will benefit you to get paid faster. It also has an expense tracker facility. Banks accounts can be synchronized and secure all your financial details. It lets all the team members access the same data in real-time for collaboration.
Advantages
Allows unlimited invoices
Manages Unlimited Vendors and Customers
Synchronization with Microsoft Excel and Lite Plans
Access to digital payments through PayPal or Square
accounts receivable plans
Disadvantages
Only support the English language
No live chat and Customer Support
Conclusion
Regardless of, you are a small business owner, startup founder, large cooperation, or freelancer, and the marketplace is very competitive. Every size business owner is investing in the same market. Hence all sizes business needs to invest properly to save time and money.
Proper Accounting is the major factor that helps you be successful in business. OutInvoice is the one that helps to generate, manage bills, creating and managing invoices faster, accepting online payments through various gateways like PayPal and Stripe, and more.
For the appropriate functioning of any business, you need to choose proper invoicing software with various functional features as per your requirements.
Try 30 days free trial package of OutInvoice and choose as per your need.