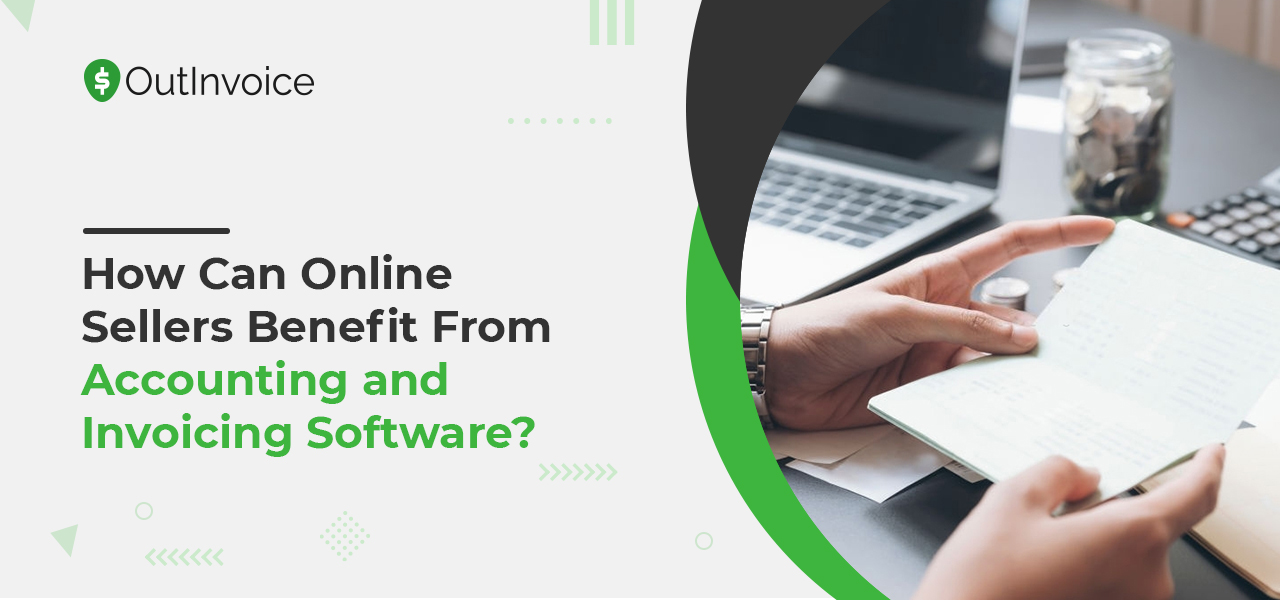 How Can Online Sellers Benefit From Accounting and Invoicing Software?
Today's marketplace has been highly competitive. There are many benefits of accounting and invoicing software. Whether you're a freelancer, an eCommerce firm, or a brick-and-mortar shop, accounting has been an essential part of any business. Small and large businesses alike must seek methods to save time and money. In addition, they must increase productivity and convenience for their consumers. As a result, the benefits of adopting online invoicing software become critical to growing your billing methods.
It may not seem very easy to scale your business, but one of the first places to start is with your billing. You may accomplish that increase by finding an effective technique to create invoices and keeping track of financial data. But most significantly, all of this is accomplished as your cash flow improves.
Unfortunately, paper-based bills and invoices created in Excel are inefficient. Accounting for a small business can quickly become a complicated and time-consuming procedure. In addition, accounting gets increasingly complex when your company expands. So, the best option is to use an online invoicing program software.
Who Needs Accounting Software?
Accounting software is frequently required by business owners who need to provide invoices and estimates regularly. To keep their invoices in order, small company owners, MSMEs, large-scale companies, eCommerce proprietors, and other online sellers need the best accounting software for businesses.
Our accounting software for small businesses has the most advanced features. In addition, we do offer the most robust invoicing features to assist your company in achieving total billing cycle efficiency.
Benefits of Accounting Software
Accounting software can assist firms with day-to-day operations, such as creating invoices for clients. The use of computerized accounting has grown as prices have dropped and software has become more user-friendly, especially for individuals without a background in accounting. In addition, construction, doctor's offices, and cons have their types of accounting software for invoices.
In summary, online accounting software is a critical business tool for online sellers who want to keep track of their accounts and cash flow. Here are a few compelling reasons to include online billing software in your web-based firm.
1. Access — Anywhere & Anytime
You may access your data anytime you want and from wherever you are using online accounting. With real-time updates, you can be confident that you will have the most up-to-date picture of how your business is performing. In addition, your complete accounting data will be available through a browser and internet connection in the cloud, allowing you to be untethered from a PC or an office. So, even if you're in another city and need to make an invoice or share a ledger, you can open your browser and have access to your accounting system in a few clicks.
2. Accuracy
A computerized accounting system makes it easy to eliminate and reduce time-consuming processes. In addition to automating computations, many accounting software packages allow users to create different reports, such as year-end and statistics reports, at the push of a button. Documents that used to take junior accountant hours to put together may now be generated in seconds.
3. Compatibility
A computerized accounting system also makes it easier for different firms to communicate financial data. For example, suppose a company with manual accounting procedures buys another company with manual accounting procedures. In that case, the financial data of the two companies may take weeks or even months to fully integrate.
4. Can Reduce Costs
Time is money, and accounting software for businesses can demonstrate this to your bottom line. While there are expenses associated with acquiring, installing, and learning to use software, the long-term advantages in productivity and efficiency imply that using software is a fantastic investment. Accounting software programs, on the other hand, accounting system programs do not always imply that humans are being replaced. Accounting tasks can be automated to save time and money.
5. Cloud Data
Online businesses use the cloud to store their data. As a result, the owners may access information about their company from anywhere in the globe, at any time! To make their data mobile, they need cloud storage for each of their company facts. The fact that the finest accounting software for small businesses is cloud-based is one of the significant advantages.
6. Tax Calculation
One of the most important parts of accounting and invoicing is tax management. By connecting their business with the best accounting software for small businesses, online merchants may benefit from auto tax calculation. By simply clicking on the download button, the eCommerce owner may obtain different tax reports, sales tax summaries, and other tax-related information.
7. Quick Estimates
Estimation generation is another crucial component, in addition to invoicing. To provide product or service estimates to clients, an online merchant must have an excellent estimate generating software. To keep their invoicing cycle intact, the finest accounting software for small businesses must have an estimated option to keep their invoicing cycle intact. It's simple to transform accepted estimates into invoices after they've been produced and issued.
Who Needs Invoicing Software?
Whenever you and the client are registered for VAT, you must provide them an invoice (bill) if you offer them a product or a service (a business-to-business transaction). An invoice differs from a receipt, which is a payment acknowledgment.
Invoices must include the following information for the invoice, such as:
What is the customer's obligation to pay you?
When the consumer owes you money
Benefits of Invoicing Software
The seller generates invoices or bills, which are then delivered to the consumer together with the product. The client pays the bill to the seller according to the invoice. Although scaling your entire business may appear to be a far-fetched goal at first, there is a first step you can take. This will help you improve your invoicing procedure. Increased cash flow and business productivity will result from enhanced invoicing. So for businesses, cloud-based billing software is the way to go. Some of the importance of its areas:
1. Enhanced Decision Making
The most pleasing thing invoicing software can do for users is to assist them in making informed decisions. You can make sound business decisions when you have the correct financial statements in your hands. You may make wise financial and investment predictions in the future. To summarize, online invoicing software aids in better decision-making.
2. Automation
The most significant advantage of having the online invoice is probably the online invoice having its automation. This implies that for long-term clients, you may set up regular payments. You may start a subscription-based business. The automated system sends follow-ups and payment reminders for impending and past-due bills. You'll save a lot of time and money by automating these tasks, and you'll be able to focus on expanding your business instead.
3. Eliminates Errors
There are numerous stages in traditional paper invoicing, as well as a higher risk of mistakes. Correcting this takes a long time. However, incorrect numbers and missing information were a thing of the past. It's now straightforward to rectify any errors in invoices by amending them like any other text document.
4. Customize and Brand Your Every Invoice
Use an invoice to promote yourself or your organization professionally and enhance the likelihood of faster payment. You may choose from a variety of templates or quickly design your own. Create a unique invoice design for each client and see which one is the fastest. Here's helpful instruction on how to brand and color your invoices appropriately.
5. Backup Your Data
Don't be concerned if a calamity occurs. Your data is backed up multiple times each day using online invoicing software. All of your critical data may be readily restored at any time. It's critical to keep this information safe, and we recognize that companies rely on it to be accessible at all times.
6. Simpler Auditing
You can save everything using a cloud invoicing system. Estimates, invoices, expenditure receipts, and other relevant papers are all accessible online and in one place. When examining financial information, this dashboard makes the procedure straightforward and time-saving. In addition, you or your accountant can quickly determine any qualifying tax deductions throughout the tax season.
7. 24/7 access
Online invoicing is cloud-based, allowing you to handle customer information and billing from a single application. You may use it on a computer, a tablet, or a smartphone. This means you can send and handle invoices whenever you choose, whether you're at work, at home, or on the road.
8. Online Payment
Online invoicing helps the client to make payments online. It helps both parties. For some invoicing software, there are multiple payment gateways that can help you collect payments on time. Invoicing software also helps to save credit cards.
Invoicing Versus Accounting Software
Invoicing can be defined as a combination of hardware and software that receives information about a service instance and groups it by the customer to generate charge amounts based on contracted rates, generate management reports, and record payments and adjustments made to a customer account.
The billing system takes care of a lot of the tedious labor to create a correct invoice. Billing systems frequently track the following:
Actual utilization of the product or service
Provisioning for clients
Discounts
Plans for Payment
Tiers of subscription
Pricing and services that are tailored to you
Impositions of taxes
Customer bills are then generated automatically by billing automation systems, either directly or through a connection to an accounting system. This method provides a more efficient method of billing customers.
On the other hand, an accounting system is a system that is put up within a firm to handle and report on financial data. Outgoing costs and incoming earnings, as well as other operations, are tracked using an accounting system. It keeps track of all data that has an impact on a company's finances. An accounting system is used to record and categorize all of a company's financial activities. It's most often used to display the following information:
Money that enters and leaves the business
Total income
Profit in total
Budgets and costs of the company
Payables and receivables (accounts payable and receivable)
Most accounting systems enable users to produce handwritten invoices, which are sufficient for most small businesses' needs. A cloud service provider's billing and invoicing, on the other hand, is based on more sophisticated information such as client provisioning, proration, licensing levels, and discounts.
Most accounting software can't manage consumption-based charges, such as taking a consumption feed from a supplier or carrier and loading it into the system, then applying various kinds or rating algorithms to produce charges to bill the client for.
Whereas, Custom cloud-based billing may be fully customized to produce one-time, recurring, and consumption-based charges and conduct this job automatically and on a big scale. It works by generating correct bills on a constant timetable with minor mistakes utilizing sophisticated rating procedures.
Quick Note for Online Sellers
What Is The Purpose of Billing/Invoicing Software?
Several firms have recently shifted to e-invoicing due to the benefits of the billing system over to manual invoicing and paper-based billing. Most businesses choose to focus on other company activities rather than the processing time and expenses involved with the traditional billing system. Online Invoicing has many benefits for small online businesses.
Through unified invoicing processing, billing software minimizes printing and mailing expenses, shortens deadlines, and improves corporate operations. Billing systems help to increase efficiency and save cost savings. In addition, accounting experts have discovered that the right invoicing software may help with working capital management and customer and supplier relationships.
How Can Online Sellers Enhance their Sales?
Invoicing is a tiresome but essential daily task for a business owner. Digital billing templates may be helpful in this situation. In addition, when you have a bill maker, it may help you with financial transfers between clients. Without a doubt, there are significant cost and time savings, and managing company reports becomes easier.
In addition, it streamlines payment choices for your valued customers and reduces human mistakes. Alternatively, you don't have to be concerned about data security or access to data records because they are freely accessible.
Will Invoicing Software be Enough?
Invoicing software that is set up correctly allows organizations to function smoothly and generate a continuous stream of money. Invoicing software, as opposed to manual billing, lowers the amount of time spent tracking down In addition, invoicing software simplifies and streamlines the payment process for consumers.
Professional, accurate, and comprehensive are the three characteristics of an excellent small company invoice. With just a few clicks right out of the box, proper invoicing software allows you to do precisely that. Your invoicing software should be straightforward so that you can rapidly send branded, error-free online invoices and get paid. Invoicing software allows for different payment gateways. It also saves credit cards.
Is Accounting Software Enough?
Accounting is the brain behind a company's knowledge management system. We want an accounting solution to assess our financial position over time and meet legislative requirements. Accounting software is the apparent victor if we look at the software trend over the previous decade. They make data entry easier, organize critical information, generate reports, and provide accountants better access to critical financial data regarding various firm elements.
Accounting software is an excellent tool for accounting experts since it substantially improves the productivity of the finance department. Apart from that, this program delivers several other significant advantages, such as cost savings, increased data accuracy, and improved data security.
Wrap Up
Although the lines between accounting and billing software have blurred in recent years, they are still somewhat different for specific applications. For example, the basic capabilities of billing software, such as producing and sending invoices, are usually included with traditional accounting software.
Accounting software allows users to keep track of their financial transactions. The client can utilize accounting software for tax liabilities, shareholder reporting, and company analysis, and they act as a record system. Billing software applications enable users to produce and deliver invoices to clients more quickly and easily. Standard features include online billing, payments, automatic reminders, and billing portal access.
Both accounting and billing software is now cloud-based, and many provide integrations that allow specific platforms to communicate with each other. When choosing between invoicing and accounting software, your unique circumstances and business demands will determine which path is ideal for you. Of course, you really can't go wrong with accounting. yet for some people, getting started with simple invoicing and cost tracking might be beneficial.