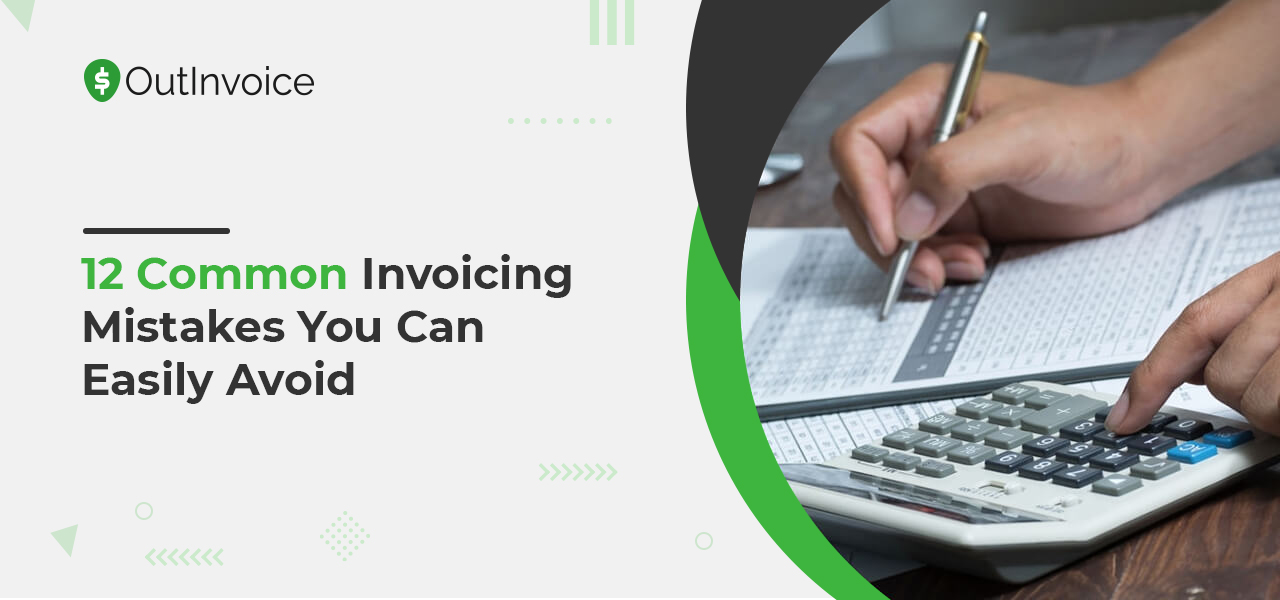 12 Common Invoicing Mistakes You Can Easily Avoid
Sending an invoice to the client is an important part of getting the payment. But, sometimes you may make some common mistakes that delay your payment.
When we talk about the invoicing mistake, it can be either the bigger mistakes or the smaller ones. It can be either simple typing mistakes, accidental illegal conduct, delivering poor service, or any silly invoicing mistakes, etc.
In fact, invoicing errors are more common than you think. The good news is you can use invoicing software that can help to minimize the number of errors in invoicing method.
Invoicing is the medium that brings cash flow to the business, so it is an essential aspect of any business. You must make sure that your business has an error-free invoicing process.
We all are humans, everyone makes mistakes, but a mistake on an invoice could lead to a burden and sometimes can be a dispute between vendor and customers, which affects their relationship and can be costly to your business. Hence, taking precautions early will prevent various losses in the future.
Common Invoicing Mistakes to Avoid
1. Not Sending Invoices On Time
Not sending invoices at the time all or not sending them on time is the first invoicing mistake. In the busy schedule of providing services to the clients, you may forget about creating or generating invoices. Resulting in delays in the payment procedure and the whole business suffers and has to go through critical situations. Using invoice template or invoice scheduling feature of invoice software is very supportive and helpful in sending timely invoices to the clients.
Sometimes a client or customer may assume that they will be forgiven for the situations when the business owner or vendor does not send out a bill. While sending an invoice, you need to make obvious where and when to make payment. You should not forget to make invoices at any cost.
Remember, sending out an invoice is your responsibility. Don't forget to make an invoicing priority.
As soon as possible, send an invoice when services or goods are sent to the customers. If you delay in sending an invoice, you are giving excuses to the customers for the payment.
2. Sending Invoices To The Wrong Person
Another common invoicing mistake is sending out the invoices to the wrong individual or email address. This makes you resend invoices repeatedly to the same individual, wasting a lot of precious time. Conforming and ensuring that the correct email address is collected from the clients and invoices are sent to the same address.
Clients or customers will not be responsible for paying the invoice just because they agreed on a project, sale, and payment terms. After all, it's about money, and any clients try to push payment. Hence, making invoices to the right person is necessary.
It is not sure that every work in the company is looked at by a single person. They could have been an entirely different department or another party for handling billing and accounting. It is unprofessional, embarrassing, and could rift the client's relationship if you keep on contacting the wrong person.
Billing the wrong client altogether. It is quite unprofessional, which could cause severe effects on client organization relationships. On top of that, think and recheck every detail to make sure that you send invoices to the right person to bill them directly, which is beneficial to both parties.
When dealing with giant or larger companies, you might not be dealing with the person in charge of paying you. They have different departments like Sales and Marketing, Accounting and more. Hence, when dealing with invoices and sending invoices, make sure you send them to the right and relevant person. If you cannot confirm the right person at the right time, you could face a long delay just for payment.
3. Not Adding Proper Item Description
The most common aspects of invoicing mistakes are not adding proper item description. The client may get confused about the invoice if the proper item description is not added. In this scenario, the clients try to avoid the invoice and delay payments.
Talking about itemization, every invoice that you send to your client includes a detailed list of items, an explanation of each cost or charge, expenditure, hourly rate, or a total or flat fee for the project.
Adding a proper item description is one component of invoicing if you want to get paid on time since it lets your client know about what they are paying for. Also, how you list every invoice will vary depending on your business.
To prevent any differences, your invoice must include the following information:
Validate the Legal company name and number while sending invoices
Check for Office address
Confirm the client's name and address
Check Invoice number
Ensure Invoice date
Check Due date
Check any tax numbers that may be required by local law
Validate Payment terms
List out the products or services that you provided
To track and manage invoices, bills like which invoices have been paid and which ones are still pending and preventing duplication can be done through the numbering system.
Additionally, a numbering system makes it easier to locate bills and for easy auditing.
4. Unclear Pricing and Cost
The pricing of the products and services due to unclear invoices is another reason for confusion for clients. Pricing of products and services along with mandatory discounts and taxes should be included on the invoice.
While writing out an invoice, do not use technical terms that the unrelated sector's people do not understand. Make sure to include the item description, cost, and price, quantities, if you want the invoice to be paid quickly.
Do not forget to mention the benefits of early payments. Talk about offers and discounts for on-time payment. Avoid using vague descriptions or language.
5. Unprofessional Invoicing
Unprofessional invoices are one of the key reasons for delayed payments. Invoices which doesn't possess proper structure and correct details will get ignored and are not taken seriously. Professional invoices can be created by using an online solution like OutInvoice. With the help of various online invoicing software, you can create customized invoices and company branding.
Do not forget to sign a simple contract to make sure that both parties are protected and are in the same thought process when it comes to the payments process. Shake hands to make a deal.
Making multiple errors, incorrect total amount, non-specific formatting can make your business look messy and unprofessional. The clients won't trust that type of invoice. So, unprofessional invoices prevent receiving timely payment.
Always double-check your invoices before they are sent to customers to make your invoices free from errors.
Did you know adding a logo to your invoices increases payment time by three times? A logo establishes your company as a brand and reflects professionalism which makes your invoices different from others. It reflects a good branding strategy.
Make sure to make the logo, colors, fonts, and templates that mirror your brand.
While dealing with customers, be polite, like adding phrases, please pay your invoices within 15 days or thank you for your business, please let us know about the products which is not a big deal but could help equally to make an impression on the client and could increase the payment process.
Additionally, being polite could increase your brand image and leave a pretty good impression on clients or customers.
6. Not Adding A Late Fee
Other invoicing mistakes in the business are not preventing clients from paying late. An early payment discount should be encouraged, or a late fee must be added to the invoices. This helps in getting timely payment.
Multiple reminders should be sent before sending the actual payment bill to be prepared for the circumstances.
All surprises are not pleasant. So, sending an invoice that contains undiscussed or additional fees is the worst invoicing mistake that leads to confusion and may interrupt the relationship.
Before starting a project, explain every charge even the late payment fee, to your clients, so that they wouldn't be shocked when reviewing the invoice.
7. Not Adding Terms and Conditions
The most important factor for every business is adding payment and other terms. Any business needs to set terms and conditions for a smooth run. This makes sure that vendors or suppliers, and customers are on the same page concerned with deals and payments. Making multiple reminders will let the client know the time of delivery of products and the payment deadline. This is an important section for any business to make an invoice.
Payment and compensation go hand in hand. If you are giving too much time to make a payment, it will take even longer.
Let's take an example if you give your clients 45 days to pay an invoice and that customers pay two weeks later after the due date, then that means you waited two months to receive the payment.
It is a rule to make a payment within 30 days. Nevertheless, you should review your company's invoices and standards, along with asking about the products along the payment process.
You have to provide favorable conditions to the clients to provide payment and ask about the payment cycle. If your client pays bills on the first week of the month, track your client's process, keep a remainder, and send them weekly invoices as they will not pay those invoices until the first week.
Asking your customers about their payment cycle and syncing with their cycle can increase the payment duration.
You have to stick with them although you have established payment terms. Then if needed, you can offer a little extension.
8. Not Storing A Backup
A backup is the most to keep for future references. This is crucial when a client has related questions to the same matter. Invoicing software like OutInvoice keeps a backup of all invoices. For future reference and validity, a backup of the original invoices should be kept.
These days computer systems are flooded with viruses and bugs that can crash the system at any moment. Hence, make sure to keep backup in an external USB or drive. But like a computer system, it is also not free of bugs or viruses.
Well, another best option is keeping important documents in the cloud, where the retrieval will be easy. Finally, there is no more justification to use a paper-based invoicing system. Switching to a cloud-based system will save costs on paper, postage, ink, and many more. On top, it saves time and effort.
Since invoices are sent and received electronically, which speeds up the payment process, it is easier and reliable to track and manage invoices and accounts.
If you are not still convinced, let's be clear. Cloud-based invoicing systems automate the tasks like setting up recurring payments, sending payment reminders, backing up your invoices.
Keeping backup is necessary for future reference and vital from a jurisdiction point of view. From a legal point of view, it is necessary to keep the file for a certain period. Also, providing a client invoice saved upon request shows that you manage their accounts correctly, and flexibility will help maintain relationships.
9. Not Sharing Work Reports
The most important aspect of invoicing is sharing work reports in the invoicing process. Sending reports along the invoices will help the client to know about the work progress. It helps to increase trust between organizations and clients. Sharing documents will help the client know about work progress and let you know what you are paying for.
10. Not Adding The Payment Method
Another very important part of the invoicing process is adding the payment method. This provides the client with an idea of an easy and flexible payment method.
You need to set up a flexible environment for accepting money from any part of the world. The payment methods should be wide, like accepting online, credit card, bank transfer, and more.
Establishing payment terms will not be enough. You need to stick with them to know about their payment process and cycle. You can be a little flexible if needed.
For example, if you want your clients to pay every month, asking them to pay a small amount periodically will reduce the burden of paying the full amount of the bill at once.
11. Not Offering Multiple Payment Options
You need to make it as easy and secure as possible for your clients and customers to pay you if you want to get paid on time. You need to consider different payment options, from direct bank deposits to credit card processing and checks.
Opening up for more options such as cryptocurrencies like bitcoin and share makes the payment process fast, efficient, safe, and productive for both you and your customers.
12. Failing to Use Your Invoice as a Marketing Tool
Considering marketing tools as the main goal of your invoices to get paid can increase your revenue. Do not be afraid to include marketing materials such as flyers or email newsletters while sending out an invoice. Include the discount and offers and referral incentives work.
Do ask for recommendations, testimonials showing a short description on the invoice. It is a good advertising method.
Conclusion
Your invoices are not only the method for the payment of your invoice. It also shows your professionalism, courtesy, and transparency. These are the three things that customers appreciate while purchasing goods and after a deal. It is the best tool to create and sell your business. Be aware and avoid the common mistakes that can occur during the invoicing process. Make every effort while making invoices and try to send them faster so that you can get paid quicker. On top of that, do not repeat the mistakes mentioned above while making an invoice.