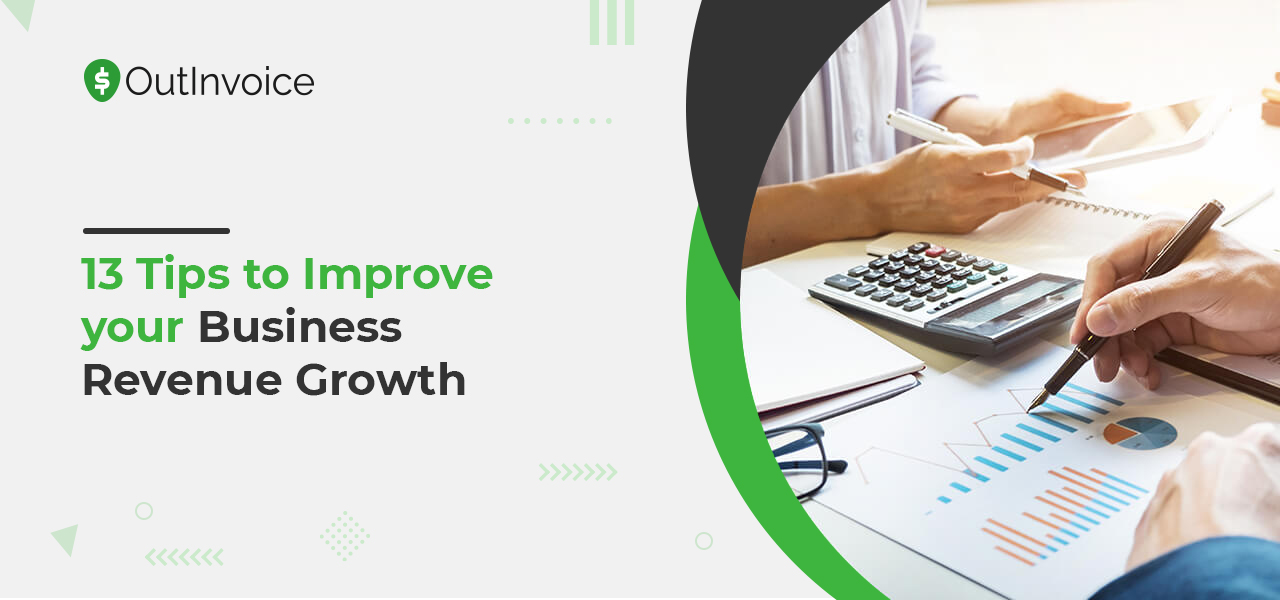 13 Tips to Improve your Business Revenue Growth
Are you struggling to grow your business, and even sales are decreased? In this article, you will get your answer. There is no such predefined method or formula for quick success in the business, and you have to learn the techniques and processes to boost your business growth with these tips from startup founders.
When you are in the initial phase of your business, you have numerous goals like rapid growth and recognition for your fledgling venture capitals, but the business's success is not so easy. There is nothing like getting instant results that can increase your business revenue overnight.
As you know that sales are the essential methods to grow the business. Where the business's long-term sustainability depends on the sales numbers, the all-business functionalities like resource hiring, warehouse maintenance, product management, logistic planning depend on the single entity. That helps in sales; without sales, there is no growth in a business where many businesses are using their best strategies to increase revenue.
Where the sales and revenue are different things, but they are closely related. Each of them needs its process and strategy. They use a different strategy, but it complements each other towards business growth. If any business plans for growth, then they must understand both sales and revenue how they are interrelated. After that, they can optimize their business revenue.
There are various factors on which the sales of a company depend. Some of them are market trends, competitor strategy, and economics. Also, the substituted products are some primary factors that can affect the sales of the business.
Whether you are among those affected businesses or want to grow and increase sales, you have to work on a particular set of strategies, and you must be up to date with the market need and market trends. For better revenue, you always keep updating your business methodologies and execution plan.
However, there are many ways to grow your business to success. Here are some valuable tips from startup owners and small business wonders that they use to grow.
Best 13 Tips to Improve your Business Revenue Growth
1. Hire the Right People
As the people who run the business, it is the most important thing to hire the quality and right people because they help you grow your business. Hiring the best people makes a business grow fast because it is all about the right people and like-minded people with great team spirit.
Companies hire people because they want to grow and increase their business revenue. Before hiring someone for your business, make a checklist of skills that you are looking for in a candidate, shortlist the best resume and conduct the proper interview with them and then decide either the person is precious for your business or not.
Always take this into consideration while hiring the best people.
Uncover what great talent looks like
Get your employees more Involved during the hiring
Don't rush to decisions
Think "Quality over Quantity"
2. Increase Revenue with Customer Loyalty Program
Instead of trying to gain new customers start focusing on the existing core customers that your company already has; provide a referral or customer loyalty program by best marketing strategies based on the previous sales and purchases behaviors and encourage them to repeat business.
Customer appreciation program this technique used only if your business already has some customers by providing special discounts and freebies that make them purchase more products from your company. That pushes you the extra mile in your business growth, and customers get happy because they think they are important to you and your business.
A satisfied customer helps to gain a new customer for your business and increase your sales.
3. Reduce the Risk and provide a Recurring Business Model
For every business, the risk is an inevitable part of growing and starting a business. You cannot control everything, but you can limit internal and external threats to your company for its growth. The best thing is to accomplish your business by providing insurance.
Every small business needs to manage its growth to avert disruption that can bring business to a grinding halt. The theft of employee data, customer records, and product designs can destroy a small business, generating significant costs and eroding customers.
A recurring business model is such a kind of business model where your clients stay with you for an extended period, which helps you to maintain a good market presence and make genuine improvements in your business revenue, where recurring billing solutions like OutInvoice helps to manage the clients for an extended period.
4. Introduce New Products and Best Pricing
Customers always love new and innovative products. Take regular feedback from your customers on the product and services that help you understand the need of customers—adding new products and innovations that help you improve the rate of conversions for the business.
The business launch the product and services, and the start is charging randomly, which makes the business lose. When any business launches a new product and services pricing most appropriately, it helps to increase revenue for the business. This thing can do with the competitive analysis before opting for a suitable pricing model.
Before fixing the price of products and services, make a proper report about the market analysis and your product benefits. Answer your customers that your product and services are better than others regarding quality, quantity, cost, and value.
5. Invoicing Software
Every business needs to maintain its billing process for constant cash flow. If you have large volumes of recurring customers, payments are increased, and it isn't easy to manually maintain the accounts and bills. As the manual billing processes get tedious and time-consuming, it's better to switch to invoicing software.
Online invoicing software like OutInvoice eliminates the inaccuracies caused by manual errors. If you have a subscription-based business, processes like invoicing, payments, and revenue recognition are nearly impossible to withstand manually. So, it is the right time to invest in the invoicing software and automate the billing system.
OutInvoice creates and sends the invoices in just a few seconds. It brings invoicing automation and helps to collect payments from the clients. It accepts different payment gateways, allowing clients to accept card payments and other popular payment methods like PayPal and Stripe. It also tracks the records of the invoices and generates the report of each invoice. You'll immediately know about unpaid payments and pinpoint which client needs a reminder for the payment.
6. Partners with Other Businesses
Make a good connection with other businesses in the market, providing the same services and products as your business does. Making the products and services with the others business can help improve your sales and revenue for the business.
Participate in industry events to get more insightful knowledge of your services area and get chances to interact with your competitors. This kind of small step of involvement in industry events can increase the awareness levels of products and services, which helps the business to higher goals and makes a good amount of revenue and sales.
Business can only increase their sales even if they have good relations in the market. The simple answer is that the more people are there to promote your business, the more sales your business will get where you can collaborate with other similar businesses and grow together. This collaborative approach will only possible when you have good connections and a clear market image. Just like your business into textile manufacturing, you need to identify companies selling them. You need to identify international players, coaches, or even textile promoters who can promote your business. These all efforts will work to increase the sales revenue.
Get a monthly meeting with your partners and discuss their experience and working process, learn from them and make some small improvements in your business to grow your business revenue. Find what problems they are finding over customer satisfaction and try to solve it from your business and help them grow their business for better community management.
7. Payment Terms, Free Trials, and Communicate often
Business sales can improve, but the revenue depends on the payment. Providing clear-cut terms and conditions for the invoices can help in cash flow for the business.
Always use simple terms and conditions that make your client comfortable accepting your business.
The payment terms and conditions always help businesses to get a good amount of revenue continuously.
The best way to grab your customer's attention is by providing some free trial of your products and services. If they like your free trial experience, they will likely become your prospective clients for paid services. The free trials are likely to improve sales and revenue for the business.
Always make proper communication with the customers, understand their problems, and get some feedback to learn from the customer experience. The customer-centric business model is the core to drive the growth of any business.
Make proper interaction with your customer for better feedback about your business and your services that help you improve your business services. Better communication with clients helps to increase the business revenue.
8. Development Competitive Advantage and Expertise
Developing Competitive advantages for products or services is a must for every business. Understanding the offerings of the competitors and providing a bundle that provides more value addition is essential. Showcasing these competitive advantages with consistent content marketing can be very helpful.
To win over the competition in the market, you have to make the product and services more available to your customers with a minimal charge and provide quality services. The competitive aspect of winning over others is like using digital tools to grow your business, provide quality of works, maintain an excellent social media presence, provide the best customer services, and much more these kinds of competitive advantage make a business grow and help in growing your business revenue.
9. Expand Your Market Reach
In this competitive business era, you can't limit your business to any specific location or any specific group of audience, and if you want to improve your business sales, then you have to improve your market reach first. Adding new products and services to your existing products or services line increases the value of your brand. If you are running the solar panel business, then make the delivery and installation accessible. Many businesses have hidden their cost associated and make things transparent. Then you have certainly had a clear edge over your competitor.
Many small and enterprise business limits their sales efforts to a particular local area. Where you can't just make such kind of mistake, don't limit your business service. A Sydney-based manufacturing company was limited to the particular area, but after a couple of months, they find a massive opportunity in the nearby city as they don't have any competitors over there. After one year of expansion over the multiple geographical regions, they increased their revenue by six times. The cost associated with expanding their business was minimal as compared to the revenue they got.
Never stop your business growth; you don't even know about the potential of your business. You have no idea at the beginning. Just give it a try and see the result. More business operation areas lead to business growth, which helps in the growth of business revenue.
10. Redesign your Sale Collaterals
Making some changes in your sales process helps to increase revenue; you have to attract and encourage your customers to buy from your business.
The methods of sales collaterals like flyers, brochures, presentations, pictures, videos, and websites are likely to be ignored by business owners. However, the primary purpose of the collateral is to make the sales effort more accessible and more effective for your sales teams.
For making sales strategies up-to-date, informative, and accurate, you should use sales collaterals effectively. Maintain a good social presence and constantly update your website because, in this digital world, a website is the face of the business.
11. Motivates Sales Team and External Sales Partners
The sales team are those personalities who help to grow the business and manage to make a good amount of money. Sales teams are deciding factors for business growth, so hire sales personal wisely. Sales don't require any higher qualifications. As such, it is an approach to grow the business.
Business owners can't afford to changes the sales team so often because it takes time for a new salesperson or an external agency to understand your products and services. To make your sales team productive, you have to make them productive.
Provide good incentives to the top salespersons. Make the proper structure of incentive providers to salespersons according to the number of sales they bring to the company. This will motivate the teams or individuals to work more and achieve higher numbers.
To boost your sales, provide any kind of sales contest where the top performer of the year will get a cash reward or a holiday package. This kind of reward influences them to achieve higher targets which ultimately increases your business revenue.
12. Multiple Payment Options
Those businesses that accept all kinds of payment methods are likely to grow fast as compared who don't. To sustain in the competitive market, you have to introduce various payment plans for your customers like Credit cards, Debit cards, Cash, EMI options, online transfers, cheques, e-money, and mobile transactions like app payments keep all the options for customers.
The third-party payment gateways provide their services and increase their customer base by providing exciting offers and rewards to their customers; they can use those methods to purchase a product from your company. That's how the multiple payment options help to increase business revenue.
13. Using Digital Tools
This is an era of the digital world, so making your business digital is an outstanding achievement for you and your business. By using digital tools, businesses can generate leads which is the key to adding sales to the business. For the business generating leads is the first and most crucial step toward sales, whether leads generate from online or offline.
Online marketing strategies and campaigns are very beneficial to generate the quality of leads. This can achieve with creativity and adoption of effective lead generation strategies, where the business generates leads and converts them into sales, which helps to grow the business revenue.
You can have a website for your business and attract customers through an online platform. Get active on social media channels, like engage your customers on Facebook, Twitter & LinkedIn. You can write about your products and services on a medium article and other social sites and promote your business.
Conclusion
The most important thing to remember while running the business, not all the customers are genuine. Because some of them will take a lot of time, energy, and resources without providing any results, but don't ignore them. You have to identify the actual customers and make good relations with them.
Sometimes you're spending a lot of time serving customers who won't buy anything. Often, you will have a low transactional size. Give attention to all customers but identify genuine ones. Make your 100% efforts on providing excellent services to the ideal customers. They will become your loyal customer and even encourage others to buy your products which add value to the company. The increase in the number of ideal customers also increases business revenue.
Many business owners have mindsets that business can grow or decline, the same as the product. But the successful business owners always learn from their mistakes and continuously puts in efforts and new approaches by researching/understanding the market, customer, processes, products, and business approach. You can checkout qnewshub to know more about business and new technologies.
Each of these factors listed above is beneficial for every kind of business which helps to drive revenue to the business.
One last thing, the growth of the business depends on their problem-solving approach and market understanding. That's how the overall revenue of the business increase.