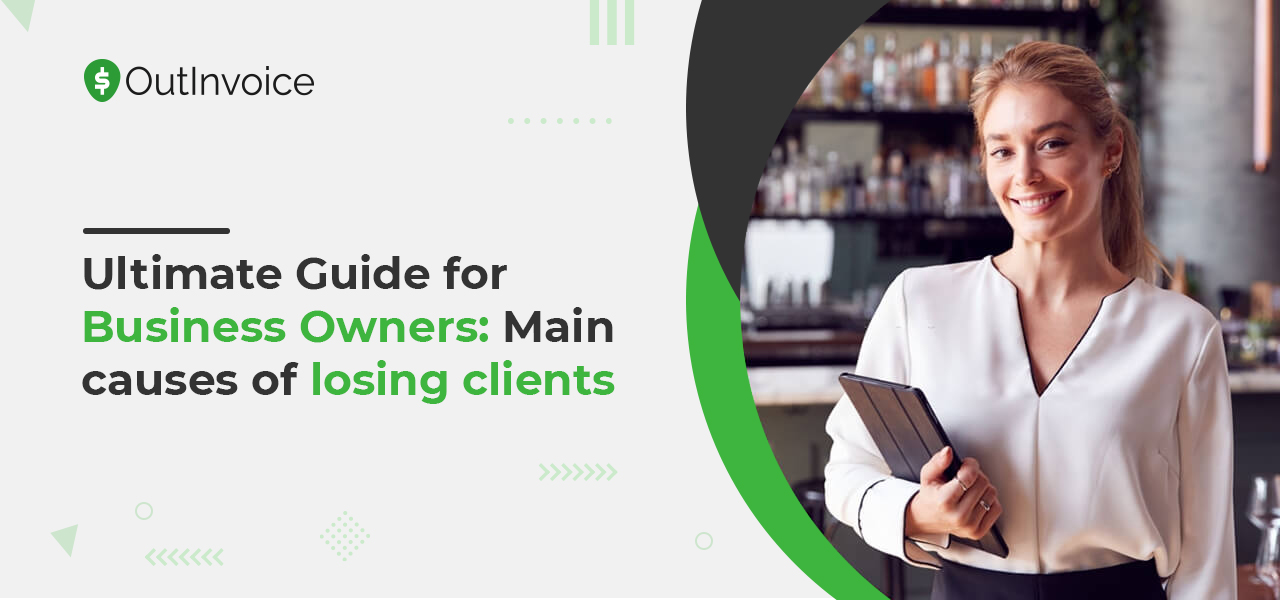 Ultimate Guide for Business Owners: Main Causes of Losing Clients
If you are a business owner, you always have to monitor your client's base and revenue. If you have been in the industry for a long period, these numbers may vary according to your industry experience. As you are a business owner, you might check your sales volume and realized that your sales have shrunk and your clients are leaving. If this situation occurs, don't start panicking. This article explains the cause of losing clients and tips for regaining those clients later on.
Clients are important for any growing business, and they are the main source of sales. The sole reason for business is to offer their products to clients and accomplish and grow the business. That's why managing your clients is so necessary.
The best way to achieve client retention in any organization or business by prioritizing the best quality of services and outstanding customer satisfaction. Nevertheless, you can't plan for everything because an unconditional situation will occur where you will notice that your business is losing clients.
That's why it is important to analyze the common stories behind why businesses lose clients over time, pinpoint those stories, and find the ultimate solution.
Reasons and Causes of Losing Clients
1. Poor Customer Service Experience
In today's scenarios, consumers have very high expectations from the business owner regarding customer service, where good customer service increases customer loyalty.
The biggest companies have maintained a high standard for excellent customer service like Apple, Amazon, Netflix, Salesforce, etc. In the case of customer services, there is equal responsibility to manage clients, either they are big or small companies, and always stay competitive, so they don't start losing customers. Those leading companies proved that customer services are key to any business's success and have higher customer retention.
Then what is a really good customer service experience? It is always about responsibility, consistency, reliability, and responsiveness with customer cooperation. The one bad experience leads to loss of customer easily.
Always make good Interactions with customers that help your business retain the same client for a long time. Try to solve clients' problems and respond to their inquires as fast as possible. Manage good communication, friendly smile, and positive attitude that helps to build a good relationship with the customer.
2. Lack of Convenience Makes Clients Retention Difficult
Selling to your customers a product or service is not sufficient; you must have to sell them convenience as well. We know those big companies like Amazon. They're a way to succeed as a business; you have to invest in an amazing customer experience.
Every business has a standard of convenience, where an online shopping site uses a "one-click" shopping experience. Every innovative business always tries experimenting with a mixed experience that combines digital and real-world scenarios.
Every big company is trying to get more attention towards their product like Google launched an augmented reality app that lets you point your smartphone at a local shop to its reviews. At the same time, fashion stores are investing in the digital experience instead of changing rooms.
In summary, every business must think about the client's journey as streamlined as possible. Otherwise, the business will lose potential clients as a result of bad customer service.
3. Not Gratifying Client Loyalty
For good client relations, you need client loyalty. Provide extra benefits to keep involving in your business over the market competition. While sometimes it's not sufficient for clients to offer discounts and promotions through customer loyalty programs, the clients don't feel they're getting the best value by continuing to do business with you, and they might shift to competitor's offers, which cause losing clients for your company.
If your business has large customers, then provide some monetary incentives for gaining trust and rewards customer loyalty. Always make good connections with clients make them feel appreciated in small ways as featuring on your newsletters and sending birthday cards and holiday greetings ask them to review your services and get some feedback and involve them in the research and development of new services and products.
4. Attention on Price over the Value
For the smallest business owners, focusing on price over value is not a good idea. For making progress and growing your business, you must provide value to the client first, then think about the price.
While maintaining your business position on top, it will be very difficult for you to provide low-cost and making your profits, also you can't increase the price you need to. The competition is tough; the larger player will almost inevitably undercut you and steal your customer base.
The best way to increase customer loyalty would be to focus on value rather than prices because customers derive value, not price tags. This will also depend on the services, consistency, schedule, accessibility, and quality.
5. Using Outdated Technology
We know that in today's world, technology plays a critical role in brand loyalty equations. Using outdated technologies leads to losing clients or customers, which decreases client loyalty faster, and minimizes business efficiency.
In today's scenarios, the consumers have high expectations, but they have short attention spans with little tolerance for inefficiencies. Where outdated technologies lead to losing clients and updated technologies help to keep your client for a long duration.
Manage your social and online presence professionally. The website must have easy navigation across different devices. Use technology to improve your product and services.
6. Not Recognizing your Sales Staff
For the growth of the business, employee satisfaction leads to client satisfaction. If the staff can not employ your business for a long period, you can't keep your client either. Incentivize your sales staff that can help motivate your sales team by keeping them engaged and ensuring they are well equipped to take care of customers.
You know that happy employees lead to happy customers. Build and plan good guidelines and policies that help to maintain consistent service levels and standardize problem resolution.
It helps your employee to learn new skills from time to time that helps them make judgment calls when resolving customer issues. Your client will appreciate that more than having to escalate problems to management.
7. Inconsistency in your Business
For any business, consistency is key to success. It helps to build trust with clients. Those things that are consistent can be relied upon, and the things that can be relied upon don't need to be worried about.
Inconsistent branding of the business, including using your company name and logo differently on your own site and the social network sites, and inconsistent quality or service all can lead clients away.
Managing client projects is not done as required; the careless on the project not done the most important things. That causes conflicts between client and business owner.
To manage consistency, you must have good client relationship management skills, provide regular training to your all employees, manage good branding guidelines, have an accountable process for positive customer experience, and establish strong customer interaction policies.
8. Outdated Sales Techniques
Unplaned sales techniques are mostly lead customers away than lead to positive results. Managing your sales data in hardcopy, not even using an online software program to organize your account and handle the client requests.
If your sales technique is always looking for manipulating or coercing sales, your business is actively chasing customers away.
The most important thing in sales is to take the time to learn your customer's needs and offer value-based solutions that address those needs. Present them how your product benefits the customer and help them decide if it is the right fit. Build good bonding with your clients and customers.
For better sales growth of the company, you must use online accounting software like OutInvoice, where you manage all the sales data and services charges and prices of products.
That makes the business operation smooth and fast. You can also manage all the invoices and payments from this software. That helps you to build a good relationship with your clients.
9. Not Learning from the Mistake
Good business always learns from their mistake that they have done in the past, but some businesses neglect their mistake, which causes long-term effects on their business. Every business must have a learning environment to do some positive and innovative work in their fields.
The best way to handle a mistake is to tackle down your business analysis data where you find your business progress and improvement learn from that and the market. To make a good decision for your business, always follow the best practices and learn from the mistakes.
As you know, every business growth depends upon time, and this will help them analyze their experience and learn from the mistake and solve the problems they face.
10. Product or Services failed to Meet Expectations
While running your business, there are many projects you have to handle for that you must prioritize your work based on the requirement. When managing the product plan, give a fixed amount of time for one project and complete it on time.
When your business started the services and fixed the date of delivery, then your company failed to deliver that product on time which seems that your business is not effective, and the client loses their interest in your business and moves to your competitor's company.
To avoid that kind of case, you must have to deliver the product and services on time with the client's exact requirement.
11. Lack of Coordination among Team Members
Suppose you start working on a big project, and the time required to complete this project is one year, and you and your team started working on it. After some time, there is an imbalance in the team members, and the deadline extends two months more which causes the delay in project delivery. In that case, the customer may withdraw the project and change the company and never pay you the money.
To avoid such kinds of things, you must have good team members and good managing skills that help you manage your team to work together.
Tips for Business owners for managing their business are:
Value the words of mouth marketing
Start your work before they are even your client.
Fulfill your client Requirements
Always talk authentically in customer interaction.
Treat your client like Royalty.
Always be an active listener to flow your clients.
Provide a managed support system for your clients
Treat the client like a valued partner with the best communication skills.
Always be transparent
Learn how to manage distraught people
How to Improve Customer Retention
The business is all about ups and down; one day, you can be the best seller; however, another day, your sales volume can be reduced, and clients start leaving. As a business owner, you must be ready for any situation.
Here are a few tips you should do to improve Customer Retention.
Identify Any Recent Changes.
At first, identify the recent changes in your business. Analyze and revise the business's procedure and elements that could have affected your sales or client's retention.
In business, small aspects can make huge differences. For example, the slightest change in the package, the product's slogan, or the advertisement method can considerably affect your sales volume.
Thus, identifying the changes and listing the possible changes or cause, and solving it is key to bringing back the lost clients.
Study your Analytics
Yes, you find out the decrease in sales volume by analyzing your sales data. But now, you have to identify and analyze performance carefully.
At first, you must identify the exact time when your clients start losing interest in your product. You must learn when your sales begin to move down, it can be from this week or since the start of the month. This will help you to narrow down your search.
Then you need to recognize trends that occurred during the time of your sales decline. If you want to learn about the trends in data that may indicate your problem, then you can check Google Analytics, social media graphs, and advertising statistics of your business.
Check on your Competitors.
The influence of the competitors can also be another reason for customers losing interest in your product and reduce sales.
After you analyze your mistakes, you have to check on the competitors. The competitors may have changed the website layout, added many marketing campaigns, decreased the cost, hired brand ambassadors, or introduced an improved version of a product.
You must keep track of your competitor's information so that you may not be left out and come up with further advanced strategies that can satisfy your customer and you don't lose your clients.
Ask your Customers
The best way to know the cause of dissatisfaction of your customers is to take their feedback. It would be simple and easier to just ask the clients and get their honest feedback.
However, you can also conduct surveys and interviews with the customers and know the reason behind the dissatisfaction. Still, if you aren't getting any answers, it is a good method and gesture to offer them an incentive, such as free goodies, gift cards, or other things.
Call a Business Meeting.
If these methods do not solve the problem, you must call for a business meeting.
Despite hiding the correct information about sales, you can discuss with the experts of the company like the CEO and other management teams. The meeting surely can bring the best solution for any problem related to the business profit.
Conclusion
The best way to retain the existing client and grow the business is by managing the client of your existing clients and acquiring new ones. Take small steps regularly to find the solution to your business problem.
Always find the solution to the problems that have been identified, and those problems that haven't identified are still considered as a problem. Look at those areas where your business is falling down. Analyze your service methods and business policies and improve the area where required.
Provide better values over price to gain more consistent clients and make your temporary client to lifetime subscribed clients. Take client reviews and also customer feedback for your business improvements because your business growth depends on them.