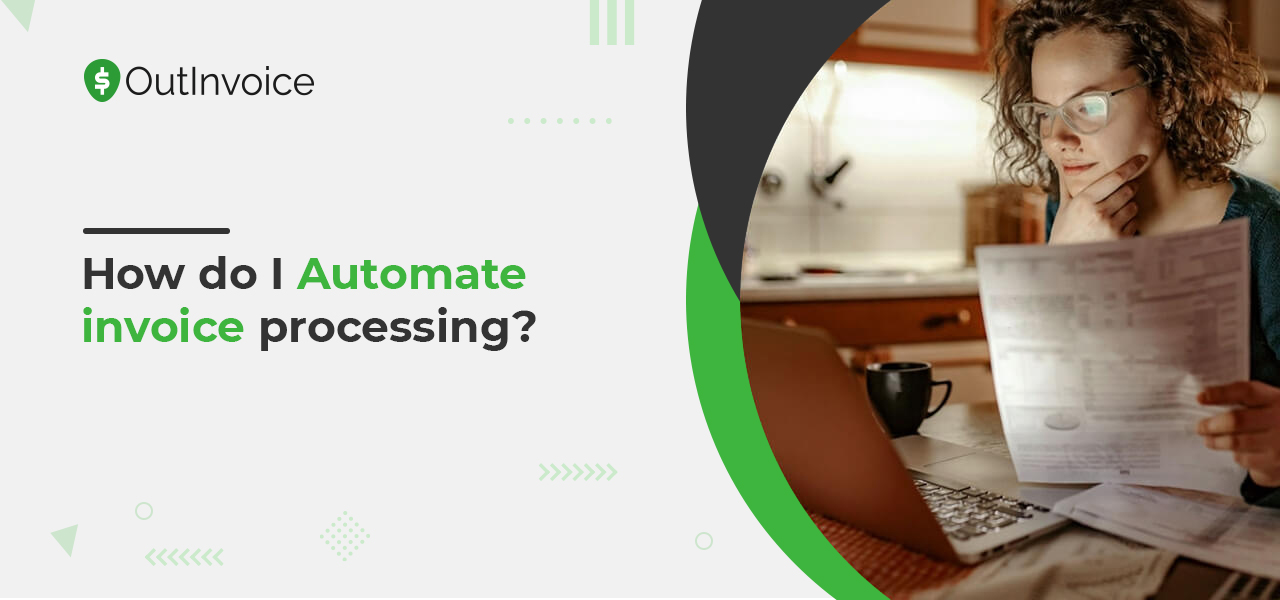 How Do I Automate Invoice Processing?
Some businesses or organizations still consider manual backup for invoicing though it has many disadvantages and results in unbalance administration and accounting risks. These includes:
Slower the payment process
Time-consuming
Expenses for heavy labor
Bulk file management
Routing and Approving invoices
Complication
Lack of distinctness
Why should organizations or businesses shift to automatic invoice processing? To end manual errors, reducing the cost to hire many human resources to handle documents and manage them in an organized manner and a systematic invoicing system will speed up the AP workflow.
In today's competitive world, ordinary or conventional businesses, demand up-to-date automation through invoicing software, including various processes. The progress that has been made by machine learning and artificial intelligence has changed the nature of the digital invoicing process. It automates the invoicing process and also helps to prevent errors and frauds.
What is Automated Invoice Processing?
The process of systematic and automated management of invoices, invoice information, invoice payment, collection of money, recipients are known as automated invoice processing. Since these are based on a cloud-based system that prevents manual error and frauds, majorly, it prevents natural calamities and human loss of written documents. Also, invoice automation qualifies businesses or organizations to make better control over administration and account payable.
How do I Automate Invoice Processing?
The notable benefit of automated invoice processing is that it reduces risks from natural calamities and human errors. By applying the integrated and smart management of invoice processing, you can optimize productivity and decrease costs. Also, it helps to fasten the payment process through automatic processing methods.
Are you thinking about how I automate invoice processing? Here is the step-by-step guide on how to automate invoice processing.
1. Create an Invoice Template
The manual procedure differs vastly from automated invoice processing. Creating invoices in automatic software is an easy task. UI builder is the one that helps you to create elaborated invoices once you collected all the information and data. With customized invoicing solutions, you can create custom workflows in automation platforms. Closed consent allows you to generate or create an invoice based on rates or tasks. Use templates for creating an invoice.
For every business to track payments and services, it is better to use billing and invoicing software instead of doing it manually. It reduces labor cost and work burden on employees and helps to do another productive task.
Templates
The template includes formats or tables for various prerequisites like :
Invoicing Number
Specified table for a vendor or suppliers, customers or clients(name, address, contact details, signature)
Mention the number of items listed
Total amount to be paid
Give remarks about the product
2. Specify the Approval Conditions
You must specify the condition for the invoice that has to be approved while creating an invoice. Early defining makes it easier to carry out invoicing procedures further. Authority's specification should be made like approving authority or secondary authority. It includes the following things:
Including terms and conditions for approval
Well-defined steps for the further procedure to be carried out
At the outset, we know that each company or business has different preferences. So, templates can be edited according to the need and other requirements. The invoices can be circulated on various organization levels when created and can be modified as required.
3. Define the Terms and Conditions for Approval Clearly
Defining terms and conditions clearly for invoice approval. For invoice approval, you must clearly define the terms and conditions. The functionalities of invoice processing are stimulated. A distinctive option to camouflage the terms from a specific team member and provide access to members involved in the invoicing process. Accessing the additional security options and restricts them to modify from another level employee.
4. Effortless Workflow
The workflow in the organization is automated once you mention all the essentials in the software. You can use automation software to email or fax your vendor or suppliers about the payment procedure and plans. The automation notifications are sent to different levels of the organization that helps to maintain a smooth workflow.
5. Simplify Bill Payments
It is easier to manage bills and accounts through guidelines mentioned on billing software, making payments faster. Going through step by step procedure helps to simplify bill payments.
6. Generates Reports of Every Transaction
Billing and Invoicing software generate reports for every transaction. Hence, it makes account management easier.
The market is flooded with thousands of choices, and each calls itself the best. And choosing an ideal billing and invoicing software is a quite challenging and hectic task. So, choose the best that is suited for your business and look for an overview of how it works.
Why Automate Invoice Processing needed?
To Execute Transparency
When you have acquired all the invoice data, transparency is needed. Getting access to everything from invoice status to spend pattern providing 100% visibility. Transparency is needed if you want to look after the status of all invoices ever created.
Like what is being spent, where, and when, online software allows us to monitor expense reports. The tools used in the software give a clear picture of the business expenditure and pay-outs. This helps the accounting team to make the pay sheet effective and readable and also to make data-driven decisions.
For the Fastest Payment Method
Billing & invoicing was difficult in the older days. It used to take days and even weeks or even longer time to complete the payment process. The right billing & invoicing software can process the payment in just a minute. Think of the time saved by automation and productivity increased by this?
For Easy Invoice Processing
To provide invoice updates and 24/7 visibility. You can control invoice management on a global scale with the use of an integrated automation solution. It is more reliable in government offices where large data need to be handled and managed.
Capture: – The information or data capture feature reads and simplifies all invoice documents or files, in any case of any format.
Confirmation: – It means differences and conformation of captured invoice information data, as per the accessible purchase products, order, goods receipt, and master data and information.
Workflow resolution -It means identifying any inconsistency and missing or broken data for user verification.
Maintaining Quality Relationships with Everyone
The automated invoicing process reduced the burden from the management system and helps them to focus on higher management tasks. This helps both company and the client to be happy and maintain a healthy relationship. Having a reliable and efficient accounting and administration system also helps maintain a good relationship between the customers and vendors or suppliers. By providing reliable automation solutions, you can benefit from making advanced online payment options.
To Simplify your Billing Systems and Financial Processes.
The process of sending bills and invoices required employing an outsized finance department consisting of varied accounts, back in the old days.
Now, with the help of billing and invoicing software, the tedious process has been easier organized.
You do not get to hire a huge team for accounting and billing like in an old-fashioned method, instead appoint a small number of human resource who knows to use billing software and invoicing tools efficiently. Also, things get done according to the need of the organization. This will lower the unnecessary costs by reducing the staff in sending bills and invoices in the respective department. On top of that, it helps to save time and cost, and through automation, process works are finished earlier.
This simplifies the whole accounting & financial process increases the cash flow with faster invoice payment and enhances your relationship with customers.
How does Automated Invoice Processing Works?
Invoice automation involves the following steps:
Monitoring the invoices: Any company or organization sends or receives invoices in the form of PDFs, compressed files, or images through email or fax structured in XML documents.
EDI software automatically processes structured XML documents, completes the necessary payments, and generates the essential accounting entries.

For online or digital invoices, an RPA robot or a simple email automation tool can point out emails with invoices and forward them for data uprooting. To further simplify invoice monitoring, some organizations use email addresses.
Some organizations or companies are switching to using a single address to focus on invoice scanning in case of hard-copy invoices.

Invoice capture: Withdrawing suitable details like bank name, bank account, order list from the invoice. When software is not sure about the decision, it will send for a manual check. Evaluation is done to make sure payment is valid according to criteria. The evaluation process includes:

Verifying invoices in opposition to purchase orders
Verifying invoices for deception
Using working capital enhancement policies to decide the payment period
Setting limits for manual invoices.
Checking the invoices according to government rules and regulations

For artificial intelligence and machine learning, recording invoice-related information in systems.
For this, two different purchase orders are listed in the general ledger account and compared with machine learning solutions to match the invoices.
To settle the invoices, you need to make a payment.
An invoice capture is a rule-based process. However, invoice capture depends on machine learning to select the data in the invoice.
Before automation, organizations or office-team must
Study invoices, understand the relevant information or data in the invoice.
fetch it to the suitable systems so that payments and system records would go hand in hand
Occasionally, the team would notice deformity in the invoice and contact the vendors to resolve the problem.
Automated Invoice Processing Workflow
Any automated invoice processing software will follow three steps like matching purchase order generated, invoices received against the purchase order, and receipts generated for invoices. These single documents each have unique codes assigned to each other. Here is the example of an automated invoice processing flow:
Invoices arrive in a defined email folder in the form of PDF, Word, JPEG, EDI, etc.)
The document appears in the Review tab.
The data from the attachment is extracted with the help of invoice automation software.
Compare and validate the data from both vendor and Master Vendor files.
If extracted values match all the validation rules, then move to the "Verified" document.
If the extracted value don does not match the pass confirmation rules, then documents will remain in the Review tab, and they are reviewed manually then moved to verified.
Then the final report is created containing all invoice data.
Finally, the documents are exported as a .csv integrated API with an ERP system.
How Invoices can be Digitized Better?
By enabling machine learning and Artificial Intelligence to perform as well and even better than humans by using deep learning and OCR. Digital invoices involve various human judged steps:
Digital invoices are handled and uploaded by the users
Images are verified by the human to fit further processing by adjusting its resolution, all the data seen in the image, verified dates, and more.
Text in the images are extracted and put in the right format
Text is kept in tables, database, spreadsheets, balance sheets, etc. for the future use
Features of Invoice Automation
1. Artificial intelligence and Machine Learning
When invoices come through, account payable is the first step to record and verify the data, which means it has to decide on a case by case basis. The process like the bulk lifting of recording, authorization, and identifying the probable issues are done by artificial intelligence technology.
The ability of computers to recognize patterns and inconsistencies without the interventions of manual efforts is called machine learning or adaptive learning. With the help of artificial intelligence, it is easy to find codes required for the ledger, speed up the process, quick judgment making, and fasten business payments on a larger scale. In this way, artificial intelligence makes a huge difference in account payable solutions.
2. (OCR)Optical Character Recognition:
Computerized or Paperless technology is not a new technology, but it is for revolutionizing the accounts payable workflow, the technology converting documents into digital format. For this purpose, Optical Character Recognition(OCR) came into existence. This technology replaces the paper with paperless formats eliminating the tussle to handle manual data entry, account management. Without using OCR, you have to input data manually in a system to manage accounts and administration. It is another layer of assurance of accuracy, which comes with artificial intelligence and automation.
3. Purchase Order Matching
Collecting and conforming invoices, products or orders, and approvals is essential in the accounts payable workflow. AP automated system will configure digital invoices, match up the purchase order. If the purchase order does not match, they will go out of tolerance range and review which are within the range.
The features like vendor onboarding, tax maintenance and regulatory, accept global payments, settlement, and more are also important aspects that make for an efficient end-to-end workflow of AP automation, and these features are also supported by the technologies supported by invoice automation. With these features, automation gives organizations to grow on a larger scale and simplify the account payable process.
Benefits of Automated Invoice Processing
Automated invoicing processing has a variety of benefits. Some of them are listed below:
Reduces the error rate as manual work is reduced and working is based on Artificial Intelligence
Speed up the data and approval processing through automated invoice processing
Saves the labour cost as the system is fully automated
Duplicate payments and invoices are reduced
Improve the relationship between company and employee,
organization and customers through productive workflow
The cost required for paper-based work will cut down
Secure early payments by giving offers and discounts
Conclusion
In conclusion, Automated invoicing is gaining popularity and equally beneficial for organizations and also for customers. Hence, cost-effective, reliable, and eco-friendly processing automation replaces traditional methods with the fastest automation software.
Reduce unnecessary paper invoicing; instead, shift towards automated invoicing and implement it. You can always start with the free trial version and find out about the different available software and choose your organization's best suited in this competitive world.
The use of all these features will make a best-automated invoice processing software, and the best automated invoicing software will have these qualities in one another form. The organizations adopting automated invoicing software for billing, accounting, invoices will help you focus on growth. With automated invoice processing, a company saves the cost spend on massive papers, stamps, ink, photocopying, postage cost, and top, and it reduces human error. Since the machine has artificial intelligence, it works on a certain algorithm that compares fetched data and existing data and gives the desired result. Thus, in the long run, the organization or the company should leave the old-fashioned invoicing method and switch to automated invoice processing.